A Big Year for Housing
By Brian Hanlon
December 13, 2017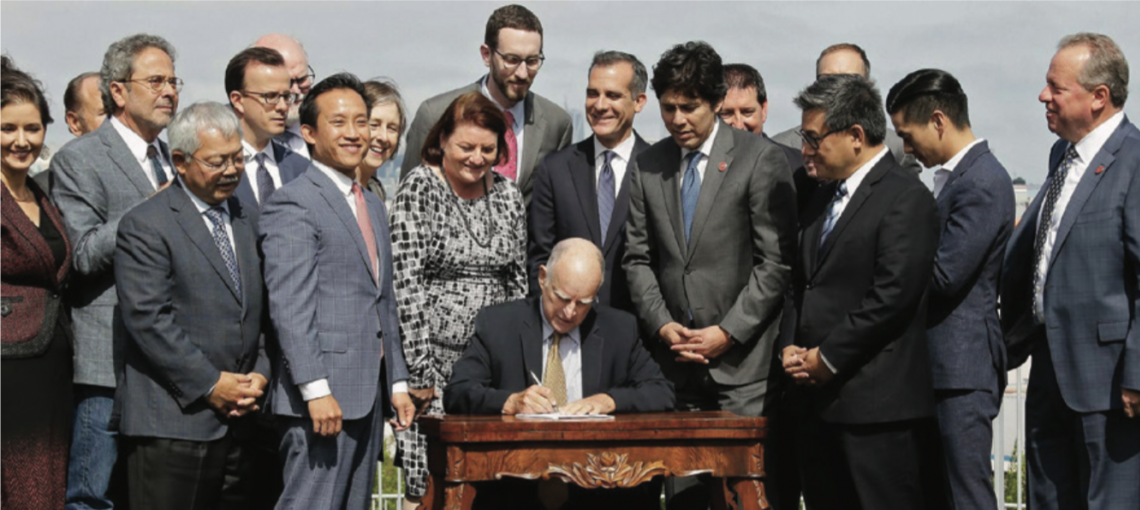 In September, Gov. Jerry Brown was joined by state officials after he signed legislation for a package of 15 bills to address the state's housing affordability crisis.
What Happened: Governor Jerry Brown signed a record 15 housing-related bills in 2017. The package raises more money for affordable housing — much of it designated for local government programs — in exchange for requirements to streamline the approvals process for new housing.
What It Means: The package won't solve California's housing crisis, but it does set in motion a much-needed shift away from deference to local discretion over the housing approval process and will enable thousands of additional households to win the subsidized housing lottery.
The 15-bill housing package — passed on September 15, the last day of the 2017 legislative session — demonstrates that the California Legislature is willing to challenge NIMBYs who oppose new housing in their cities, but much work remains to solve the housing crisis. Rather than dive into the specifics of each bill, which you may read about here[1], let's take a look at what the housing package means for cities and what housing advocates must do next year.
Most of the housing bills promoted preserving existing housing, building new housing or streamlining the process of approving new housing for low-income Californians. While these new homes will be life-changing for their residents, California cannot subsidize its way out of the housing shortage, as the Legislative Analyst's Office has reported.[2]
The most radical bills in the housing package challenge local control over land use decisions. Senator Scott Wiener's SB 35 and Senator Nancy Skinner's SB 167 do not usurp local zoning, but they do limit the circumstances
in which cities may evade their own policies and reject housing proposals that meet current zoning requirements. If a locality is not building enough housing at the affordability level of a proposed project, SB 35 permits the developer to skip the California Environmental Quality Act review process, as well as local discretionary approvals, as long as the housing complies with existing zoning rules and meets certain affordability, labor and environmental conditions.
SB 167 flips decades of deference to local decision-making on its head for housing projects that comply with existing zoning. Cities have never been held to a high burden of proof when making housing-related decisions, nor have they faced monetary penalties for violating state housing laws. SB 167 includes a minimum fine of $10,000 per housing unit for uncorrected violations of the Housing Accountability Act, a bill that stipulates that a housing project cannot be stalled or reduced in density if it conforms to all objective standards. Local governments could be hit with millions of dollars in fines and fees, which could bankrupt even wealthy small cities that willfully violate this state law.
Next Steps:
Think of the housing package as a "first start," as Senator Toni Atkins put it. To meaningfully address the crisis, housing activists and advocates must redouble their efforts next year (and the year after that) and demand bills that increase the allowable building heights on land near transit, reduce fees and expensive requirements that make home-building financially infeasible, further streamline the housing approvals process, grant local agencies redevelopment authority to provide a permanent funding source for subsidized housing and close loopholes in existing housing laws like the Housing Accountability Act and recent accessory dwelling unit laws.
If the Legislature is serious about hitting its greenhouse gas emissions targets and creating an inclusive state, it must allow more housing to be built near jobs and transit and expedite home building. Unfortunately, none of the bills passed this year challenge the sanctity of local zoning. Palo Alto, with one of the worst jobs- to-housing imbalances in the state, still includes some single-family housing within a half mile of its Caltrain station. Restrictive zoning in wealthy, jobs-rich cities causes displacement and leads to increased rent burdens through- out the region. It's past time for housing advocates and the Legislature to act. 2018 can be another big year for housing — if we fight for it.
1. Goldfarb & Lipman, "Recent developments in California housing law: summary of 2017 housing legislation," October 20, 2017, https://goldfarblipman.com/ wp-content/uploads/2017/11/Recent-Developments- in-California-Housing-Legislation-10-2017.pdf.
Hart, Angela, "Jerry Brown signs new California affordable housing laws," Sacramento Bee, September 29, 2017, http://www.sacbee.com/news/politics- government/capitol-alert/article176152771.html.
Dillon, Liam, "Gov. Brown just signed 15 housing bills. Here's how they're supposed to help the affordability crisis," Los Angeles Times, September 29, 2017, http://www.latimes.com/politics/la-pol-ca-housing- legislation-signed-20170929-htmlstory.html.
Murphy, Katy, "As Jerry Brown signs affordable- housing bills, lawmakers promise to stay focused on the crisis," The Mercury News, September 29, 2017, http://www.mercurynews.com/2017/09/29/ california-affordable-housing-bills-to-get-their-final- sign-off/.
2. Taylor, Mac, "Perspectives on Helping Low-Income Californians A ord Housing," Legislative Analyst's O ce, February 9, 2016, http://www.lao.ca.gov/ Publications/Report/3345.