Member Profile: Christopher Calott
A designer and developer is creating a program to teach others to do those things, too.
June 6, 2017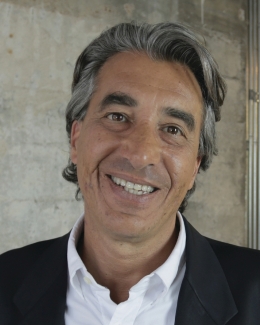 "I was hard-wired to be an architect from a young age," says Christopher Calott. "When I was a boy, I asked what the name was for a person who makes buildings. I came to realize that what really fascinated me was the history of places, especially cities, and the social and built form — patterns and buildings which visibly exhibit this history. It turns out I was an urbanist."
Today, he's an architect primarily focused on design and development consulting with investors on mixed-use housing, affordable housing and urban design for infill redevelopment projects throughout the Bay Area. On top of that, he's been busy setting up an innovative one-year master's program, which he will chair, in real estate development and design, set to start in 2018. The program, which will be offered within the University of California, Berkeley's College of Environmental Design, he explains, "will truly be a unique program in the country as it will have an emphasis on urbanism, social equity, international development and particularly design."
Congrats on the new program at Cal! As someone who has their finger on the pulse of local trends in real estate and development, any crystal ball predictions about real estate in 2017?
I would go long on Starbucks, that's the easiest real estate play on the stock market! Additionally, I think that we are going to see more real estate developments incorporate social equity components in their planning, not just because they have to in order to gain their entitlements but because it is good business.
I am very impressed with a growing number of thinkers and colleagues, across the country, who are actually valuing the provision or potential of social capital in the projects they are conceiving from an investment standpoint, reinforcing the old adage of "doing well by doing good." I predict that this practice will become a new normal over time, and a new metric which is volunteered and not simply statutory, in the consideration and financing of significant urban redevelopment projects in our cities moving forward. I certainly hope so.
As a lover of cities, which one would you pick as your favorite?
Mexico City. It is a place where you can always experience so many layers of its tri-cultural history (pre-Hispanic, Colonial Spanish, and modern megalopolis) simultaneously, and so vividly. It is so colorful -- and I love color in cities and architecture, with very imagable, distinct, walkable neighborhoods. Unbelievable landscaped boulevards and vibrant urban plazas, stunning urban scale, an amazing metro, great modern museums, and a culture of the most progressive modern architects anywhere doing innovative infill housing projects and buildings, yet cognizant of their rich history. The people I know there are absolutely the best, and don't even get me started talking about the food!
Favorite view?
Sunset over the city and Rio Grande Valley from the house we still keep in Albuquerque, New Mexico. We moved here from there a little over two years ago.
Favorite book about cities?
Without question, the most profound book on cities for me is Aldo Rossi's "The Architecture of the City." It grandly influenced a generation of modern architects to understand the practice of architecture as a form of urbanism. He introduced the imperative of "memory" in the city as an instrumental design principle, which remains a touchstone for me.