Introducing Robert Ogilvie, SPUR's Oakland Director
Meet the new director who will lead our work in Oakland
Urbanist Article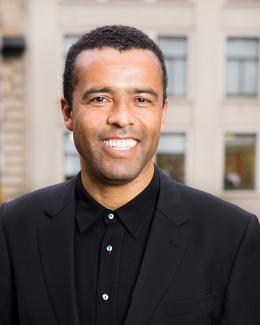 Twenty years of local community development work, jumping into the rough and tumble of Oakland politics and a first date with his wife at Oliveto's restaurant in Rockridge are just a few of the ways Oakland has made an impression on Robert Ogilvie — and vice versa.
Robert was born in Grenada when it was still a British Colony, grew up in Jamaica and Toronto, and went to graduate school in New York City. He moved to the Bay Area in 1995. The common thread throughout has been a love of cities, and he has a particular regard for Oakland, where "everything seems to come together."
When did you begin working in Oakland?
My first job in Oakland was in 1996 as campaign manager for my friend John Bliss, who was running for the District 1 City Council seat. We got our clocks cleaned. That was a real education in Oakland politics.
Shortly after, I started teaching at UC Berkeley in the Department of City and Regional Planning. For seven years I ran community development studio classes, some of them in West Oakland working with Fred Blackwell and the Oakland Redevelopment Agency. Prior to joining SPUR, I was vice president for strategic engagement at ChangeLab Solutions in Oakland, a national organization that works on using law and policy to create healthy places.
What do you hope to achieve as the director of SPUR in Oakland?
I want our Oakland office to build on what SPUR has been, but I want it to be authentically Oakland. I want it to be a forum where the different voices in Oakland can come together to debate Oakland's growth challenges and help form a consensus for moving forward. We are going to be a neutral space for people to come together and hash out a common vision for the future.
I also want to highlight some of the really good things that are going on in Oakland, like American Steel, which has built a thriving artistic community and has now expanded to incubate biotech businesses. And Measure DD, the 2002 bond that funded the cleanup of Lake Merritt, has turned the lake into the city's living room and inspired revitalization around it. I want to bring a solution bank to Oakland. Oakland has issues, but so does every other city — and many of them have come up with solutions. We don't have to reinvent the wheel.
Who will you be working with?
SPUR's members and partners are individuals, nonprofits, businesses, elected officials, artists, teachers, makers and community advocates. We are building an Oakland board of directors with deep connections in the community, people who are very invested in the well-being of the city, people who have demonstrated their love for Oakland.
What is your favorite thing about Oakland?
I love how different types of people from different walks of life are all living side by side in the same neighborhoods. You don't see that anywhere else. In Oakland, you see the old school guys who clearly grew up listening to James Brown, you see the hipsters, you see the working class. Diversity has become kind of an overused word these days, but Oakland is the real deal.
What policy questions will SPUR engage with first in Oakland?
We've already started a conversation about the future of downtown Oakland, a vision for how it can grow. Downtown currently doesn't have the activity to support the city's needs. Oakland needs a tax base. A vibrant downtown with more businesses, more retail, more activity and more residents is a lynchpin of supporting public services across Oakland.
How do you respond to people worried about gentrification?
It's a real threat. We need solutions that are Oakland-specific. Oakland needs development — and it needs to be done in a way that will retain and benefit the people who have been here through the lean times. I agree with the new mayor, Libby Schaaf, that Oakland needs to retain its soul. Both can be done. But it will require some creative thinking and problem solving.