Member Profile: Toby and Jerry Levine
A lot to celebrate
Urbanist Article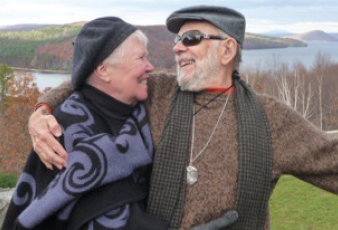 To say that Toby and Jerry Levine have been active participants in the civic life of San Francisco for decades is a bit of an understatement. Toby, who for 30 years was a teacher in the San Francisco Unified School District, has also served as an officer of the Mission Coalition, which beat back the effort to redevelop the Mission (1969-72). She was a founder of the Mission Planning Council, the Victorian Alliance and the Coalition of San Francisco Neighborhoods. A member of the SPUR Board and a recipient of its Silver SPUR award, she has also been a member of the San Francisco Planning Commission and was co-chair of the Central Waterfront Advisory Group. Her husband, Jerry was President of Mentor International, an international high tech consulting firm he founded in 1963, which brought him to Asia, Europe, Australia and South America. Closer to home, Jerry was President of San Francisco Tomorrow, Chairman of the California Council for International Trade. Recently, he received the Thomas Jefferson Medal, presented by the U.S. Secretary of Commerce for "Peace through Commerce."
Toby turned 80 in December. She and Jerry also celebrated 50 years of marriage. We caught up with her late last year to talk about cities and also how she planned to celebrate these two momentous occasions.
You've been a SPUR member for three decades! How did you get interested in cities and when did you f
irst get involved with SPUR?
I am an urban person. Born in Chicago, raised in New York City and later, in Minneapolis, then back to Chicago for university. My mother brought me to San Francisco when I was 8. I fell in love with this city and vowed to return. In the early 1970s, while I was teaching at Horace Mann, Jr. High School, a group of friends and neighbors wanted to establish a neighborhood planning group to make certain that the Mission would not be left behind (in those days, the Mission was redlined) and that the city would treat us respectfully. SPUR helped our group get started as a nonprofit community organization. SPUR and I have been colleagues and mutual supporters ever since.
You're a veteran planner and activist. What efforts in the city are you most proud of?
Being involved with the development of the Mission Plan in 1974. It was the best neighborhood plan I have seen or been a part of. I am also very proud of the Waterfront Land Use Plan (WALUP), which has been an outstanding guide for the Port of San Francisco. If you think back 30 to 40 years ago, you will recognize how far the port and waterfront have come. There was no Herb Caen Way, no Giants ballpark, no Ferry Building Farmer's Market. The WALUP Board worked totally on consensus, and that was an amazing experience for me.
What is one thing you wish were different about San Francisco?
Public Transportation. Intentions are good but the results are somewhat dismal. My model is London or Vienna, where the public commitment is great and sufficient funds are made available. Those two cites set a high standard for SFMTA.
Favorite city?
San Francisco. Our landscape is amazing, the spirit is high and the people of the city are free to be themselves.
Favorite work of art or book about cities?
The Death and Life of Great American Cities by Jane Jacobs and Great Streets by John Jacob.
It's your 50th wedding anniversary this year! How did you and Jerry meet and how are you celebrating
?
Jerry and I met in a San Francisco coffee shop — Enrico's — on a rare and warm August night in 1964. We are celebrating with friends, family and colleagues from San Francisco and the rest of the world.