Member Profile: Jeff Oberdorfer
It's Easy Being Green
Urbanist Article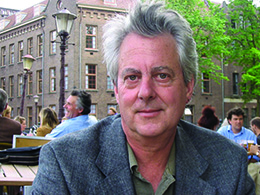 As Executive Director and CEO of First Community Housing (FCH), Jeff Oberdorfer directs all aspects of the nonprofit's work specifically aimed at developing affordable housing in the Bay Area. FCH provides quality housing for its tenants that is sustainable, conserves resources and produces contemporary architecture that fits within its neighborhood context. We talked with Jeff about the organization's work and its significant commitment to sustainable, affordable housing.
"We're designed to be resilient within the everchanging political and financial climate that impacts affordable housing development," explains Oberdorfer. "As a national leader in "greening" affordable housing, all of our recent developments have achieved LEED Platinum Certification. We also developed the first vegetative roof in the Silicon Valley."
What else makes FCH's approach to housing unique?
We utilize an "integrative design process" whereby our architects, general contractor and all major sub-contractors work together in a group process to ensure creative problem solving and eliminate as many problems during construction as possible. Several of our teams are now working on their sixth project together. I find this process crucial in terms of creatively meeting limited budgets while achieving LEED Platinum Certification standards and beyond. FCH has a commitment of providing up to 30 percent of each development for special needs tenants. The combination of transit-oriented locations, free annual Eco-Passes and superior indoor air quality make our buildings ideal locations for tenants with special needs.
Are you seeing progress in its implementation, especially as it relates to affordable housing?
Bay Area affordable housing developers have been providing leadership in green building for this past decade. However, at this point in time, many nonprofit developers have taken green building as far as they can, given reduced budgets and the demise of redevelopment. Since non-profit developers own their buildings for a minimum of 55 years, the reduced budgets are counter-productive.
There is still a group of committed Bay Area nonprofit housing developers, architects and others who are pushing for increased sustainability, including net zero energy and net zero water. FCH continues to have LEED Platinum Certification as our "platform." We are very excited to be working with Living Building Challenge and Enterprise Communities on developing a pathway to the Living Building Challenge for Affordable Housing.
What projects have you recently completed in San Jose?
Japantown Senior Housing will provide 75 senior apartments and is currently under construction in San Jose's Japantown. Fourth Street Family Apartments was completed two years ago and provides 100 family apartments on Fourth Street just north of Gish.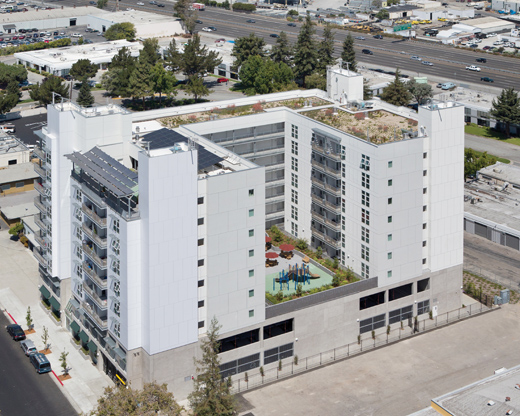 Fourth Street Family Apartments photo by Bernard Andre Photography.
The Fourth Street Family Apartments are just one example of the affordable energyefficient homes built by Jeff Oberdorfer of First Community Housing.
How did you first get interested in cities and architecture?
I grew up in and around New York City and I've always been attracted to cities and the diversity of people and cultures. I became interested in architecture in high school in architectural drafting and modelmaking classes. I am still addicted.
What is your favorite city?
I like New York and San Francisco and Paris. But I believe that San Jose has major potential to be a great inland city with a livable scale if we learn from other great cities — not by copying but by being uniquely San Jose.
Favorite urban view?
Out my office window in downtown San Jose towards the foothills to the east.
And favorite book about cities?
Matrix of Man: An Illustrated History of Urban Environment by Sibyl Maholy Nagy.