Transforming Downtown San Jose
Six ideas for strengthening the urban center of the South Bay. Excerpted from the SPUR report "The Future of Downtown San Jose."
March 11, 2014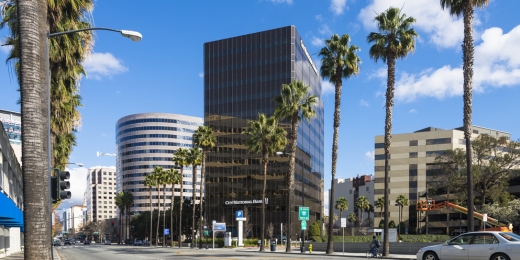 This article is excerpted from the SPUR policy report The Future of Downtown San Jose. Read the report >>
 
Downtown San Jose is the largest single urban center in the South Bay — a dense, walkable core surrounded by historic neighborhoods and anchored by San Jose State University, which enrolls nearly 30,000 students. It is the location of some of the Bay Area's most significant future regional transportation infrastructure investments, from BART to Caltrain to high-speed rail. It is an important, yet nonetheless single, node of activity within the open, decentralized and competitive landscape of the South Bay. But downtown San Jose is south of some of the major economic centers in the South Bay, and as such is not connected to the travel patterns of many South Bay workers and residents.  Less than 4 percent of the county's jobs are located downtown. It takes a special trip for many people to go downtown. And many don't go at all. When they do, they are not always sure what part of downtown to head to, where there's certain to be lots of activity. At the same time, the public transit speeds remain uncompetitive with the automobile, so most who do come downtown arrive via car.
So how might we change that?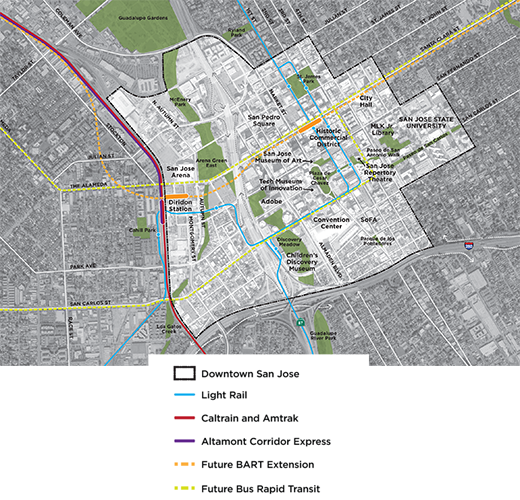 SPUR defines downtown San Jose as the 800-plus-acre area that stretches east from Diridon Station to City Hall and San Jose State University, and south from Coleman Street to I-280. It is larger than downtown Oakland's 750 acres and larger than San Francisco's 620-acre downtown commercial district.
BIG IDEA 1 : Welcome all kinds of uses into downtown — but hold out for jobs near regional transit.
A great downtown is both a job center and a central social district. Today, downtown San Jose is a small job center (with approximately 36,000 jobs, comparable to cities like Jacksonville, El Paso and Bakersfield). Bringing more jobs into downtown has long been a key city strategy, given the co-benefits of downtown employment, such as tax revenues, higher transit ridership and a daytime population base that supports retail and street life. With plans to extend BART to downtown San Jose, it is important to make the most of that investment and ensure that downtown has a large capacity for jobs.
In San Jose's Envision 2040 General Plan, downtown (including Diridon) is expected to have the capacity to add nearly 50,000 jobs and 10,000 housing units. But SPUR's analysis shows that it will be difficult to achieve those goals given two major limits on growth — height restrictions from the airport, and parking (which is both a requirement and a market expectation). Quite simply, many buildings can be no taller than 20 stories, leaving a limited building envelope to balance between cars and people.
While we understand the significant benefits of bringing jobs into downtown, we balance this against the reality of decades of weak job growth in downtown San Jose and continued employment growth in scattered office parks and campuses throughout the South Bay. SPUR believes that San Jose needs, in general, to follow the market with regards to use, while having very firm requirements about density and urban design — with one key exception. We believe it is critical to make maximum use of the development opportunity within the halfmile of regional transit (BART and Caltrain) stations and to preserve key parcels for jobs within the immediate vicinity of those stations (i.e., a quartermile).  We also think downtown has to eliminate its minimum parking requirements and try to encourage developments to be more creative about parking, such as providing some parking options offsite.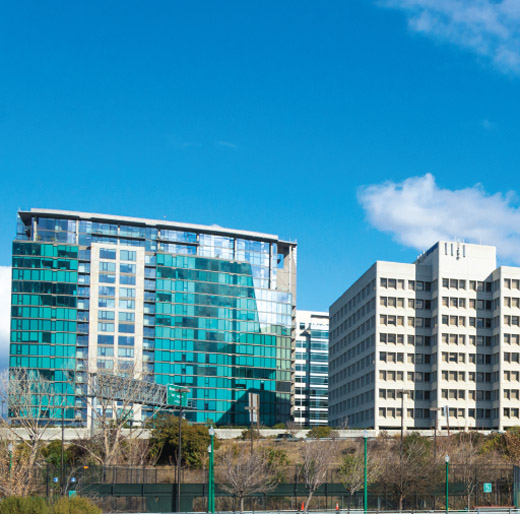 The challenge for San Jose is to create a major downtown center with high volumes of pedestrian activity — within a region that is overwhelmingly low density and car dependent.  Downtown's potential for new construction is limited by the airport flight path, which restricts building heights, and the high demand for parking, which results in buildings that sometimes devote more space to storing cars than housing workers. Photo by Sergio Ruiz.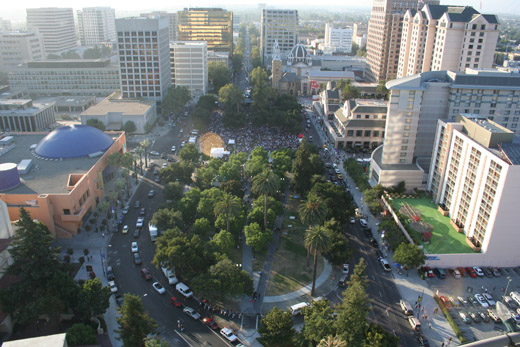 Photo courtesy the San Jose Redevelopment Agency
 
BIG IDEA 2 : Make sure that what gets built adheres to key urban design principles.
Many good plans and principles have guided development in downtown San Jose, from the Downtown Strategy to the Streetscape Master Plan. But not all new development adheres to or supports these already-adopted ideas. The current development culture of the city treats each project as a negotiation, and sometimes good principles of urban design are sacrificed in the process.
Every time a new building presents blank walls or highly visible parking to the street, or has low ceilings on the ground floor, it degrades the experience of the place and sets back the cause of downtown. San Jose deserves better, and the great buildings that downtown already has deserve better neighbors.  While we argued in our first big idea that downtown should be flexible about use, we believe the city must hold the line on requiring good design. Our recommendation is simple: Make sure all new buildings have ground-floor ceiling heights of 15 to 18 feet and that the ground floor is wrapped with active uses. While there are many other components to good urban design, we want to highlight the most crucial issues for new development to ensure that downtown becomes increasingly walkable.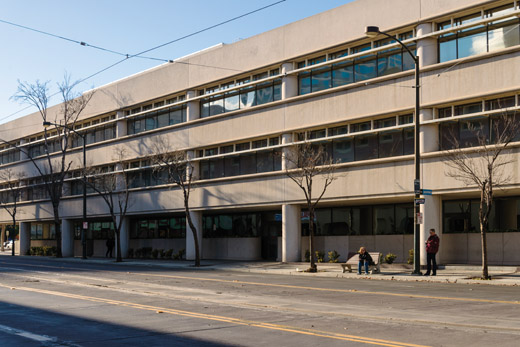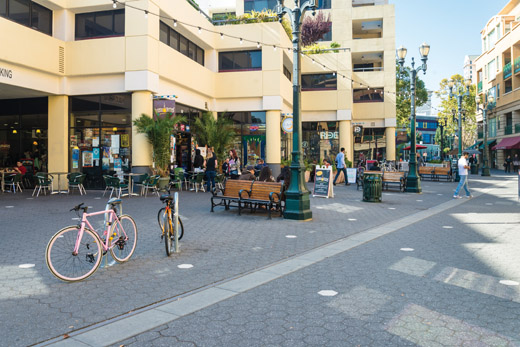 Downtown San Jose is working to create a central place for people within a region that is very reliant on cars. Essential to that goal is making sure that what gets built follows key urban design principles. As an example, when a building presents blank walls or highly visible parking to the street (top), pedestrians don't feel welcome. A better alternative is seen (below) on downtown's Paseo de San Antonio. Photos by Sergio Ruiz
BIG IDEA 3 : Promote Central San Jose.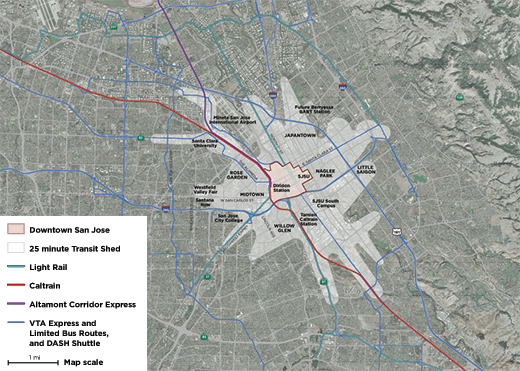 Within a short transit trip or bike ride are many neighborhoods and activity centers that can be seen as an asset, not a competitive threat, to downtown. The map above shows areas reachable in less than 30 minutes on local transit from the center of downtown.

Like many downtowns across the United States, downtown San Jose is ringed with walkable historic neighborhoods — like Willow Glen, Japantown and Naglee Park — each with its own distinct character.  Although not all residents in these communities always make use of downtown, they are a huge potential source of customers and visitors for downtown businesses and amenities. But unlike some other cities, downtown San Jose is surrounded by many competing centers for work, shopping and other activities (such as Santana Row and North 1st Street).  Within a 30-minute transit trip, downtown residents have access to 300,000 jobs, one-third of all jobs in Santa Clara County. Additionally, there are 200,000 residents who live within a 30-minute ride of downtown on local transit. The city should plan and promote downtown as nested within a larger area called "Central San Jose" that has numerous great places.  And it should focus on how to connect downtown to these other nodes within the central area).
The essence of this third idea is to reframe the discussion about downtown to view the surrounding jobs and areas as an asset, not a threat. In particular, SPUR suggests considering the benefits of better connecting downtown San Jose to the areas that are within a reasonable distance by transit or on a bicycle. Downtown is stronger when it is part of something larger. SPUR recommends redrawing downtown and city maps to acknowledge Central San Jose. We also suggest prioritizing bicycle and transit investments and coordinating urban village planning within this area.
BIG IDEA 4 : Make it easier to get to and through downtown without a car.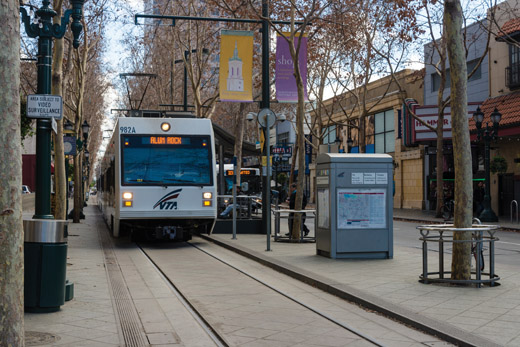 Prioritizing cycling and transit can help better connect the many walkable neighborhoods of San Jose. Speeding up transit by double tracking light rail along 1st Street and shifting the tracks from the sidewalk to the roadbed are ideas worth studying. Photo by Sergio Ruiz.

For downtown San Jose to work, the city has to do better at getting large numbers of people into downtown. For this to happen, transit needs to be faster and much more convenient to access. It must be easier to get to and through downtown without a car. Despite perceptions otherwise, downtown is already quite easy to access and navigate with a car. It is surrounded by major highways, has very little street traffic relative to many parts of the Bay Area and has ample parking. Making a shift away from a car-dominated environment means rethinking the balance between cars and transit in planning decisions. It also means acknowledging the reality that there is still plenty of capacity — both in the transit system and on the roads — to accommodate more cars, transit vehicles and other modes of transportation. Having sufficient capacity also means that there is room to experiment with new approaches to transportation options. The city should make downtown the showcase for how San Jose can shift toward alternatives to driving alone, particularly how to achieve the General Plan's goal to make driving alone decrease from 80 percent to 40 percent of all trips. This will happen by speeding up transit, expanding BART to downtown, building out bus rapid transit (BRT) and reconfiguring light rail, improving bike paths and securing bike parking options. The goal must be to ensure that the automobile is not the default for every trip.
For a complete list of SPUR's recommendations, read our report The Future of Downtown San Jose spur.org/downtownsanjose
BIG IDEA 5 : Retrofit downtown to be more pedestrian-oriented.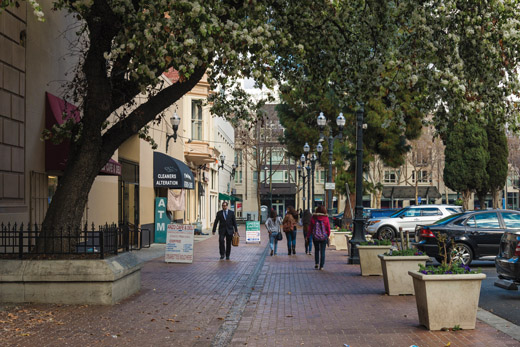 If everyone drives, cars take up so much space on the streets that the pedestrian environment is unpleasant. Retrofitting the parts of downtown San Jose that are not yet walkable is key to creating a pedestrian friendly city. Pedestrian walkways like Fountain Alley (above) offer an alternative to the traditional street and could be part of a larger network of paseos. Photos by Sergio Ruiz

The City of San Jose has begun retrofitting many of the auto-oriented aspects of its city streets and grid. One-way streets have become two-way. Streets like San Fernando, 3rd and 4th Streets have gone through "road diets," where mixed-flow lanes have been removed, usually to accommodate a bike lane. These "road diets" make better use of limited infrastructure by maintaining sufficient space for autos, while ensuring there is room for a wider range of users. There is a "green bikeway" along San Fernando and another protected bikeway on 4th Street. This retrofitting is a significant change and has improved the quality of the public realm in downtown San Jose.
But there is more to do.
Buses do not have priority treatment on key streets. Traffic signals are timed for cars, not pedestrians. Left turn lanes and dedicated left turn arrows privilege auto access, not pedestrian flow.  Though the city has very strong policies on the books to achieve a much lower share of drivers, the desire to achieve balance among modes sometimes results in continuing to privilege the automobile.
Downtown San Jose has had several decades of targeted investment toward an improved public realm and has many aspects of good urban design that make it a walkable place. Retrofitting the parts of downtown that are not yet walkable is the focus of this idea.
Downtown should become a "park once" place with a focus on walking. This means making sure intersections have automatic crossing signals; too many of downtown San Jose's intersections require pedestrians to push a button to get a walk sign.  There should also be improved wayfinding with maps, real-time transit info and other signage.  There should be investment in new pedestrian infrastructure. The successful Paseo de San Antonio should be extended from Cesar Chavez Plaza to Diridon. There should also be a network of paseos throughout downtown (such as a new paseo from Gordon Biersch on San Fernando to Fountain Alley, and a paseo designed through the Mitchell Block parcel on Santa Clara between 1st and Market).
BIG IDEA 6 : Build on downtown's strengths as the cultural, entertainment and creative urban center of the South Bay.
Downtown San Jose is the largest social and cultural district and the center for entertainment in the South Bay. There are 38 cultural institutions and venues in or directly around downtown and more than 300 restaurants, bars and other entertainment venues.  When there is a major sporting or entertainment event at the San Jose Arena, downtown's streets fill with pedestrians. Its Convention Center has events scheduled a year in advance, and most events bring in thousands of visitors. Downtown museums, art venues and performance spaces can attract tens of thousands for special events, exhibits and performances.
But there is not yet enough life to fill and activate all the great existing spaces in downtown, from the outdoor plazas to museums and other cultural institutions. The essence of our sixth idea is to focus on the people and activities that will fill downtown with life on an ongoing basis. We think a key way to do this is to further strengthen downtown as the South Bay's center of culture, art, entertainment and creativity and to make it easier for people to do all kinds of activities that enliven public space (i.e., "activation of downtown"), as well as for people to invest in new creative businesses and events throughout downtown. Further integrating San Jose State with downtown is also important and could happen through establishing a more defined student district around San Carlos and 4th Streets.
Visitors and residents of downtown need to continue doing what they've been doing: supporting new and existing restaurants, bars, clubs and other businesses. Downtown property owners need to continue being flexible and supportive of various uses within their buildings, including temporary installations and pop-up stores, often within vacant building space. Visitors and policy makers need to support and accept downtown as a place that draws from and welcomes the city's entire economic and cultural diversity.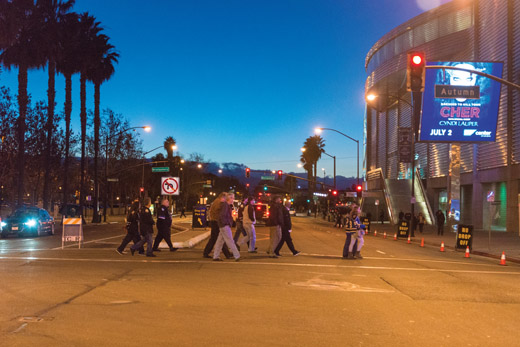 One only need attend a concert or San Jose Sharks' game to see how the streets of downtown can come alive. The challenge is to activate these areas even when an event is not taking place. Photo by Sergio Ruiz.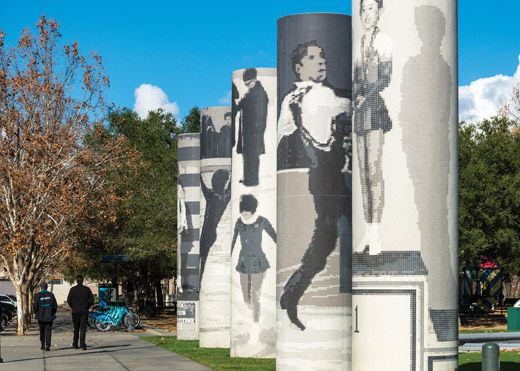 Downtown San Jose is a rich cultural center, full of terrific institutions from the Tech Museum to ZERO1 and MACLA. Public art (above) is found throughout the city.  Downtown could be further strengthened by focusing on San Jose as the South Bay's center of art, culture, and entertainment, downtown could be further strengthened. Photo by Sergio Ruiz.
Looking Ahead
What is possible today for downtown San Jose is built on decades of mostly public investment in streets, parks, transit, museums, theater, libraries and other amenities. The next decade offers the opportunity to attract people that will give those spaces and places the life they were designed for.  Embracing experimentation, allowing for mistakes and encouraging activity overall in downtown is paramount. But as we've described in this article, a permissive attitude is not enough to ensure the best future for downtown. It's essential to push for dense new development, hold out for jobs near transit, and maintain good ground-floor design. Focused effort on the planning around Diridon, extending a network of paseos and further integrating San Jose State University with downtown are also key. We also believe it's necessary to continue key policy moves to make downtown a friendlier place for walkers, bicyclists, transit riders and others who will fill the downtown with the dynamism it deserves. SPUR is excited to help make this future.
For a complete list of SPUR's recommendations, read our report The Future of Downtown San Jose >>