A Taste of the Future on North First Street?
Samsung's massive new headquarters could signal a shift towards denser, more urban design in San Jose.
January 14, 2014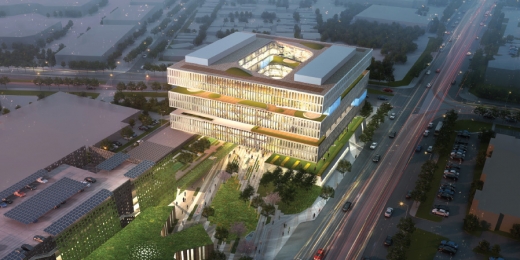 Samsung's new San Jose headquarters avoids the insularity of nearby tech campuses like Apple and Facebook with cafes that open to the street (and to the public). Its towers are oriented toward a light-rail corridor slated for dramatic densification.
---
What happened:
Samsung broke ground on a massive new headquarters for its U.S. Research and Development operations in north San Jose. More than any project to date, the new Samsung campus embraces the city's vision of a denser, more walkable pattern along North First Street, the city's tech employment heartland.
What it means: 
By embracing San Jose's urban vision, Samsung is creating a counterpoint to archrival Apple, a kind of "antispaceship" that engages the area around it and, by extension, the urban sensibility of its prospective employees and its young, city-centered clientele.
---
It's tempting to view Samsung's new headquarters through the lens of the company's emerging challenge to Apple's dominance of the smartphone market. Samsung — a corporate titan in its own right — here plays the role of the hungry upstart, putting down a stake in Apple's Silicon Valley turf. But in truth, a lot of forces aligned to deliver this best-in-class project: a creative end user who wants to make a visual statement, a city and state ready to go the extra mile to land the deal, a terrific architect who understands urbanism, and a thoroughly vetted plan with a clear urban design framework. 
Beyond its scale — a 680,000-square-foot, $300 million project that will house up to 2,500 workers — the project's two most striking features are its design and its location. The design, by NBBJ, is something of a revelation for the usually hidebound world of tilt-ups and parking lots that dominates the South Bay. It consists of two 10-story towers linked by several outdoor decks, creating a massive central garden atrium. Ground-floor cafés enliven the street, and the site welcomes pedestrian access. The towers are oriented toward North First Street, a light-rail corridor slated (rather optimistically so far) for dramatic densification through both housing and office development. The requisite massive parking structures are tucked away in the site's interior, screened by green walls and topped by solar arrays.
The location is also significant. Samsung was presumably entertaining tantalizing subsidies from Texas, where it has long had a presence and financial support. The City of San Jose worked closely with the State of California to assemble a modest package of incentives that included reductions in impact fees, construction and utility tax breaks, and state tax credits. The city also offered expedited permitting, with entitlements completed in a blistering 76 days. 
In the end, according to several city officials, the incentives were important, but being in Silicon Valley was even more so. But for San Jose, which faces stiff competition from Silicon Valley neighbors like Santa Clara and Sunnyvale (not to mention Cupertino and Mountain View), the deal is a major vote of confidence. Many in San Jose are hoping that the Samsung project, scheduled to open in 2015, will provide a new model for the design quality and urban form of new tech workplaces. "Walkability, permeability and density are just ideas until large numbers of people see and experience them as creating better places," explains Kim Walesh, San Jose's chief strategist. These ideas are the cornerstones of the city's new General Plan, but they face an uphill battle in a suburban context with a relatively soft market. In north San Jose, an ambitious urban design vision — of a walkable, transit-oriented tech corridor — has gotten a major shot in the arm.
Given the economic, fiscal and symbolic win represented by Samsung, it is unlikely that the city would have pushed the firm on design issues, whatever its guidelines. But as it turned out, San Jose didn't have to. Samsung and its architects saw elegant design, urban amenities and the quality of life of their workforce as fundamental to their enterprise. It remains to be seen how much of an impact this project will have on the design of the tech workplace elsewhere in the city and Silicon Valley. Samsung can afford to take risks. In contrast, most commercial development is speculative and is driven by brokers, lenders and tenants toward a standardized, status quo product. Some speculative developers are beginning to pitch projects with a more urban feel (like the N1 Campus on North First Street), but until major tenants buy in, these projects are just encouraging ideas. If Samsung shows that it's possible for tech to thrive on a new kind of campus, it may just inspire a broader shift toward more engaging, sustainable places.