The Uneven Housing Recovery
Housing prices exploded in San Francisco this year, while lagging at pre-recession levels in other parts of the region.
December 17, 2013
---
What happened:
Housing prices exploded in San Francisco while lagging at pre-recession levels in other parts of the region.  
What it means:
The bullish labor market is having a big impact on housing costs in some parts of the region. Could some of the demand for the hottest markets be met by other, more affordable locations that are well served by regional transit?
---
The Bay Area is one of the most expensive housing markets in the entire country. Yet while housing costs in hot areas such as San Francisco, Marin and parts of the peninsula are skyrocketing, parts of the region still remain more affordable. Could transit connections between different parts of the region, coupled with new housing production at all income levels and better urban design, help to address regional housing costs?
Hot cities getting hotter
In San Francisco, the high cost of housing is fast becoming the most important issue the city faces. Rents citywide (for apartments of any size in any neighborhood) have escalated 17 percent from October of 2012 to October of 2013, an increase higher than in any other county in the region. In some San Francisco neighborhoods, prices for both rental and ownership units have reached a fever pitch, leading to hyper-gentrification and a substantial increase in evictions. [1]
The lack of housing production in San Francisco has exacerbated this phenomenon.  San Francisco has averaged a production of 1,500 units per year for the past 20 years.  During the recession, almost no housing was produced (just 269 units of housing were brought to market in 2011).[2] Fortunately, the past 18 months have seen the development of a substantial amount of housing by San Francisco standards — with roughly 4,000 units of housing in the works for 2013 alone (see Figure 1). However, it is unlikely this production will be suffcient to meet the incredible demand generated by the city's exploding economy. San Francisco is currently the fastest-growing county in the United States for private sector employment, outpacing Austin, San Mateo, Houston and Santa Clara.[3] In fact, San Francisco added nearly twice as many tech jobs as Santa Clara County and roughly 20 percent more than San Mateo County,[4] meaning that the geography of Silicon Valley is changing.
In the areas commonly associated with the term "Silicon Valley" — such as Palo Alto and Mountain View — housing continues to be extremely pricey. In Portola Valley, for example, the median cost for a home exceeds $2 million.[5]
While the cost of housing in San Francisco and the wealthier parts of the peninsula are escalating as the labor market heats up, parts of Oakland and eastern Contra Costa County remain more affordable.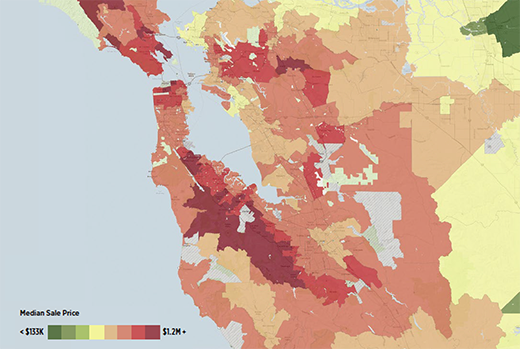 Source: trulia.com/local#prices/san-francisco-ca accessed on December 12, 2013.
Cities with a mix of expensive and cheap housing near transit
In San Jose, the story is different. While in San Jose housing is more affordable than in San Francisco, the city is still the center of one of the most unaffordable metro regions in the country. Median housing prices for ownership units have increased 23 percent from last year[6] and rental prices are also up, factors that are fueling renewed interest in building housing.  The majority of new multifamily construction in San Jose is rental housing,[7] some of which is being built in downtown San Jose — hopefully reflecting an interest in higher-density urban living. However, housing costs remain fairly uneven across neighborhoods, despite San Jose's proximity to Silicon Valley.
While Oakland is not seeing the same increase in housing construction as San Francisco and San Jose, it is experiencing an escalation in both rental and for-sale housing, largely due to spillover demand from San Francisco. In fact, Oakland's forsale home prices have increased 45 percent since last year, though sales prices have not quite returned to their peak pre-recession levels of 2008.[8] Housing production in Oakland has historically been low, although some projects that were put on hold during the recession, such as the Brooklyn Basin project (previously known as Oak to 9th), are moving forward.[9]
Cooler market cities
By contrast, in the eastern parts of Contra Costa County, the housing market has a very different story to tell. While housing costs in the for-sale market are quickly increasing on a percentage basis, they still reflect the substantial reduction in prices that happened in this area during the recession. In Pittsburg and Antioch, median home prices are $280,000 and $290,000 respectively.[10] Areas to the east of the nine-county Bay Area are less expensive still. For example, the median home price in Stockton is $156,000. In some of these cheaper markets, foreclosures have had an enormous impact on housing cost.  Between July 2008 and April 2013, Solano County experienced more than 21,000 foreclosures, affecting roughly 14 percent of households.[11]
Opportunities and challenges
It should come as no surprise that there are variations in housing costs across the region.  Places closest to the economic engine of the region (Silicon Valley) with high-value housing stock (i.e., large homes on large tracts of land) did not lose their value during the recession and have benefited from the hot labor market.  However, most of these places are not zoned to add significant new housing, nor is it likely that they will be in the future. Of course it would be very beneficial if places on the peninsula with lots of jobs that are close to transit, such as Palo Alto and Mountain View, would add to their housing stock.[12] Yet this is unlikely to happen any time soon. In fact, this November, Palo Alto voters took a big step in the wrong direction by overturning a senior affordable housing project.[13]
One of the most important ways to address high regional housing costs is to build more housing, not just in San Francisco but throughout the region. We need to focus on places that have existing regional transit but aren't yet quite as rich with urban amenities, such as downtown San Jose. Doing so could potentially relieve some of the pressure on San Francisco stock by providing options for workers in Silicon Valley who seek housing in great neighborhoods.
The Impacts of the Recovery
While cooler market locations have experienced greater increases in prices on a percentage basis, these places are also the ones that lost the most value during the great recession.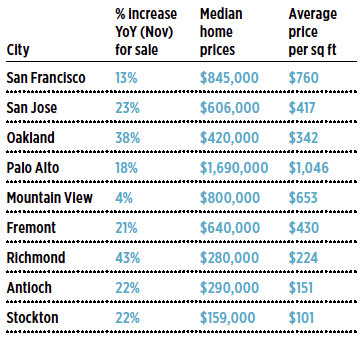 Of course, San Francisco is a major job center in its own right, creating pressure within the city's boundaries. If more housing could be added to downtown Oakland and other areas with BART stations, it would not only help to build Oakland's tax base but also create more reasonably priced housing opportunities for people priced out of San Francisco and other locations that are feeling the heat caused by the labor market.
The biggest challenge to addressing the Bay Area's housing costs is political. There is a great policy paradox in regional planning — namely, the places with the greatest demand are anti-growth and the places that are progrowth don't have enough market demand to support new construction. Add to this the fact that some of the tools to create affordable housing, such as inclusionary housing (in which municipal and county planning ordinances require a given share of new construction to be affordable by people with low to moderate incomes), are under attack, and you have the conditions for a perfect storm. We need to change some of these dynamics if we are ever going to address the extraordinary cost of housing in our increasingly unaffordable region.
--
[1] http://antievictionmappingproject.wordpress.com/map/
[2] San Francisco Planning Department.  SF Housing Permits and Construction Trends 1960 - 2010.  Teresa Ojeda (personal communication, October 22, 2012) as cited here: http://www.spur.org/publications/library/article/san-francisco-boom-back. Rent increase from trulia.com
[3] "The City's Economy" – Powerpoint prepared by the Office of Economic Analysis, Controller's Office – July 2013. Slide 3.
[4] Ibid, Slide 5.
[5] http://www.trulia.com/local#prices/san-francisco-ca
[6] http://www.trulia.com/real_estate/San_Jose-California/
[7] http://www.huduser.org/publications/pdf/SanJoseCA_comp.pdf
[8] http://www.trulia.com/real_estate/Oakland-California/
[9] http://sf.curbed.com/archives/2013/04/12/brooklyn_basin_finds_funding.php
[10] http://www.trulia.com/local#prices/san-francisco-ca
[11] https://www.baycitizen.org/data/housing/map-bay-area-foreclosures-county...
[12] The City of Mountain View actually rejected a plan by Google to construct housing on its campus as part of a plan to create more job density. http://www.spur.org/publications/library/article/corporate-campus-embrac...
[13] http://www.mercurynews.com/breaking-news/ci_24462926/early-tally-shows-m...