Ambition and Imagination
UC Berkeley's take on Unbuilt San Francisco
August 28, 2013
The exhbition Ambition and Imagination views the unbuilt realm of San Francisco from five perspectives, some obvious, some not. The most counter-intuitive section is "First Takes" — buildings that exist around us, but began in much different forms. There's an early version of the revered Pacific Telephone Building, and a set of working models for the Millennium Tower that reveals how a 21st-century high-rise evolves in San Francisco's regulatory and financial climate. There's also the original proposal for One Rincon — with a pair of towers that are 20 stories shorter than what is now being built.
"The Rhetorical Unbuilt" consists of schemes that were meant to prod us to look at the city with fresh eyes. These include a competition-winning scheme by Jill Stoner that imagined the Embarcadero as a canal and notebook sketches from 1990 by architects Liz Ranieri and Byron Kuth who wanted to preserve a section of the Embarcadero Freeway as a reminder of what was — a concept that predates New York City's High Line by 20 years.
"The Phantom Skyline" offers what the name implies, a century of skyscrapers that never came to pass. Renzo Piano's 2006 design for Mission Street that envisioned five towers as tall as 1,200 feet is here. So is a campanile-like tower designed for the Spreckels family after the 1906 earthquake. There is even a pair of towers by Ludwig Mies van der Rohe — a proposal for the foot of Russian Hill that was abandoned when the would-be developer died in a plane crash.
Two other sections have a geographic focus. One concentrates on the Civic Center — not just alsorans in the 1912 competition for City Hall but also such recent efforts as a glass-walled addition to the Veterans Memorial Building by Mark Cavagnero Associates and BAR's postmodern makeover of Trinity Plaza on the south edge of the district, a concept far different from the modernistic slabs now on the rise.
The final section is "Along the Shore." This includes everything from a 1979 study for a multipurpose stadium where AT&T Park now stands to the casino proposal for Alcatraz that prompted the 1969 occupation of the island by the group Indians of All Tribes, as well as proposals for Sutro Baths and the Embarcadero.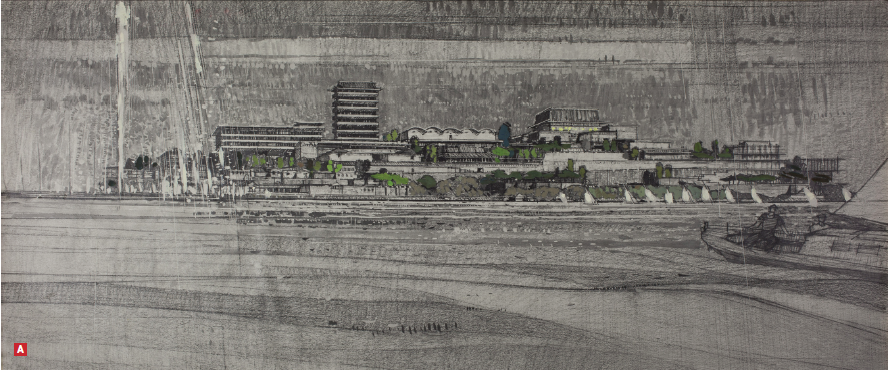 After the Federal Government closed the prison on Alcatraz, proposals included this one for new cultural facilities and housing by architect Ernest Born. The island was ultimately made into a national park. Drawing by Ernest Born (1929).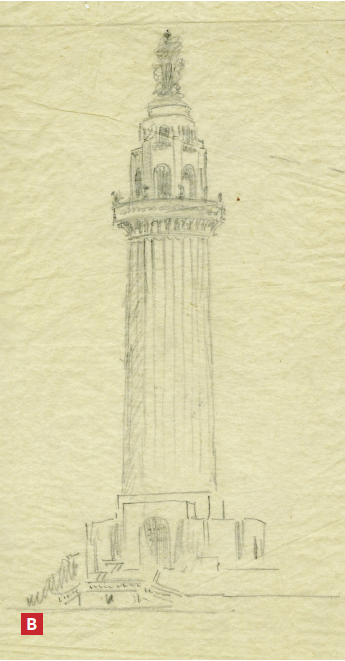 An early design by Arthur Brown Jr. for what now is one of the city's best-loved buildings, Coit Tower, was shorter and more elaborate than what opened in 1933. Rendering by Arthur Brown (1932).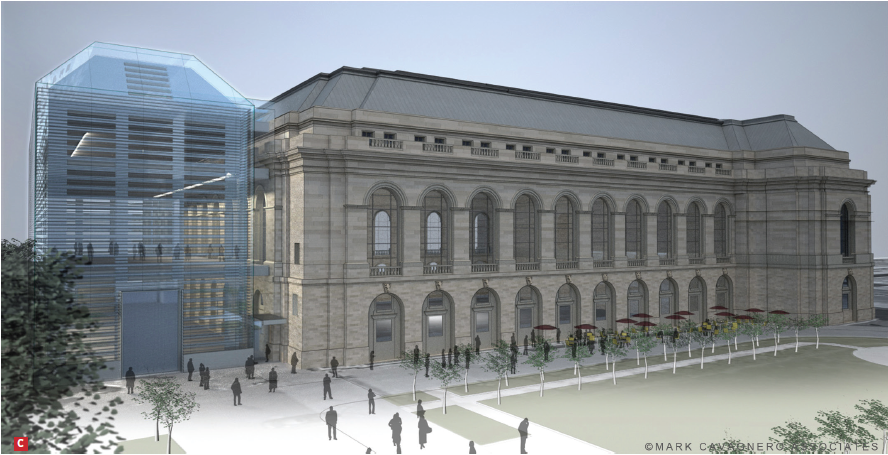 A 2009 study by Mark Cavagnero Associates on expansion possibilities for San Francisco Opera included this new glass-walled wing for the War Memorial Building. Rendering courtesy Mark Cavagnero Associates.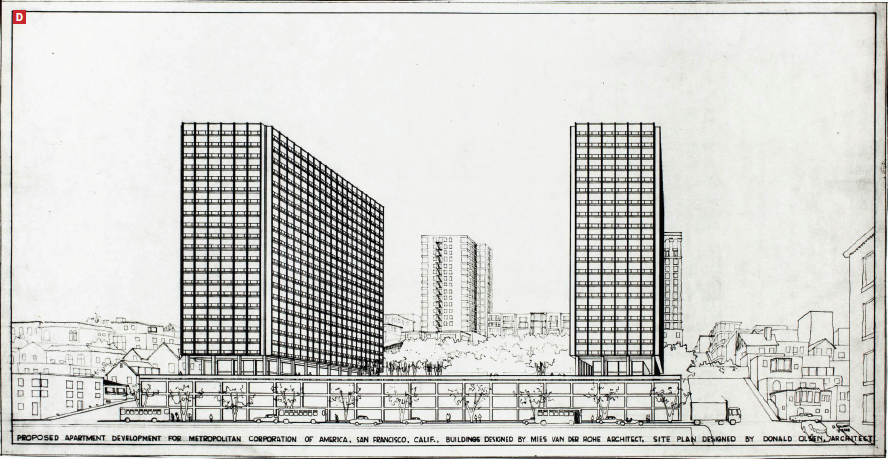 These towers designed by Ludwig Mies van der Rohe for Russian Hill were never built — the would-be developer died in a plane crash. Proposed Apartment Development for Metropolitan Corporation of America. Building designed by Mies van der Rohe, site plan designed by Donald Olsen Architects.