Urban Field Notes: A City in the Stairwell
A San Francisco muralist enlivens SPUR's once-quiet corridors with a colorful celebration of urbanism.
February 4, 2013
Sirron Norris' murals are spreading over San Francisco like the giggles. His bouncy urban wonderscapes tickle the insides of a taquería, brighten back alleys — and now grace the stairwells of SPUR.
But beware of these deceptively simple delights: Norris is up to mischief. Like his signature Blue Bear character, who wears a T-shirt reading "I eat children," Norris's medium puts itself in service of more dangerous messages. His mural "Victorion: El Defensor de la Mission" on Balmy Alley off of 24th Street indicts city developers and hipster trend-slaves on behalf of the gentrifying Mission District, for example. But even this is uncertain territory. Those who try to make a martyr of him will be disappointed. Norris is a self-proclaimed commercial artist; his pieces are commissioned and legit — not guerrilla. But critics who charge him with selling out or betraying the street art tradition in which he works may misinterpret his goals. His disdain for fine art is not so much anti-elitist as it is personal. Commercial art, he says, "feels more honest," compared with gallery hustling. He's made a prankster's game of smuggling his subversive ideas inside his bright-eyed aesthetic.
After training at the Art Institute of Pittsburg, Norris moved to San Francisco in 1997, working in video game graphics before coming into his own as a San Francisco muralist. Between teaching low income youth and garnering prestigious artist residencies at institutions such as the De Young Museum and the Yerba Buena Center for Arts, he's made his mark with his self-described "cartoon literalism" on paintings and murals throughout the city. His latest endeavor, whose completion was overseen by his beloved dog, Rosie, enlivens four floors of the SPUR stairwell and opened to the public on January 24.
[A] SPUR mural (detail)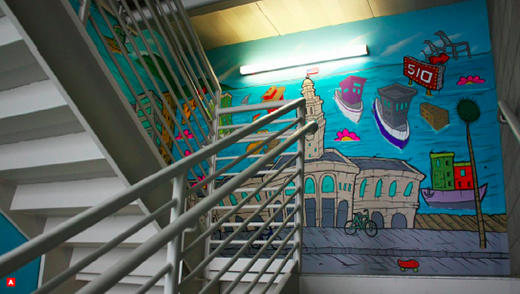 [B & C] Sirron Norris (shown here), a team of interns and his dog, Rosie, spend most of December completing SPUR's mural.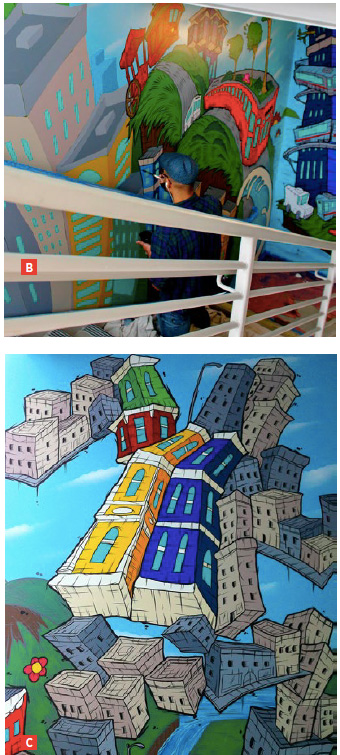 [D] "Heart" is on display at The Embarcadero.
[E] "Victorion" on Balmy Alley between 23th & 25th Streets is part of the Precita Eyes mural tour.
[F] "Taco Libre" can be found on 55 Cambon Drive, Park Merced