A Bold New Vision for San Jose
San Jose's forward-thinking new general plan is a model for suburban cities looking to transform to an urban future.
December 20, 2012
What happened: San Jose approved Envision 2040, a forward-thinking new general plan that is a model for historically suburban cities looking to transform to an urban future.
What it means: Envision 2040 represents a major step in San Jose's ambitious goal of retrofitting its auto-oriented infrastructure and suburban development patterns. At the core of Envision 2040 is its coordination of land use, transportation and greenhouse gas emissions, aligned with the Bay Area's Sustainable Communities Strategy under California's climate change bill, SB 375.
The plan is comprehensive — and vast. Here, a few major areas of focus:
Urban Village Planning
The "big idea" in the plan is to concentrate nearly all new development in 70 designated "Urban Villages," specific areas that will provide active, walkable, bicycle-friendly, transit-oriented, mixed-use urban settings for new housing and job growth. The urban villages identified fall into four main types: regional transit, local transit, commercial and residential areas. They are located along existing regional and local transit lines or in locations identified by their potential for redevelopment or enhancement. In a sense, Envision 2040 follows the current convention of American planning, by protecting most of the city from change while designating a smaller number of places as sites for intensive change.
Embracing Automobile Alternatives
The adoption of Envision 2040 represents San Jose's shift in focus from an auto-centric community to one that puts people first. San Jose has a fair number of older commercial streets and shopping centers that it hopes to recycle intro vibrant mixed-use neighborhoods.  The current priority is to focus growth downtown and in north San Jose, locations that are currently well-served by transit.
In much of San Jose, there really is no choice but to drive, so the city is working to improve the viability of biking, walking and transit. The city has set an aggressive — and impressive — goal of dropping the share of trips in single-occupant cars from 80 percent to 40 percent by 2040 and has demonstrated its seriousness about developing non-auto modes of transportation. Over the last several decades, San Jose has worked with the Valley Transportation Authority (VTA) to establish a light rail system. Bus Rapid Transit (BRT) lines are nearing construction.  BART is now under construction to San Jose, first to Berryessa and eventually to Downtown San Jose, where it will connect with Caltrain and California High Speed Rail. A bicycle and pedestrian master plan is guiding improvements to city streets. The city will be measuring actual shifts in mode share: Envision 2040 is intended to be a measurable general plan, which will allow the city to track its progress and demonstrate outcomes as it goes.
Jobs Before Housing
This is a "jobs first" general plan in contrast to previous plans that allowed the stronger housing market to predominate. The resulting housing-rich, jobs-poor land use mix poses significant fiscal challenges to the city, in contrast to its neighbors.
The ratio of jobs to employed residents in San Jose is 0.83. (By way of comparison, Palo Alto has over two and a half jobs for each employed resident, and Mountain View has over one and a half jobs for each employed resident.) The General Plan defines a goal of 1.3 jobs per resident.
San Jose is one of the few large cities that loses population in the daytime, as opposed to attracting workers. This has fiscal implications as well as economic ones. There is a strong linkage between land use and fiscal health. Being able to attract more jobs and increase tax revenue will allow the city to better pay for services, which have taken a severe hit in recent years. It is imperative for the city's fiscal health to have the revenue to support a population that is nearing and will soon exceed 1 million.
By proactively identifying the right locations for jobs and housing, located next to transit corridors, San Jose will direct the development community to those places rather than to the more distant, fringe areas of the region. Development will happen in denser, transit-accessible, central locations. The general plan facilitates this by allowing employment uses to be developed immediately in any designated urban village, but housing development in the same location must be approved through an Urban Village Plan or by meeting a target mixed-use, jobs-housing ratio.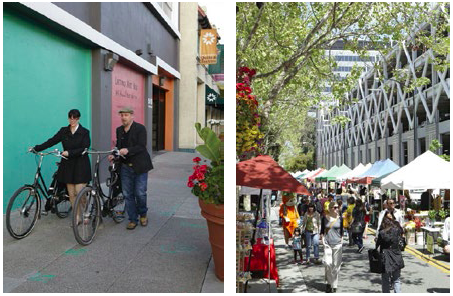 Envision 2040, San Jose's new general plan for urban villages focuses on job growth and new housing, embraces transit alternatives (like light rail and bicycles, above). It also makes improving food access through things like farmers' markets (above, right) and community gardens a high priority.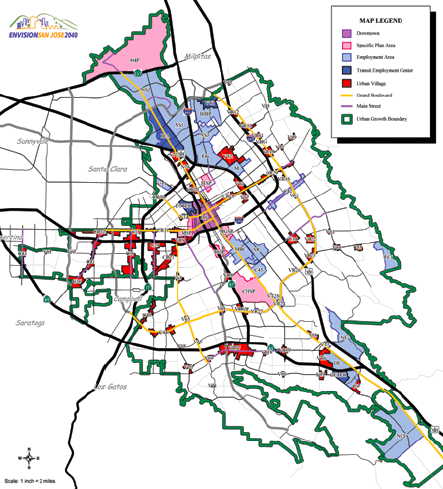 Envision San Jose
         2040 General Plan
         Planned Growth Areas Diagram
Updating Codes, Streamlining Process
Simplifying the planning process is key to facilitating the rollout of the urban villages. In the past, community plans took as long as five years to complete. Today, San Jose has been trying to streamline that process and get the urban villages ready and able to attract development as soon as possible. There have been several changes made to align zoning code with the new general plan as well. That includes nomenclature but also clarity around building heights, more flexibility for mixed-use, etc. As the plan rolls out, there will be more form based coding within the municipal code, and as a result the urban form will be more clearly articulated.  This will allow the city and the development community to work together more cohesively. Code changes also include efforts to improve access to healthy food by streamlining and deregulating farmers' markets in San Jose, as well as supporting the creation and maintenance of more community gardens. Access to fresh food is an integral part of the urban villages concept.
From Plan to Implementation
Five urban village planning efforts are currently underway in San Jose, and the city expects to have more launched in 2013. The notion that a city could build 70 distinct villages is ambitious, especially considering that it is a new type of planning process for the city. To meet this vision, the city needs to be focused on the details of how the general plan's ambitious land use vision is translated into livable and cohesive places.  SPUR will be helping to guide and support the implementation process by helping the city focus on job creation, focused growth and excellent urban design.