Member Profile: Molly Turner
The director of public policy for Airbnb is a self-described "urban planner moonlighting in the tech world."
December 18, 2012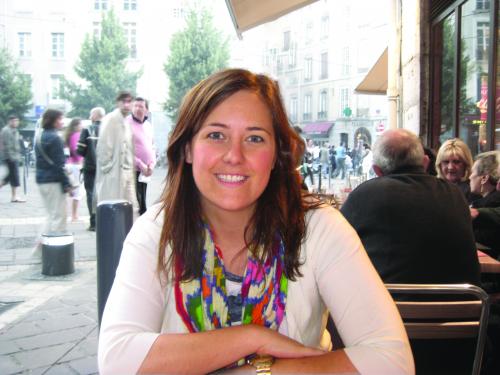 In graduate school
, explains Airbnb's Molly Turner, "I was always proposing crazy microtourism schemes that would help local residents engage with visitors in more meaningful and authentic circumstances.  When I graduated, I thought I could convince a city to implement some of these crazy schemes, but that was pretty naive."
Turner has long endeavored to help cities develop a more economically, culturally and environmentally responsible form of tourism. In Airbnb, she found a company practicing precisely what she preached.  "The tourism industry," explains the sharing economy juggernaut's Director of Public Policy, "is essential to the livelihood of many cities, though not all tourism is created equal. The typical megastructures and global chains that dominate 'tourist bubbles' prevent economic benefits from being dispersed to a broad and diverse local population." Airbnb, she argues, promotes a form of tourism that distributes the industry's benefits more equitably to a broader population.  And the residents and homes that make up Airbnb's ecosystem become "the very basis of a city's attraction, and tourism is integrated into the physical and cultural fabric of a city more seamlessly."
"As an urbanist," she continues, "I feel right at home at Airbnb and in the sharing economy. This third wave of tech, as it's been called, is taking all of the connectivity and transactions that are occurring online and [bringing them] back offline into the real world. Unlike most technology companies, Airbnb's product is not its website; instead it's the real-world experience the website facilitates. As we know, technology companies are really good at scaling. I believe that through Airbnb I'm having a greater impact on our urban environments — over 30,000 as of today — than I could have had as a traditional urban planner."
How did you first become interested in urbanism?
My interest in urbanism came from a tourist experience (sensing a theme here?). When I went to study abroad in Sicily's second-largest city, Catania, I was expecting the pastoral scenes of The Godfather II but when I got off the airplane, I was completely dumbfounded to find urban sprawl that reached from the shores of the Mediterranean halfway up Mount Etna. Catania was a city full of Greek, Roman, Norman and Bourbon history, but those architectural remnants were lost in a chaos of unfinished rebar and cinder-block buildings and elevated highways to nowhere.
Tourists completely avoided the city, except to fly in and out of its airport. However, after living there for several months with a local family, I ended up falling in love with the city and its chaos. I became fascinated by its rapid succession of conquering empires, its trouble with the mafia, its ability to constantly produce some of the most quirky and talented artists in the world...  and the impact that all that had on the city's development. Catania inspired me to study cities and to make them better. Since that trip, Catania has never left me. I think about it almost every day.
I learned about SPUR when I was in graduate school with a few classmates who had just moved from San Francisco. They told me about this great organization that really pushed the envelope and stood for progressive planning principles in the Bay Area. When I moved back here, I thought I'd join and try to convince SPUR to start thinking about tourism.  It is, after all, San Francisco's top industry.
Airbnb has expressed a desire to be a good urbanist when it moves its office space to Mid- Market next year. What's in the works?
Well, for starters, our office is in a real city! The company was founded in San Francisco, in an apartment on Rausch Street.  The three founders never once thought of moving the office down the Peninsula — in four years, the farthest they've moved from that apartment has been about eight blocks.
Airbnb is inherently urban.  Our community of users lives in the world's global cities (our top markets are New York, Paris, London, Berlin and San Francisco). We want to be where our community is. Our employees all live here too. What sense does it make to bus everyone an hour and a half south when they all want to bike to work?In the four years we've been headquartered in this neighborhood, we have developed relationships with our favorite lunchtime restaurants and late-night bars, found running routes up the hills and along the alleys, mentored local students, welcomed guests to our theater for public events and even became the first tech company to join the Potrero Dogpatch Merchants Association. When we move to our permanent home at 888 Brannan, we will only be moving four blocks away from where we are today. We view the long-term lease we signed as a long-term commitment to this neighborhood as well.
Awesome. Now we'd love to learn what's your favorite…
Urban view: The view of San Francisco from the Marin Headlands. Reminds me how lucky we are that some folks decided a few hundred years ago to found a city in such a spectacular location.
Building: This David Chipperfield Architects building in Berlin.  When I saw this building while walking around Berlin one day, I didn't know that it was by a worldfamous architect and had won many awards. I just recognized that it was urban infill that so elegantly acknowledged the building's historical context but also contributed something new to that context. So often people criticize neighborhood change, particularly in historic districts.  I believe change is inevitable and that the responsibility of preservation and of new architecture is to thoughtfully guide that change rather than hinder it. This building does that perfectly.
Book on the city: The Tourist City, edited by Dennis R. Judd and Susan Fainstein. For some, Jane Jacobs' The Death and Life of Great American Cities is their urbanist bible — their Old Testament. For me, it is The Tourist City. It taught me that tourism is actually a serious subject. It convinced me to go to graduate school, and it inspired my career. I've referenced it so many times in my study and work that I've had to create an elaborate code of highlighter colors and notations just to keep track of which sentence I'm citing for which project. I use it as my computer monitor stand, and am reminded every day at work why I do what I do.
City: Catania, Sicily. Totally dysfunctional yet full of inspiration. The city that inspired me to be an urbanist.
Favorite Airbnb rental: This converted water tower in the heart of London (airbnb.com/rooms/265798). You can stay in a 7-meter cylindrical room with a kitchenette and full-size bath — but you have to climb six flights of exterior stairs!