Four Ways to Transform Mid-Market
Strategies for a vital economy in San Francisco's central district
Urbanist Article
After many years of fits and starts, San Francisco's Mid-Market area is stirring with prospects for transformation. Projects about to begin, as well as those still in planning, will bring new vitality to our long-neglected civic concourse. The already-approved CityPlace project, a new 250,000-square-foot retail development, will extend the commercial vibrancy of the San Francisco Centre to the stretch of Market Street west of Fifth Street. At the other end of the Mid-Market area, Twitter will move next year to the San Francisco Mart Building between Ninth and 10th streets. The relocation of Twitter is a huge coup, for both the city and the neighborhood, and is made possible by the city's recent agreement to exempt some employers in this zone from the municipal payroll tax. San Francisco has a unique business tax that requires companies with payrolls in excess of $250,000 to pay the city the equivalent of 1.5 percent of the company's total expenditures on employee compensation. In the Mid-Market area, employers will be exempted from paying payroll tax on new employees for the next six years. This change will go a long way toward luring office tenants and larger retailers to an area with a 51 percent office-vacancy rate and 31 percent storefront vacancy. But more work is needed to make Mid-Market a better place to live, work, walk and shop. Here are four approaches that could help realize its potential:
1. CREATE A MID-MARKET ARTS DISTRICT
We have the opportunity to do something more than extend downtown or the Civic Center office district. Mid-Market has the potential to be a great cultural hub for our city. It's already home to the American Conservatory Theater, Alonzo King LINES Ballet, Luggage Store Gallery, EXIT Theatre, Boxcar Theatre, Cutting Ball Theater, Gray Area Foundation for the Arts, KUNST-STOFF Contemporary Dance Company, the SHN theater company, CounterPULSE, The Black Rock Foundation (organizers of Burning Man) and Intersection for the Arts. Investing in expanded facilities and these organizations' operational stability can help to create a unique district for arts and culture. ACT presents a particularly promising opportunity. The theater is exploring the development of a new $100 million performingarts center and drama school, along with student and artist housing. If constructed, this bold project would resurrect two long-dead blocks, reinvent the major gateway to the Mid-Market neighborhood, and send a jolt of confidence and energy throughout the surrounding area. This has worked elsewhere. Initiatives such as the PlayhouseSquare District Development Corp. in Cleveland and the Downtown Brooklyn Partnership in New York have raised hundreds of millions of dollars to invest in renovating old theaters, programming public spaces, and facilitating the development of commercial and residential real estate projects. The realization of this vision requires funding, however — which means we must develop the resources to acquire and safeguard key properties that can house our cultural treasures as well as stimulate additional investment and development.
2. SECURE NEW RESOURCES FOR THE NEIGHBORHOOD
Attracting new businesses and retaining existing businesses requires investment. Several tools are needed to support a new Mid-Market arts district as well as to improve the public realm in the area. We need to establish either a redevelopment area or an infrastructure-financing district (IFD) to capture the new property tax value generated by the Twitter and CityPlace projects. Value increases from other new developments and businesses moving to the area should be captured as well. Tools such as an IFD or a redevelopment area would allow us to rely on these increases in property values as a future revenue stream to repay bonds for a variety of investments in the neighborhood, including the rehabilitation and development of buildings that support arts uses. The city can help make this type of financing easier to obtain and more attractive to use by serving as the bond issuer and helping arts organizations secure favorable terms from lenders.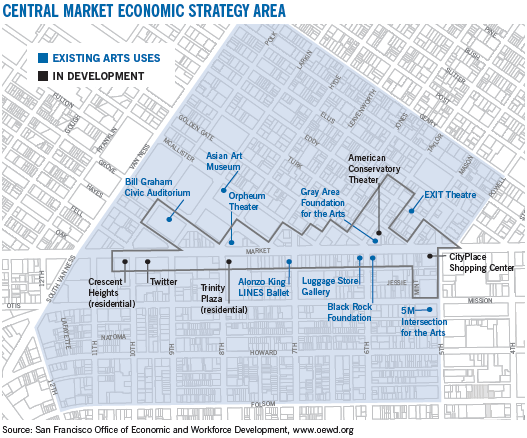 3. PROMOTE HOUSING FOR ALL INCOME LEVELS
The Mid-Market area is home to a significant stock of low-income housing, much of it owned by nonprofit organizations unlikely to convert it to market-rate housing. We need to find ways to protect and upgrade this affordable inventory to create more livable environments for low-income residents. This can include adding kitchens and bathrooms to traditional SRO units. At the same time, we should also promote market-rate housing, mixed-income housing and family-sized housing in order to attract a diversity of residents to the area. Finally, we should create more affordable housing in other areas of the city to reduce the pressure on the Tenderloin and Mid-Market neighborhoods and help them achieve more equitable development.
4. INVEST IN PUBLIC SAFETY
Mid-Market needs more police officers on the streets to create a greater sense of public safety. The Tenderloin precinct was recently reduced by 17 officers. This will invariably result in weakened deterrence in a neighborhood that can ill afford it. There will be more incidents involving public disorder, and we could lose the progress achieved thus far in this critical component of a livable neighborhood. Two new community efforts are working to move the crack dealing on Turk Street and prescription-pill dealing on Leavenworth Street out of the neighborhood. Both deserve support from community-based organizations, the San Francisco Police Department, the Community Justice Center and the District Attorney's Office. Programs that take chronic inebriates off the streets and provide treatment and other services also are critical. While such programs are expensive, the costs would be off set by the reduction in 911 calls and emergency treatment. The real progress already made in the Mid- Market area places us at a crossroads. If we are willing to invest in this area and develop creative policies, we can solve problems that have been plaguing the city for decades.