Street transformations: Lessons from London, Melbourne and New York
Physical changes at street level can not only make a street work better — they can transform it into a great public space.
July 1, 2011
The stretch of Market Street from Octavia Boulevard to the Embarcadero has confounded planners from the day Jasper O'Farrell conceived it in 1847. The city has struggled to make the most of its main street over the last two centuries but has rarely, if ever, been satisfied with the result. It's too wide and yet too crowded, too empty and yet too chaotic, too dangerous and yet too bland. We just cannot seem to get it right. But in true San Francisco fashion, our collective desire to transform Market Street into a wonderful, vibrant place endures. As we look ahead to inescapable climate and economic change over the next century, improving Market Street is more important than ever.
In 2015 the Department of Public Works will begin repaving Market Street from Van Ness Avenue to Steuart Street. The city is taking advantage of this project to think more broadly about how to improve the street. Earlier this year, DPW and other city agencies launched a visioning effort to develop a plan for the street. Although the Better Market Street plan is focused on the street's urban design and transportation systems, it's being coordinated with the city's parallel effort to address the long-standing economic and social challenges of Mid-Market Street.
Is it reasonable to be optimistic that this latest effort might actually begin the long-hoped-for revitalization of Market Street? Yes and no. There are basic transportation problems that we can fix right away. We know how to speed up the 34 transit lines that are moving at a sluggish four to eight miles per hour on average — slower than a walking elephant. We know how to make it safer for the growing numbers of people who want to bike on Market Street — from families, seniors and tourists to commuters like the 25 percent of Twitter employees who bike to work. We know how to make it easier to walk on the north side of Market Street, so that it no longer takes 15 minutes longer than walking on the south side. And we know how to help the confused souls who, against their better judgment, end up driving on Market Street while looking for parking in the area, even though the 30,000 parking spaces within a quarter mile of the street are only 45 to 73 percent full.
But transforming Market Street into a great place won't happen solely with a digger and a jackhammer. The complicated economic and social forces shaping our underperforming sidewalks and plazas will take years of concerted, supported effort to change. The good news is, we are in a better position than ever to bring more vitality to the street — if we can learn from the history of the street and from our peers around the world. Here's how three world-class cities are transforming their troubled main streets into great urban places.
Oxford Street, London, England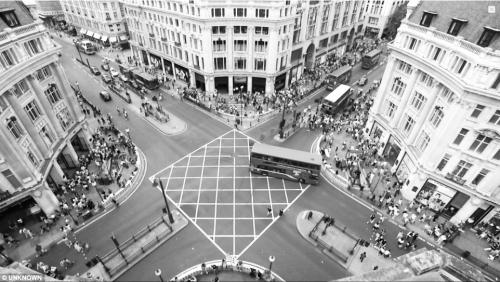 Oxford Street before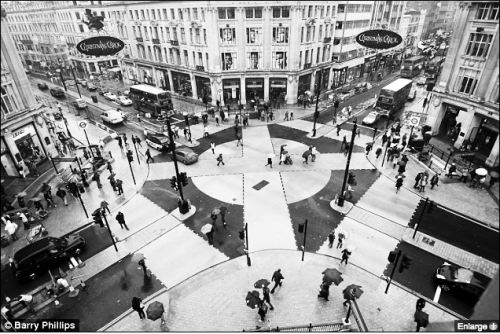 Oxford Street After
Lessons: Go big; make transportation iconic
Oxford Street is notorious for its crowded sidewalks and streets. The New West End Company, the local business improvement district, has proposed a series of bold streetscape improvements, some of which are now being realized. The distinctive diagonal crossing at Oxford Circus, implemented in 2009, is a wonderful example of how a powerful, iconic transportation improvement can also enhance the sense of place. The district and the city have also invested in events that spur retail sales and inspire visitors to take a fresh look at the street. The annual Very Important Pedestrian (VIP) Day, held each winter holiday season since 2005, opens the street to people on foot, attracting huge numbers of shoppers and holiday revelers.
Swanston Street, Melbourne, Australia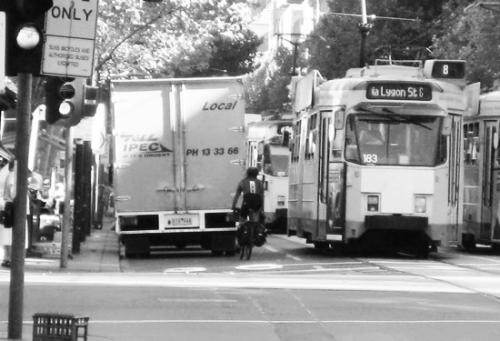 Swanston Street before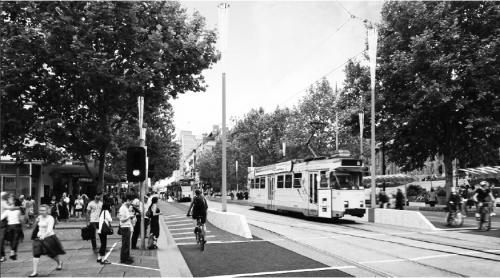 Swanston Street after
Lesson: Take a holistic approach
Swanston Street bears a strong resemblance to Market Street: Both have a similar role in the city and a parallel mix of transportation options and business types. And, like Market Street, Swanston has been subject to numerous failed improvement efforts, including initial planning attempts that did not take in all the elements of a complicated transportation system.But recently the City of Melbourne came together with local community management partners and agreed upon a plan for a more holistic transformation of the street. The project broke ground in May 2011. When completed next year, the $25.6 million redesign will include four new expanded tram stops; tracks will be lowered to improve access to low-floor trams and sidewalks will be extended to meet them. The city will also build a separated bikeway.
Broadway, New York City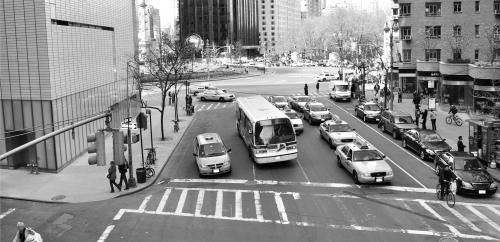 Broadway at Columbus Circle before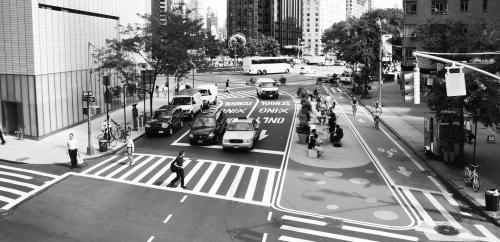 Broadway at Columbus Circle after
Lessons: Forge strong community partnerships; keep testing ideas incrementally
Thanks to strong community management and creative, bold thinking from the New York City government, over the past decade Broadway in Midtown Manhattan has gone from an unremarkable, uncomfortable avenue to a welcoming, functioning promenade that supports a wide variety of businesses and communities. The street's long journey to improvement began with a strong partnership between the city and the local business improvement districts to focus on safety and cleanliness. In 2009, community groups and the city worked together to dramatically reimagine the structure of the street, creating new plazas, expanding a ribbon of pedestrian space and adding a continuous protected bikeway. This project is structured as a series of trials, all using temporary materials.