When the Freeways Came Down
Rebuilding after Loma Prieta

Urbanist Article
On October 17, 1989 a magnitude 6.9 earthquake on the San Andreas Fault near the Santa Cruz Mountains rocked the Bay Area. In San Francisco alone, 12 people were killed, thousands of housing units were damaged, and fires raged in the Marina District. It was a dark moment for the city. And yet, out of this darkness, the possibility for change emerged.
Two of San Francisco's most unfortunate pieces of transportation infrastructure—the Embarcadero Freeway and the Central Freeway—were severely damaged in the Loma Prieta earthquake. While San Francisco citizen activists had a long-storied history of successfully opposing new freeways, there was no precedent for actually taking them down altogether.
The earthquake gave San Franciscans the opportunity to demolish the freeways and replace them with something better. This was not an easy process, nor a short one. A mayor lost an election. Fights were waged at the ballot box. And yet, looking back, it is undeniable that San Francisco took a tragic situation and turned it into one of the greatest urban planning success stories of the past twenty years: the creation of Embarcadero and Octavia Boulevards and all the land-use changes catalyzed by the demolition of the freeways.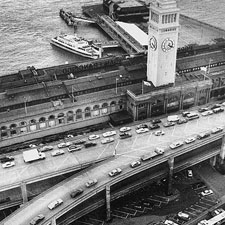 The Embarcadero Freeway created a tremendous barrier between the city and its waterfront, including the now much beloved Ferry Terminal. Of its demolition, San Francisco Chronicle reporter Carl Nolte wrote: "(t)he freeway that brooded over the Embarcadero with all the grace of a double decker prison wall is finally gone."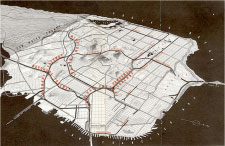 The new freeways. The Embarcadero Freeway, like the Central Freeway, was part of a larger plan to build a freeway network throughout San Francisco, called the "Trafficways Plan." San Francisco citizen activists began protesting the continued construction of freeways soon after their initial appearance in the city and by 1959 had halted seven out of ten proposed freeways.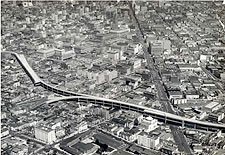 The Central Freeway was a scar that cut through Hayes Valley and the Western Addition. After it was damaged in the Loma Prieta Earthquake, neighborhood activists began agitating for its removal. Three separate ballot measures ensued. Ultimately the portion of the freeway north of Market street was removed.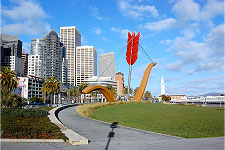 Rincon Park. After it was damaged in the Loma Prieta earthquake, San Francisco Mayor Art Agnos called for the demolition of the Embarcadero Freeway. A political battle ensued between those who wanted the freeway torn down and those who wanted it repaired in order to ensure continued automobile access to Chinatown and Fisherman's Wharf. In 1991 the Freeway was replaced with a promenade that created miles of spectacular walking and bicycling paths. The Ferry Building was lovingly refurbished, parks and open spaces were created and the city was reunited with its waterfront.