Urban Field Notes: Six Encounters with Bay Area Street Art
Urbanist Article
The sometimes spontaneous and sometimes ephemeral quality of unsanctioned public art interests me. As distinguished from government-sponsored initiatives, as well as territorial graffiti or vandalism, I set out to be more conscious of this art, created by and for the people living in San Francisco and the other locales I've visited around the Bay.

Over the last few months, I found art that communicates socially relevant themes, from a celebrity memorial to the politics of cyclist rights. Equally represented were artworks that depict a more playfully provocative mood. The door mosaics at Ocean Beach hold their ground in defiance of a seawall ruled by tags and graffiti. The McAllister Street mobile is unique, too, in that it expresses the fleeting nature of these unofficial presentations. Its maker is also the sidewalk curator, rotating pieces in and out for pedestrian enjoyment, as well as for riders of Muni's Fulton 5 bus. By contrast, the context for itinerant public art, such as the Zebra RV, is always changing. Consider taking this piece outside the urban context — how would the concept change if it were traveling down a country road? Finally, the motivation to create street art helps artists reach a broader audience, and can be a step towards neighborhood beautification, as exemplified by the mushroom-decorated infrastructure on Valencia Street.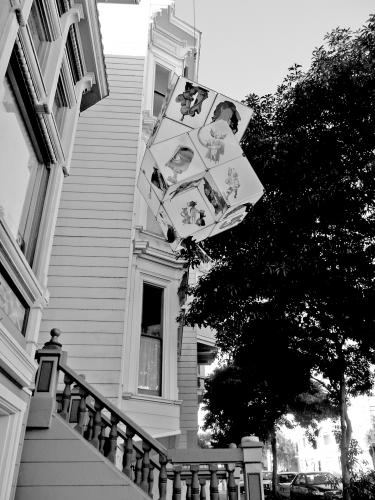 1. McAllister Street Mobile. Art work of the moment, from an ever-changing display of private art made public at 1269 McAllister Street. Resembling a mobile, two stacked rectilinear forms rotate independent of each other. Paned-glass squares make up the two partial cubes, decorated with cut-out mythological illustrations. The kinetic piece responds to climate and environment, hanging from a projected pole off the residence.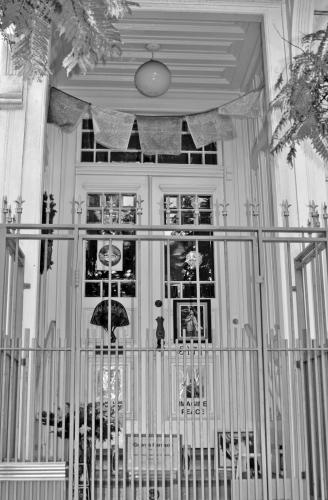 2. George Harrison Tribute. Honoring the life and work of Beatles musician George Harrison, "a great musician, gardener and humanitarian," this Mission District memorial is both static and fleeting. As a doorstep altar, it calmly calls for peace and love. A car parked just a few feet away is an additional layer to the tribute, decorated with painting, photos and inscriptions.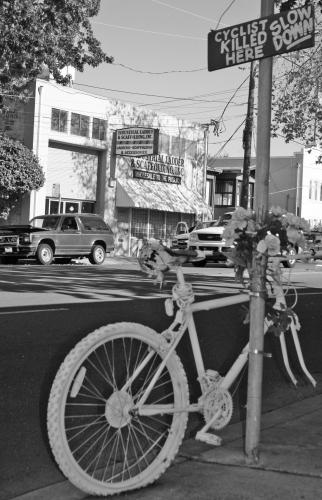 3. Ghost Bike. A ghost-white bicycle is chained to a sign pole in Oakland. It is missing the front tire. Below the 30 mph speed-limit sign, another handcrafted sign urges motorists to slow down, exclaiming, "CYCLIST KILLED HERE." The handlebars are adorned with a bouquet of flowers, marking the spot where Mathew Sperry, a well known local musician and performer, was killed in 2003. This installation is one of more than 100 ghost bike memorials worldwide honoring fallen cyclists and supporting their right to safe travel.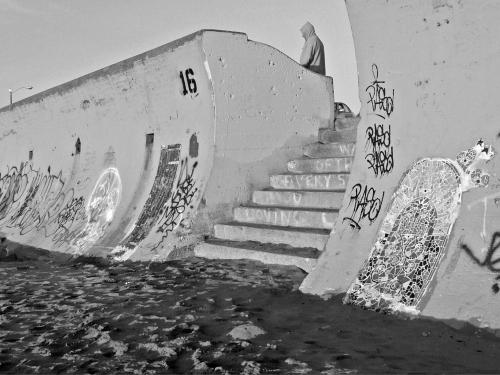 4. Ocean Beach Mosaic Doors. Located on Ocean Beach's crumbling and historic seawall, two mosaic doors flank Stairway 16, offering an unexpected departure from the typical creative expression of graffiti and tags. Perhaps sensing the rogue nature of the site, artist Laurel True refers to her work on the right as a "mysterious happening." A third-eye stares out through the round-top door set off by rays of light. On the left, another mosaic by an unidentified artist resembles a more traditional and rustic western-style wooden slat door.
5. Mushroom Infrastructure. Three capped pipes decorate the mundane and enliven the streetscape in front of The Touch furniture store on Valencia. Each pipe rises no more than a foot off the sidewalk surface, and is transformed into a whimsical troop of mushrooms. Plush purple fabric gathers around the top of two pipes, to create the mushroom cap. A third pipe, the quintessential poisonous toadstool, has a metal cap painted red with spots. Plastic flowers and oak leaves give just a hint of an enchanted forest floor to an otherwise concrete environment.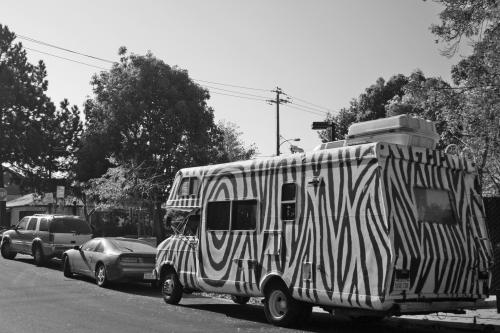 6. Zebra RV. The zebra stripes of this old recreational vehicle are quite a sight. In nature, stripes like these act as camouflage, offering protection from predators. Much like the simple pattern-camouflage used for military uses, the wavy lines of a zebra are meant to blend in with the wavy lines of surrounding vegetation, where color is not an issue to the colorblind lion. Parked in this urban setting of Emeryville, the RV sits idle yet strikingly visible.
Photo Credit: All photos by the author.