SPUR 2017 Annual Report
SPUR Report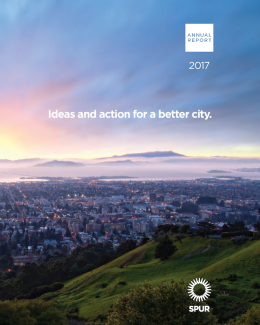 We are proud to share with you SPUR's latest annual report — a look at the biggest things we got done in the last year. We took significant steps to help the cities of the Bay Area live up to their highest potential, including:
• Setting a path for how the Bay Area can wean itself from fossil fuels.
• Initiating study of a second rail crossing for San Francisco Bay that could connect Caltrain and high-speed rail to Oakland and beyond.
• Conducting an extensive analysis of San Jose's fiscal challenges and proposing funding solutions that were passed at the ballot.
• Helping 30,000 San Franciscans navigate a local ballot with a whopping 25 measures. 74 percent of our Voter Guide recommendations prevailed.
• Collaborating with Oakland leaders on the creation of the city's first Department of Transportation.
• Advocating for planning changes that would add thousands of new housing units across the price spectrum.
We invite you to learn more about our work this year and our vision for creating a stronger future for the Bay Area.
Editor's Note:
The following donors and members were inadvertently omitted from the SPUR 2017 Annual Report. We apologize for the error and extend our gratitude to:

Benefactors: George Miller & Janet McKinley

Business Member: Steinberg Architects

In-Kind Donors: Robert & Alice Steinberg

Individual Member: Jocelyn Ross