Six Global Lessons in Transit Recovery
By Hannah Schwartz, SPUR and Diane Cowin, AECOM
This article is the third in a series on how to help public transit emerge from this crisis stronger than ever. Other articles in the series are linked at the bottom of this page.


Transit agencies around the globe are facing a shared existential crisis in the wake of the COVID-19 pandemic. Ridership and revenue have dropped precipitously under shelter-in-place orders, and ongoing social distancing requirements beg the question: When can mass transit be "mass" again? Together, these reductions in demand and revenue have created dire financial conditions for transit networks around the country and the world.

This spring, SPUR and AECOM organized two virtual workshops that brought transit agencies, advocates and practitioners together to do three things:
1. Reaffirm the role of transit in society
2. Explore near-term tactical solutions to address new daily operating needs, as well as long-term strategic ideas to create a more equitable network
3. Bring agencies from across the globe together to share lessons learned

We believe that now is the time for transit leaders to rethink the region's transportation network. At the workshops, six ideas emerged that the Metropolitan Transportation Commission and transit agencies in the Bay Area should consider as they continue to navigate this crisis:

1. Establish new goals and metrics for success.
For too long, the primary measurements of success have been the number of riders and the amount of income from fares. These metrics are based on service efficiency and are sometimes used to justify lower investments in transit. Now is the time to pivot to goals that reflect what transit actually does for people: provide access. As Veronica Vanterpool from Delaware Transit (DART) noted, this crisis has further enforced "the role of transit as a lifeline for so many people." Our investments need to reflect the inherent value of transit and enable agencies to provide the service that keeps society connected and running — both during the pandemic and beyond. Achieving this will require changes in state legislation (the Transportation Development Act) and to requirements for state and regional funding sources.

2. Envision an integrated network rather than reinforcing separate systems.
The Bay Area's current governance system puts transit services and travel modes in competition with each other — with serious consequences for equity, access and, now more than ever, financial stability. To comply with social distancing requirements, transit agencies have been forced to intentionally depress ridership and encourage people to take other modes, depleting fare revenue and resources for mass transit. In London, this is less of a challenge for the agency's bottom line because all of the city's surface transportation is under one roof: Transport for London (TfL) owns the city's bike-share program, the buses and the subways. This consolidated approach provides TfL with greater financial stability and flexibility in designing an essential network. In envisioning an integrated network in the Bay Area, we should consider moving micro mobility services like bike sharing into sponsored but public ownership. This would allow the benefits of intermodal planning to be harnessed across the mobility space, and support the survival of mass transit during times of depressed ridership.

3. Improve user experience and equitable access by adjusting regional fare systems and policies.
As SPUR has outlined in the reports Seamless Transit and Solving the Bay Area's Fare Policy Problem, the region's disjointed transit systems have long been an obstacle in achieving a functional and equitable transportation network. In the Bay Area, each transit agency sets its own fare policy, and the cost to operate the system is the biggest factor in setting fares. This makes buses the lowest-cost option, and thus the only option for low-income riders. In other places around the world, where transit agencies integrate fares and subsidize higher-cost modes, the most affordable choice is any choice. The following would significantly improve access and service during the pandemic and beyond:
Coordinate fares across modes to increase the benefits of an intermodal network, and unlock capacity on previously more expensive modes. California's Integrated Travel Project fare system — developed in partnership between California State Transportation Agency, California Department for Transportation and rail and transit partners — is a step in this direction as it would allow riders to pay just once, via contactless payment, for a trip that includes different modes and operators.
Implement a region-wide accumulator pass, which caps how much people spend on transit on any given day. Transit should be affordable and incentivized; riders should not be penalized for taking multiple trips or multi-operator trips. SPUR has outlined four fare cap models that the Bay Area should consider.
Eliminate transfer fees between modes, such as trains and buses. Instead, charge the rider a single fare for the trip in its entirety.
Expand the Clipper START Means-Based Fare Discount Program Pilot to a 50% discount across all participating agencies and promote and subsidize the agencies that participate.

4. Reduce financial volatility by diversifying mobility options and establishing new business models.
At a time of drastically reduced ridership and, in turn, reduced fare revenue streams, the vulnerability of transit funding sources has proven to be an existential challenge. Transit agencies in the Bay Area and around the U.S. are reliant on emergency support from state and federal sources in order to continue operations. The Bay Area's major transit agencies may face a fiscal "cliff" in the coming months.

Is There a Financial "Cliff" for Transit Agencies
How many months of revenue loss will the CARES Act backfill?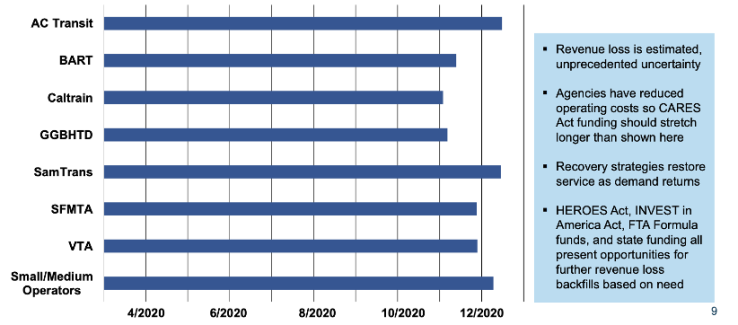 The length of the bars reflects the impact of equity adjustment. The CARES Act covers 8.7 months of revenue loss region-wide.
Source: MTC Blue Ribbon Recovery Task Force, CARES Act Phase 2 Funding Distribution


Agencies need reliable funding in order to provide reliable service, and there should be financial incentives for agencies to work in concert, not competition, to create an integrated regional network. Transit agencies must look beyond traditional models, work toward integrated operations and leverage their assets to ensure that service can be maintained through events like the current pandemic. The following ideas should be considered to diversify revenue streams:
Monetize development rights at stations and other assets to generate new revenue streams from previously untapped sources such as real estate.
Reevaluate the use of existing assets and spaces. Consider how space in and around stations could be used differently in light of new constraints and needs. For example: How can parking areas be used to alleviate crowding in stations?
Use economic business cases to highlight the benefits of Slow Streets and other bike- and pedestrian-friendly infrastructure improvements.
Leverage advertising opportunities presented at transportation nodes, on vehicles and through private sponsorship of publicly owned micro mobility services.


5. Provide regular, consistent communications and information across all transit services to improve public safety and increase rider confidence.
The value of clear, accurate, and consistent information throughout this crisis cannot be understated. A graphically strong one-pager illustrating public health guidelines is a simple yet powerful place to start. The Southeastern Pennsylvania Transportation Authority's (SEPTA) one-pager, which is consistently updated and disseminated widely, is depicted below.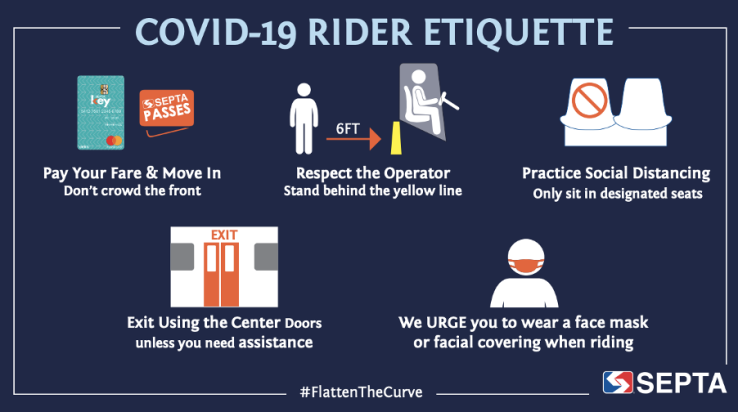 Image courtesy SEPTA 


To improve consistency and accuracy, information sharing should be coordinated and multi-directional: across the region's many agencies, from agencies to riders, and from riders to agencies. The New York Metropolitan Transportation Authority stressed the importance of agency coordination, as well as honesty regarding what agencies can control and what they cannot; riders will have fewer concerns about using transit when they see clear evidence of a thoughtful and consistent approach to public health and safety across all agencies and modes.

Additionally, innovative technologies should be harnessed to support riders in making safe and informed travel decisions, and to enable agencies to make better planning decisions. SEPTA and the Chicago Transportation Authority (CTA) are exploring opportunities to harness technology, such as Bluetooth sensing and cameras, to improve outcomes for riders. CTA recently launched a Ridership Information Dashboard, which includes a bus crowding report that informs riders of the capacity trends on each route by time of day. CTA plans to incorporate real-time capacity information in the next iteration.

6. Work outside of the transportation sphere to drive meaningful change.
During this pandemic, we have seen the value and significance of coordinated leadership and aligned action to flatten the curve in the Bay Area. Continued collaboration across industries, sectors and geographies will be central to the pace and success of our region's planning and recovery process. Of particular importance is the need for the fields of transportation and public health to form a greater partnership, sharing lessons and coordinating responses. In addition, consistent information sharing and coordination amongst government agencies, riders and local employers is key to building a system that can provide safe and reliable service to riders who need it during the pandemic. A few ideas to increase collaboration include:
Transit agencies could coordinate with local employers on approaches that enable staggered travel times on transit, such as reduced days required on-site, varied start times and splitting up the days that different employees are on site.
CTA collected rider feedback and data through an email survey, using the email addresses linked to the transit card accounts that continued to be used during shelter-in-place orders. The responses were used to adjust services to meet the needs of users during the pandemic. A similar approach could be taken in the Bay Area by aggregating survey responses that Bay Area agencies have collected individually. This would provide valuable network-wide information on riders to MTC and agencies.
City departments of economic and workforce development could identify essential service locations, such as hospitals, that run 24 hours or on non-standard schedules to provide transit agencies with key insights into how to shape service delivery during the pandemic. These insights should be incorporated into long-term network planning, so we can begin to reshape our system into one that serves diverse travel needs throughout our region.

Conclusion
Underlying these six lessons is a common theme: the solution to our existential challenges is not to abandon transit, but rather to double down on our commitment to creating a network that contributes to a more just society. In the Bay Area, as in many other regions around the world, this will call for increased collaboration and coordination among the many agencies and players in the mobility space, so that we can meet this moment together.

Thank you to AECOM for supporting these two workshops. They are part of a series of infrastructure implementation programs hosted by SPUR, Metropolitan Planning Council in Chicago, and New York's Regional Plan Association, in collaboration with AECOM. We are grateful to the many speakers who dedicated their time and talent to these workshops, including:

Ratna Amin, lead policy and strategy advisor, DB Engineering & Consulting
David Bragdon, Executive Director, TransitCenter
Tamika Butler, consultant at the intersection of equity, anti-racism, organizational change, and planning and built environment
Jeremy Colangelo-Bryan, Chief Planner, New Jersey Transit
Diane Cowin, West Region Transit Market Sector Leader, AECOM
Stephen Engblom, Executive Vice President, AECOM
Andrew Fuller, Chief Internal Auditor & COVID strategy, Chicago Transit Authority
Georgia Gann Dohrmann, Associate Manager of Government Relations, MTC
Kyle Gradinger, Assistant Chief of the Caltrans Division of Rail and Mass Transportation
Mike Hardaker, Director of Network Extensions, Transport for London
Jody Holton, Assistant General Manager, Southeastern Pennsylvania Transportation Authority
Michael Jones, Deputy General Manager, BART
Jordan Karp, Senior Transportation Planning Manager, AECOM
Therese McMillan, Executive Director, MTC and ABAG
Mario Péloquin, Chief Operating Officer, New York MTA
Veronica Siranosian, Vice President, Ventures, AECOM
Veronica Vanterpool, Chief Innovation Officer, Delaware Transit Corporation
Jarrett Walker, author and consultant in public transit network design and policy
Audrey Wennink, Director of Transportation, Metropolitan Planning Council


Read the other articles in this series:
COVID-19 Does Not Have to Be the Death of Transit
We Need Consistent Practices Across the Region to Make Transit Safe