The Politics of Potholes in Oakland: Fairness, Equity, City Budgets and the Public Good
By Robert Ogilvie, Oakland Director
In recent weeks the Oakland Department of Transportation (OakDOT) has begun publicizing its new $100 million, three-year paving plan. Funded by the Measure KK infrastructure bond passed in 2016, it increases the city's annual paving budget from $11 million to $33 million. Ordinarily a plan that triples annual spending — especially in a city whose residents are famous for their outcry about potholes — would meet with universal acclaim. But this plan — which incorporates equity, as well as street condition and safety, in deciding how Oakland spends money on paving streets — has some parts of town happy and other parts up in arms.  
The old policy took the "80/20" approach: 80% of paving dollars were spent on major arterials, like Telegraph and Broadway, and 20% were spent on side streets, especially those that got the most complaints. Now, if the Oakland City Council approves the new plan in the coming weeks, OakDOT will use a what amounts to a "25/75" approach: $25 million will be spent paving the main arterials, and the remaining $75 million will be spend in the neighborhoods.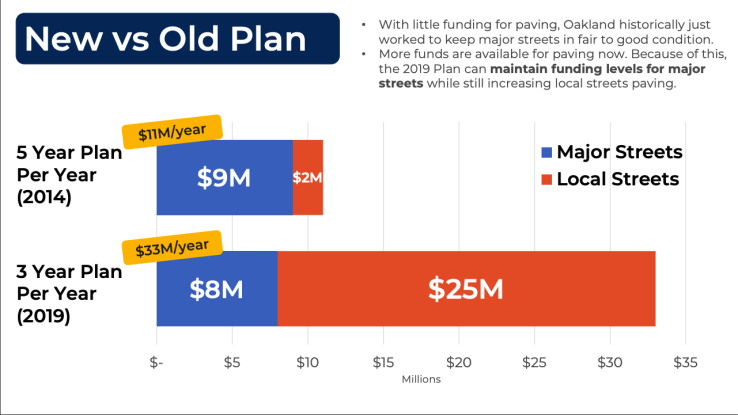 Given the tripling of the annual budget, the amount that Oakland spends paving its major roads will remain virtually the same. The shift will come in the amount spent on paving streets in the neighborhoods and in how decisions will be made about which streets to pave. And therein lies the controversy.
Injecting Equity Into Delivery of City Services
According to the proposal, OakDOT will look at street condition and traffic safety history when deciding which major streets to pave. For local streets, the department will look at street condition, proximity to schools and equity as the criteria. Specifically, the department divided the city into zones and weighed two factors equally to decide how to dole out the money among them: how many miles of poor roads lie in each zone, and how many households qualify as "underserved" — meaning they are low income, people of color, non-English speakers, elderly or young.
What this means practically is that two kinds of streets will now get more of the funds: those with more vehicle volume and more traffic from heavier vehicles (and thus more wear and tear), and those in neighborhoods populated by underserved people.
Current Pavement Conditions, City of Oakland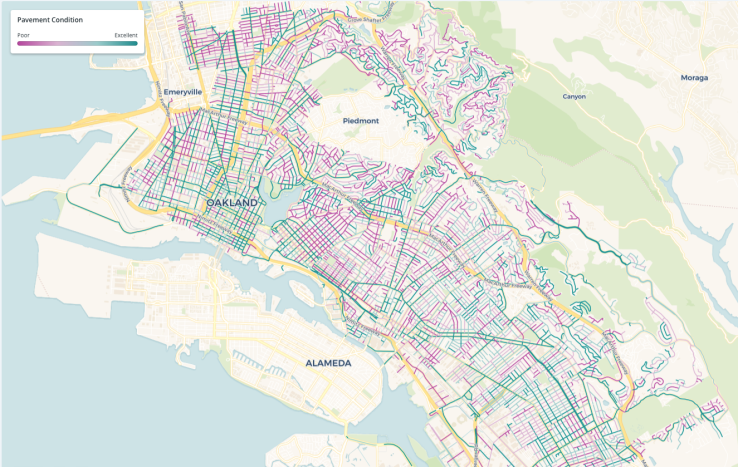 A look at OakDOT's map of street conditions shows that those two types of streets tend to be in the same neighborhoods. To some, spending more on paving those streets is what fairness looks like.
"Personally, I'll say the consensus among our neighbors is that we've been fighting for this for years. We should not have to beg and plead — it should just be automatic," Preston Turner told the San Francisco Chronicle after OakDOT presented a preview of the plan at the Eastmont Police Station in East Oakland. Though he welcomed the paving plan and the greater focus on his neighborhood, he said that he wouldn't actually believe it until he saw the paving starting.  
Others weren't so pleased.
"I feel that monetarily it's horribly unfair — we're paying 500 percent more in taxes and only getting 10 percent of the money," a resident told OakDOT Director Ryan Russo at a presentation of the plan in the North Oakland hills.
This new approach is the result of the city's attempt to become equitable in how it spends its money. City Council directed OakDOT to include equity in the paving plan, and this intention was also in the department's 2016 strategic plan, which SPUR supported. Oakland defines equity as fairness grounded in the belief that identity should have "no detrimental effect on the distribution of resources, opportunities and outcomes for our city's residents," according to the OakDOT presentation.
The use of equity as criteria for deciding how to spend city funds is a relatively new concept in Oakland, and it is a result of the creation of a Department of Race and Equity in 2016. This department, and the set of equity indicators it has developed for Oakland, is changing the way the city creates public policy: Addressing these disparities is now a core goal . This is evident in the Downtown Oakland Specific Plan, and it is evident in the 2019 three-year paving plan.
Though public surveys indicate support for the equity plan, community meetings about filling potholes on neighborhood streets are painting a different story. This approach is a new one for Oakland, where, when the rubber hits the road, the squeaky wheels are accustomed to getting the grease.
SPUR has written on the subject of equity, specifically in Oakland, in the past. We have often noted that the best equity plan is one that finds a way to grow for everyone's benefit. By focusing on the places that are most in need, and by trying to bring the infrastructure in all parts of the city up to a functioning level, that is exactly what OakDOT's new paving plan is doing. We think that is a worthy effort.