This article is part of a series that will provide Diridon Station's decision-makers, stakeholders and community members with a toolkit for planning and designing the best user experience for a world-class transportation hub.
 
It's not uncommon to hear people in the Bay Area talk about user experience (UX). Product designers and tech firms use the term to refer to what customers feel when they interact with a product. As many companies have come to understand, creating the best experience retains customers and attracts new ones. That's why the number of UX designers working in Silicon Valley has increased dramatically over the past decade.
What can the self-proclaimed Capital of Silicon Valley learn from this core belief of its most successful industry?
San Jose has an opportunity to bring UX principles to the redevelopment of the largest transportation and city-building project in the region, Diridon Station, which in the next decade will bring together Caltrain, BART, statewide high-speed rail, ACE transit, Amtrak, light rail, and local and regional bus services. User experience in the case of this project is what people will feel and what action they will be inspired to take as they see, hear, smell, walk through or pass by the station and the area around it. The user experience can be pleasant, convenient and energizing — or it can be confusing, stressful and even annoying, depending on people's expectations and needs. If Diridon's transit services are going to compete with the automobile or the next big transportation technology, the partners developing the station — the Santa Clara Valley Transportation Authority (VTA), the City of San Jose, Caltrain and the California High-Speed Rail Authority (CHSRA) — will need to focus on the user as the primary driver in their planning efforts.
User experience is critical to whether people will embrace the station — be it to take a transit trip, meet with friends in the station area, or live or work in downtown San Jose. And because Diridon Station will be a regional hub including high-speed rail, the success or failure of its user experience will also play a role in determining whether San Jose realizes its potential to significantly grow employment.
For transportation investments to pay off, the project partners must anticipate and understand the type of experience their planning process will create and commit to making UX the driving factor that moves them forward. 
What's new with the Diridon Station planning process?
In 2017 SPUR, with funding from the John S. and James L. Knight Foundation, took a delegation of South Bay elected officials and transit agency leaders to visit high-speed rail stations and cities in the Netherlands and France. After reflecting on our visit, we came away with nine key takeaways that informed our local efforts and prompted the City of San Jose, VTA, Caltrain and CHSRA to deepen their level of cooperation and coordinate a joint planning process — the Diridon Integrated Station Concept (DISC) plan — that will yield a shared long-term vision for the station.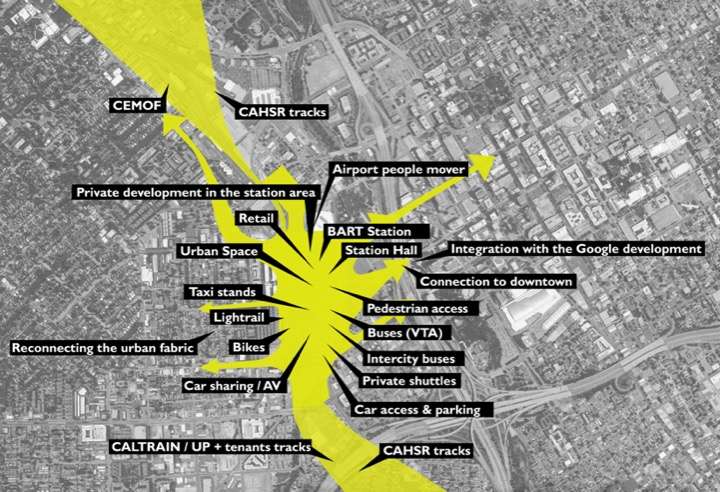 The planning process, which was officially launched this month, will determine:
How much space will be needed to support the many transit services operating at the station and create seamless connections between them
How people will access the station and which arrival modes (car, bike, bus, walking) will get the most space and priority
What design guidelines will be needed to seamlessly integrate the station into the city
What strategy will enable the partners to implement the project's vision
Users of many types, with many different intentions and needs, should drive the thinking for this design and engineering work.
Who are the users of today and tomorrow?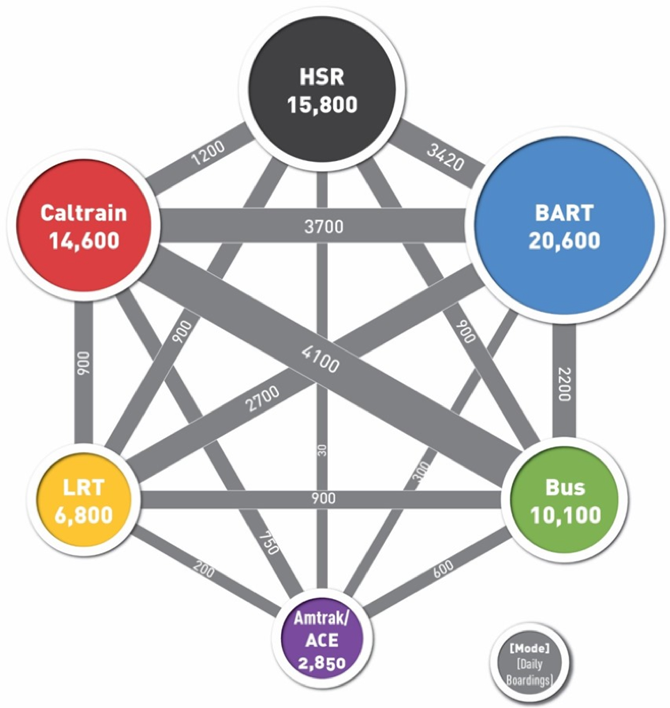 Different people will use the station for different purposes, and some of the same people will visit the station at different times with different purposes in mind. Therefore, it's important to consider and prepare for a variety of "mindsets" when people visit the station.
We have identified three main types of mindsets at and around the station: travelers beginning or ending a trip ("boarding" or "alighting") at the station, riders transferring to other modes of travel, and residents and employees interacting with the station without using transit services.

Projections produced by VTA's modeling staff in 2017 show that roughly 140,000 trips are expected to start, end and connect at the Diridon multimodal hub daily by 2040. The number of passengers at Diridon Station was projected to increase by at least 7.5 times between 2016 and 2040, with the station serving as a key transfer point for many. These models are currently being updated to better include recently proposed developments, including Google's downtown office proposal, which will likely increase the ridership even further.
With the right amount of space given to each type of travel mode and user, and with the right land use plan, the partner agencies have the opportunity to shift people's transportation habits across the region. They can make public transit the most convenient way to move and create a better quality of life for San Jose residents. Minimizing the parking supply around the station will make room for people to walk, live and work nearby. As residents and employees replace parked vehicles, and as transit services become easy, frequent and reliable to use, ridership has a real potential to exceed current projections and expectations. It's worth considering the possibility now, as under planning can have expensive consequences. Lyon Part-Dieu Station in France saw daily ridership triple compared to planning estimates, challenging the capacity of transit and overwhelming some areas of the station — to the point that it had to be redeveloped two decades after it opened.
In addition to transit riders, Diridon Station will also play a role for people who are in the neighborhood with another purpose in mind. The experience of those who work, live, shop or pass by the station will inevitably be influenced by its layout, footprint, operational model and design. In the Diridon Station Area Plan, adopted in 2014, the City of San Jose estimated the neighborhood's population at 27,570 people in 2040. This number, based on development assumptions made in the plan, is likely an underestimation given more recent thinking, including plans to make downtown San Jose a major employment center and discussions about increasing development capacity by raising building height limits in the station area.
With the user as the dominant driver of the planning effort, it's time to really consider who and what we are planning for.
What tools can we use to design for different users and mindsets?
At our recent Transit + Design workshops in San Jose and San Francisco, we explored research and design tools that can help planners and designers understand what a great user experience looks like and plan for it. The San Jose workshop invited Greenfield Labs to share how their human-centric approach can look at the challenges users currently face at Diridon Station, craft solutions and design prototypes to test user reactions to different scenarios for the future.
Designing tools to gather insight
Greenfield's approach begins with using three design tools to unearth user needs and expectations: analogous situations, observation and interviews.
Analogous situations are not directly comparable with the product in question but can present the same type of user challenges, experiences or key takeaways. For example, transit providers can look at what motivates people to wait in line at restaurants or coffee shops to determine how riders may react to waiting for public transit to arrive.
Observing people interacting with transit and interviewing those who use or could use transit are other ways to gather insights and better understand the pain points of transit trips.
Identifying the tensions and prototyping solutions
Jumping from conducting research about users to prototyping solutions requires critical analysis to make sure that all comments and observations are considered and to generate questions that focus on identified problems.
The first step is to cluster the thoughts, observations and comments generated during the research phase into overarching themes, which allows further exploration of tensions, surprises and personal interpretations that could highlight less obvious patterns. From there it's possible to generate "how might we" questions that focus on a specific challenge and desired outcome, such as:
How might we create a daily amenity hub for commuters?
How might we encourage riders to walk, bike or ride a scooter to the station?
How might we move more people with less space?
In all of these questions, it's important to focus on the user's needs and experience. 
Provotyping
After brainstorming as many ideas as possible to answer the "how might we" questions, the next step is to move the best ideas into "provotypes," preliminary solutions designed to provoke a response. Provotypes differ from prototypes as they are not built out: instead, participants use "bodystorming" —role playing and charades — to quickly test out their solutions and provoke reactions. This enables moving forward quickly with new ideas and, potentially, pilot programs. At our workshop, participants looked at a tricky railroad crossing near the station and asked, "How might we encourage riders to walk, bike or scoot to the station?" By personifying the tracks, as well as different users (pedestrians, bikes, cars, etc.), they could quickly understand the trade-offs of different crossing configurations.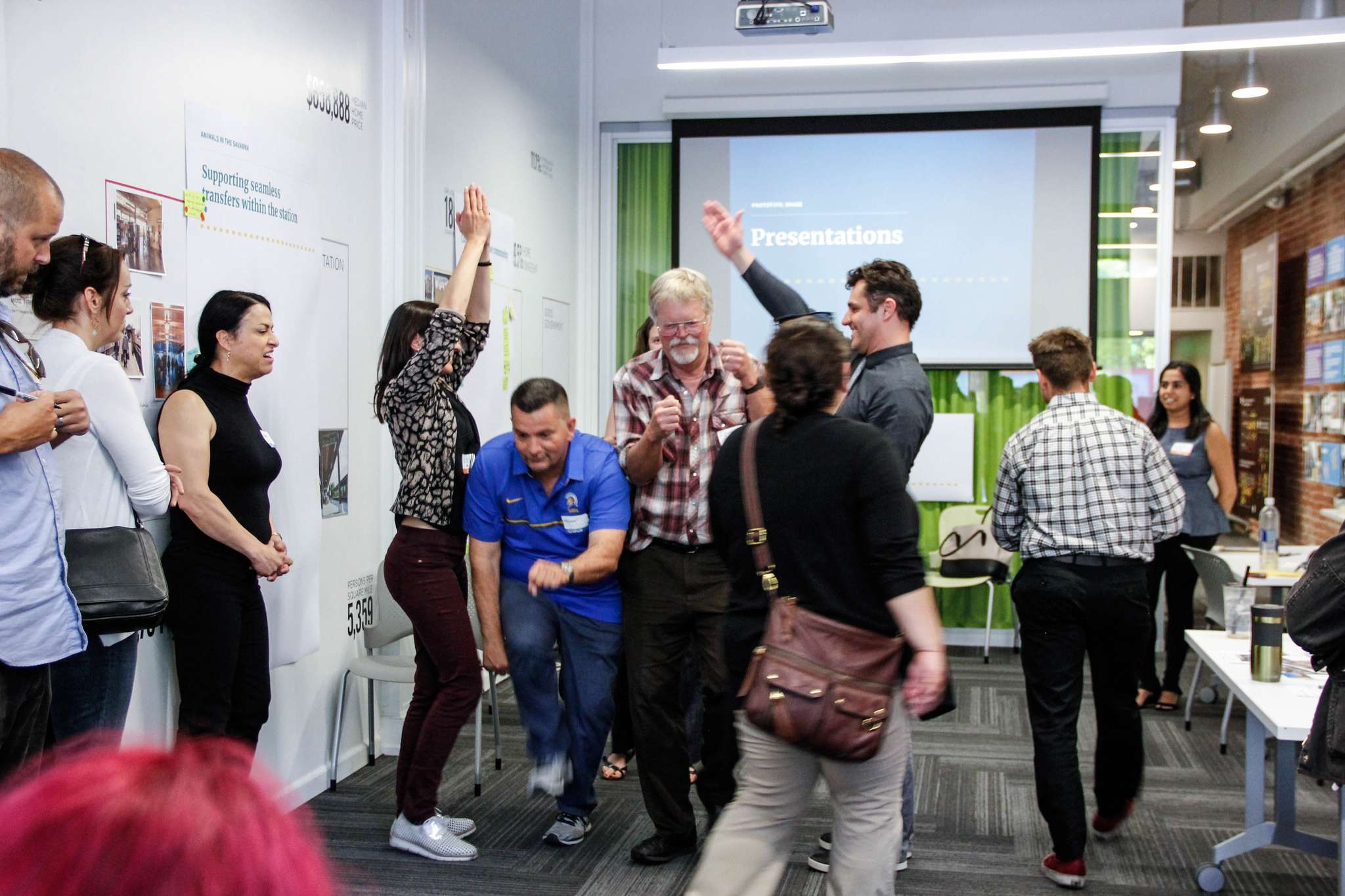 What's next?
With the DISC plan, the partners collaborating on Diridon Station have an opportunity to co-create a multimodal transportation hub that puts users of all profiles and mindsets at the forefront of the decision-making process. Creating a comfortable, convenient and reliable experience for users who get to the station by walking, biking, riding scooters or taking transit will not only offer better ways for people to get around San Jose but will likely increase the region's transit ridership.
It's important to define the public's role and encourage their participation so that their user experiences are understood and built into every step of the planning process. Diridon Station stakeholders should be encouraged to provide input to the various planning and engagement processes currently underway, including the Diridon Station Area Advisory Group, VTA's BART Silicon Valley Phase II Downtown-Diridon Community Working Group, the San Jose High-Speed Rail Community Working Group and any DISC planning efforts that are beginning.
SPUR's goal is to provide all parties with learning opportunities and tools to support and advance a bold long-term vision for San Jose's Central Station and the area around it.