Double Up Food Bucks: SPUR's Healthy Food Incentive Grocery Pilot
By Eli Zigas, Food and Agriculture Policy Director
Yesterday, grocers, elected officials and public health advocates announced the start of a new program, coordinated by SPUR, that helps low-income families afford more fruits and vegetables and supports California farms. The program, called Double Up Food Bucks, allows families participating in the CalFresh program (formerly known as food stamps) to double the value of their benefits when they buy California-grown produce.
The program is available at three participating grocery stores in San Jose and Gilroy. These stores are the first in California to offer Double Up Food Bucks, which is modeled on a program pioneered in Michigan by the Fair Food Network.
SPUR doesn't often implement on-the-ground projects like this. But in this case the pilot advances one of our top policy recommendations for improving healthy food access. As we highlighted in the report Healthy Food Within Reach, a primary obstacle to healthy eating is the affordability of healthy food. Double Up Food Bucks and other healthy food incentive programs like it help low-income families overcome that economic barrier.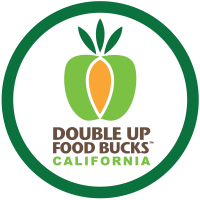 Double Up Food Bucks works by providing customers with a dollar-for-dollar match for every dollar of CalFresh they spend on California-grown produce. For example, if a customer purchases $7 worth of California-grown fruits or vegetables, they receive a coupon for $7 they can spend on any fresh produce the next time they shop in the store. Customers can earn up to $10 in Double Up Food Bucks per day throughout the year-long pilot.
This program design, in which customers earn incentives only on California grown produce, is a key part of the national Double Up Food Bucks program. In the Golden State, increasing demand for California-grown produce will support the state's large and long-established produce growers, as well as any smaller farmers who sell to grocery stores. In other parts of the country with smaller produce industries, the Double Up Food Bucks model will increase demand for locally grown fruits and vegetables and strengthen regional agricultural economies, something SPUR has long-supported.
This pilot is part of SPUR's broader campaign to make healthy food incentives permanently available at farmers' markets and grocery stores statewide. During our pilot, we will be using store sales data to track changes in customer purchases. We'll also be surveying customers to ask about any changes in what they're eating. This information will help us refine our estimates of what it would cost to expand healthy food incentives statewide and will inform estimates of the positive impact an expanded program could have on hunger, health and economic development in the state. We are also exploring the technical barriers grocers face in starting an incentive program to better understand what technology needs to be developed to allow rapid adoption among more stores.
SPUR did not launch Double Up Food Bucks alone; we are working in close partnership with many other organizations. FIRST 5 Santa Clara County is providing assistance with the program evaluation, as well as outreach through its Family Resource Centers. The county Social Services Agency is alerting CalFresh participants in the neighborhoods around the participating stores about the program via mail, text message and phone calls. The county Public Health Department translated outreach material into Spanish and Vietnamese and is supporting outreach efforts. Second Harvest Food Bank of Santa Clara and San Mateo Counties is dedicating staff and volunteer time to greet customers inside the stores to explain the program and also helping with community outreach more broadly. And, Fair Food Network, Community Alliance with Family Farmers and John Snow Inc. are providing technical assistance on program implementation, increasing local food procurement and evaluation, respectively.
Double Up Food Bucks will be a success if thousands of low-income families in Santa Clara County are able to eat more fruits and vegetables and participating grocers start stocking more California-grown produce. At a broader level, success also means further building the case for expanding healthy food incentives statewide. At this week's kick-off, SPUR committed to reaching both goals.
SPUR's Double Up Food Bucks project is made possible by a grant from the U.S. Department of Agriculture's Food Insecurity Nutrition Incentive Grant Program, as well as the generous support of FIRST 5 Santa Clara County, The Health Trust and the John & Marcia Goldman Foundation.