Healthy Food Within Reach
Helping Bay Area residents find, afford and choose healthy food
SPUR Report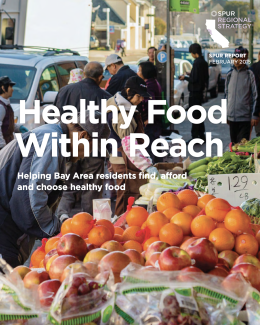 The Bay Area is a global culinary capital. Our restaurants, grocery stores and farms helped pioneer the celebration of fresh, local and organic food — as well as the business models that make this thriving food culture possible. Yet many Bay Area residents face a reality far removed from this celebration of cuisine. In communities throughout the region, families have trouble affording three meals a day, grapple with the effects of diet-related diseases such as obesity and diabetes, and have to travel far to find quality grocery stores that offer fresh, healthy food. To meet our basic needs, improve public health and enhance our quality of life, Bay Area residents must have access to healthy food.

There are four main barriers to food access:
• Physical access: Can you find healthy food?
• Economic access: Can you afford healthy food?
• Educational access: Do you know how to make healthy choices and how to cook?
• Cultural access: Do you want the healthy food that is available and affordable?

We need to address all four of these barriers to promote a more wholesome diet for Bay Area residents and a self-sustaining healthy food economy for our communities. SPUR recommends 12 actions that local governments can take to identify and address these issues in the Bay Area.