There are two things that all economically successful cities do. They build and attract talent, and they create urban places.
I know what you're thinking: the Bay Area has one of the most dynamic economies in the world. We must be doing something right. But if there's one thing to take away from Joe Cortright's recent presentation at SPUR San Jose, it's that we can't rest on our laurels.
It's true that the Bay Area has a highly educated workforce and some of the best universities and research institutions in the world. Of the 53 metropolitan areas in the country with more than 1 million people, San Jose and San Francisco rank No. 2 and No. 3 respectively in the number of adults with a four-year college degree. It is this talented workforce that drives innovation and has led to the region's economic expansion. 
But as Cortright pointed out during his talk, we need to build more and better cities so that we can continue to attract and retain the group that he calls "the young and the restless"—the 25-to-34-year-olds with at least a four-year degree.
Cortright is an urban economist and the founder of City Observatory, a virtual think-tank that provides data-driven research and commentary on what matters to the success of cities. Earlier this month, he came to San Jose to share his research and showed us several indicators and trends that explain why building great urban places is essential for a city's success.
Neighborhoods that are within three miles of a downtown are growing twice as fast as more suburban neighborhoods.
Nationally, Close-In Neighborhoods Are Growing Twice as Fast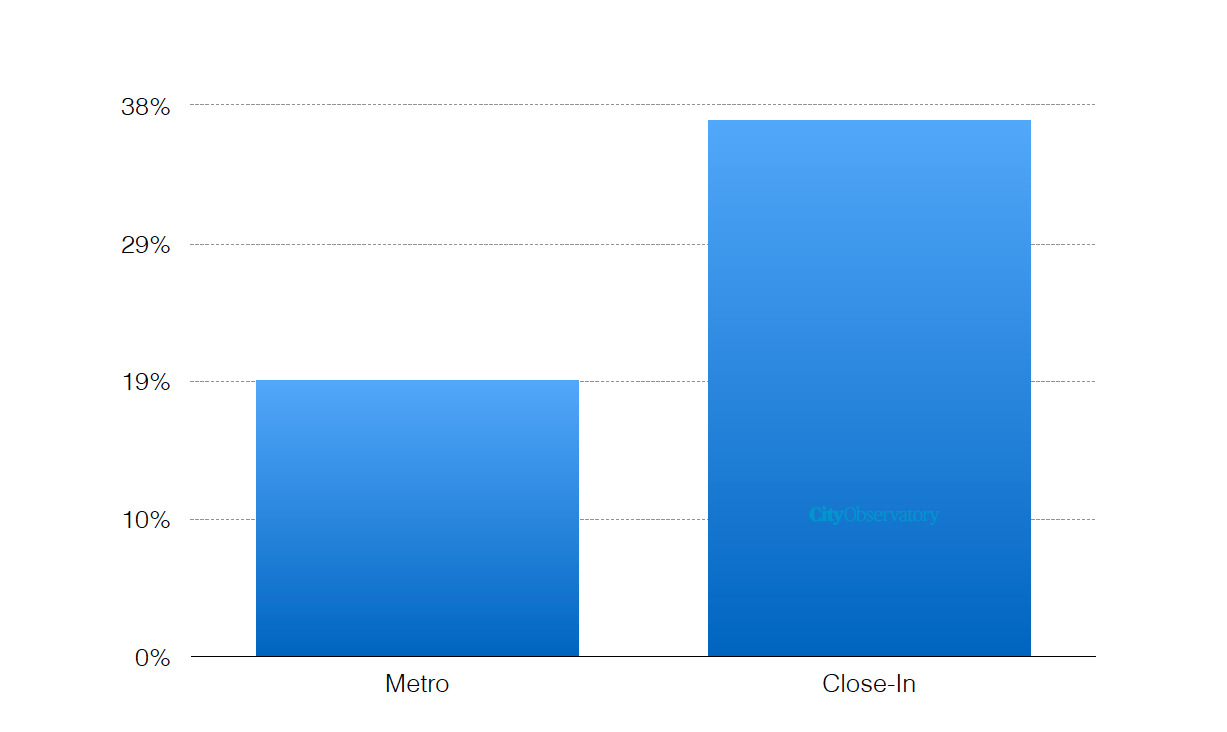 More people are seeking to live in neighborhoods within a 3-mile radius of a downtown. All figures courtesy Joe Cortright.

And better-educated people and young people are moving closer to the center. (But don't young people just move to the suburbs when they start raising children? Some do but it's a complicated picture, and here's why.)
Better Educated in the Center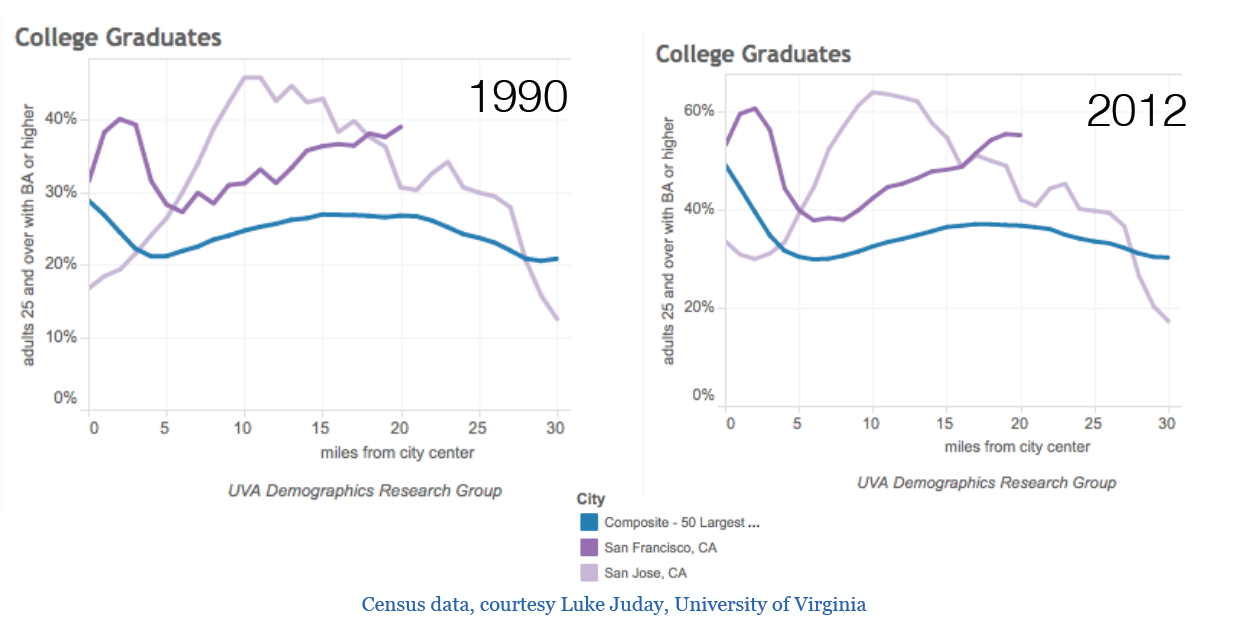 Compare the blue composite line in the left (1990) and right charts (2012). In 1990, of the adults who lived within 3 miles of the city center, about 23 percent had a college degree. In 2012, the figure was about 35 percent.

According to polls Cortright conducted, almost 70 percent of workers are choosing to work in a place they want to live, and less than 30 percent are choosing to live near the best job they can find. The places they want to live are dense, diverse, interesting, bikeable, walkable and connected by high-quality transit. 
Venture Capital Is Flowing Into Cities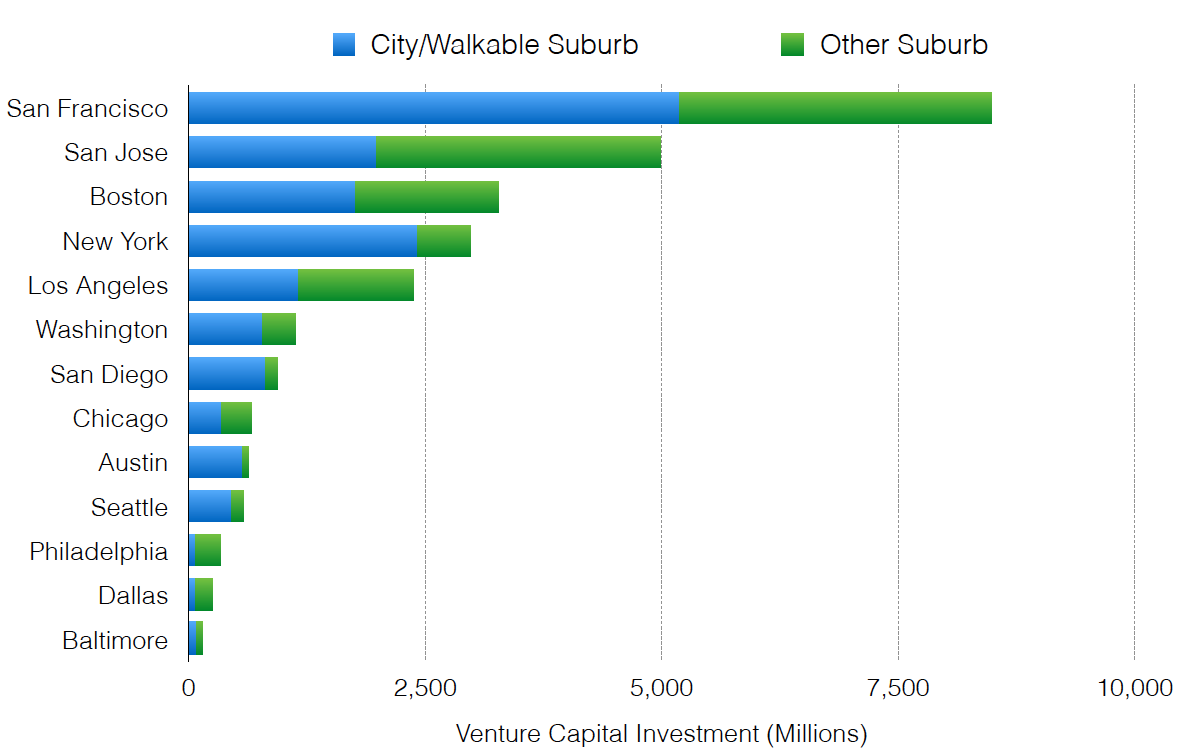 Cortright uses venture capital to indicate future economic success. This chart shows that more venture capital is going to companies are located in urban areas. Source: Richard Florida, Startup City (2014).
 
Employment growth is happening faster in cities. However another respected economist, Jed Kolko, says the numbers aren't so cut and dried, arguing that the trend is more cyclical than structural (i.e., lasting). Cortright explores the topic further in a post on the City Observatory website.
Job Suburbanization Has Reversed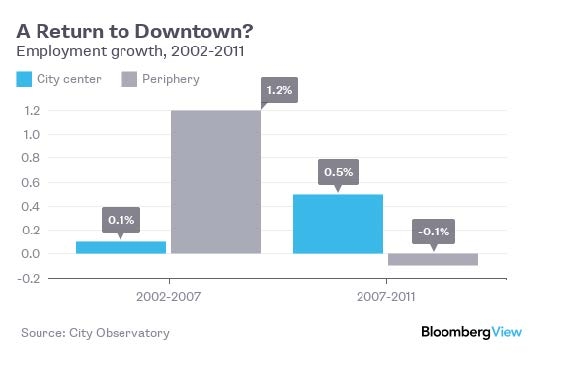 In the last several years, cities have seen a larger share of job growth than suburbs.
3. There's a shortage of cities.
"There's a large and growing demand for urban living that exceeds the supply of great urban areas and opportunities to live in them," Cortright told the audience. There are several price signals that led him to that conclusion, including the high premium on homes in walkable neighborhoods.
 
Walkability Is Highly Valued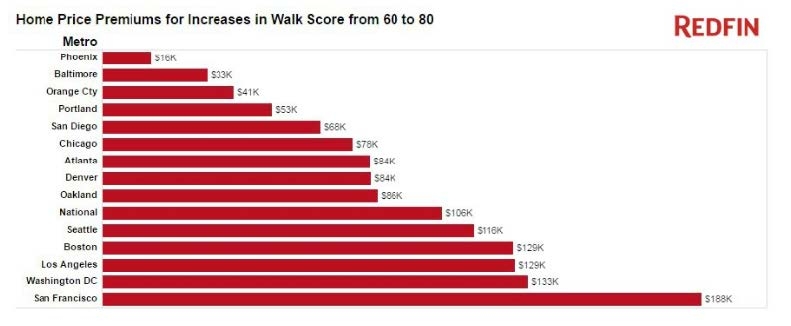 Recent studies by Redfin and Zillow have found that homes located in walkable neighborhoods cost much more than those that are not. On average, a 20-point increase in a home's WalkScore equates to an additional $108,000 in home price.
 
These trends mean that cities need to focus on placemaking in order to satisfy the growing demand for urban living, which in turn will attract jobs. To learn more, view Cortright's full presentation.
Special thanks to Joe Cortright, The Knight Foundation, the City of San Jose and Michelle Thong.