How Commuter Benefits Can Shift the Bay Area to a More Sustainable Future
By Erin McAuliff
More than half of commuters in the Bay Area drive alone to work every day, clogging the roads between major destinations like San Francisco and Silicon Valley. Similar to most regions, transportation in the Bay Area is the largest source of pollution and the second largest source of greenhouse gas emissions. But some real progress is being made, as local entities address this issue and the region shifts toward more sustainable commutes. The number of commuters driving to work alone in the Bay Area has decreased to 50 percent, from almost 70 percent a decade ago.
The new Bay Area Commuter Benefits Program, which launched in September, is a significant step toward decreasing regional drive-alone trips. It requires all Bay Area employers with 50 or more full-time employees to provide transportation benefits to their employees. The program is based on the premise that giving employees a financial incentive to commute via public transit, biking, walking or vanpooling will reduce the number of single-occupant vehicles on the road and improve regional air pollution and traffic congestion.
The nine-county program, the largest of its kind in the country, is based on successful ordinances in San Francisco, Richmond, Berkeley and at San Francisco International Airport. In San Francisco alone, the local commuter benefits ordinance has helped reduce carbon emissions by as much as 286,547 metric tons annually. The regional program will multiply this impact throughout nine counties, requiring all 9,600 Bay Area employers with 50 or more full-time employees to provide one of four transportation benefit options: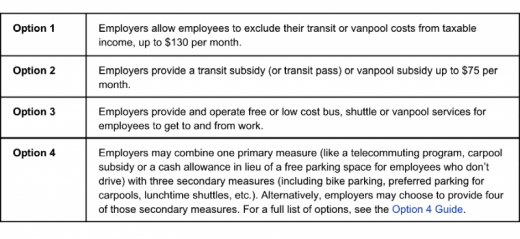 We All Benefit From Commuter Benefits
It is not just commuters who benefit from the new program; transportation options result in widespread gains for:
Employers attracting talent. Employer-provided transportation services have become an attractive workplace incentive for many Bay Area residents working in the South Bay. Peninsula employers like Google and Genentech provide employee transportation services like private commuter shuttles not only to ease commutes but also to attract strong candidates.
Employers and working families looking for savings Through the pre-tax benefit option, employers experience payroll tax savings and employees receive savings and a perceived "salary increase" by using pre-tax income to pay for their commute.
Major cities dealing with the daily rush hour. The daily influx of regional commuters can be a financial boon to a major city, but accommodating the rush hour traffic generated by daytime employees can also be both a logistical and financial headache, especially when it comes to parking. The solution, many cities believe, is providing commuters with more and better travel choices. New York City and Washington, D.C. are joining the Bay Area in instituting commuter benefit legislation.
Transit agencies seeking revenue and ridership. Employees participating in transit benefits programs make up a substantial portion of total transit ridership for many transit agencies and, in some cases, commuter tax breaks have been associated with surges in transit pass sales. Initial analysis indicates that the Bay Area's program will increase transit ridership by 7 percent among employees at worksites covered by the ordinance in 2015. Ridership may also increase at off-peak hours because riders with monthly passes have a cost-effective incentive to use public transit for activities like shopping, running errands and visiting friends and family.
Local and regional entities in need of strong legislation to address air pollution. The Bay Area Commuter Benefits Program was mandated by California Senate Bill 1339, signed into law by Governor Brown in September 2012, and unanimously approved by the Air Quality District and the Metropolitan Transportation Commission.
Making Sure the Program Suceeds
Years of experience across the U.S. have taught us what it will take for a program like this to work. Here's what we need to do:
1. Pass the federal Commuter Parity Act. While the commuter benefit program offers exciting opportunities for everything from bike lockers to telecommute programs, most employers are expected to administer Option 1: the pre-tax benefit. The value of this benefit is dependent on Congress' willingness to reauthorize the amount at its current rate, to not decrease it any further (on January 1, 2014, Congress reduced the commuter tax benefit rate to $130 per month from $245 per month while the parking tax break increased to $250), and to create parity between transportation modes. The Commuter Parity Act, currently pending in Congress, would create permanent parity between transit and parking, increase the commuter bicycle benefit to $35 per month, and permit the bicycle portion to be used for bike sharing. If we do not achieve commuter benefit parity in the near future, advocates may start encouraging the federal government to subsidize transit directly, without involving taxes.
2. Continue to help employers be a part of the solution. Research shows that employees are much more likely to consider their alternative options when encouraged by an employer. Transportation demand management (TDM) agencies, like San Mateo's Commute.org, help employers build employee commute programs, connect employees with existing resources and prove especially valuable in encouraging and providing first-mile and last-mile connections to jobs. For TDM strategies to work, interagency cooperation is required. Under the umbrella of SF TDM, a pilot partnership project, the San Francisco County Transit Authority, the San Francisco Municipal Transportation Agency, SF Environment and the San Francisco Planning Department have begun collaborating with each other, as well as private sector organizations, to shape and oversee projects and policies important to employers. Pilot initiatives include the private employer shuttle partnership program, employer parking management and the Commute by Bike pilot program.
3. Allow for innovation on the part of the private sector. Mandated commuter benefit programs open up space for private transportation providers and related businesses to flourish. This includes companies like TransitChek, which helps employers administer commuter benefit programs; Enterprise Rideshare, the rental car company's foray into vanpooling; SliceRides, an app and social network that facilitates trusted peer-to-peer rides between professionals on their way to work; and TransitScreen or RideScout, providers of real-time transportation information useful to commuters. Enhanced commuter benefits programs are another opportunity for government entities to collaborate with the private sector by creating innovative tools like CarFreeAtoZ, a multi-modal trip planning and comparison tool in Arlington County, Virginia.
4. Continue to make transit great. Sixteen percent of Bay Area commuters use public transit, 14 percent commute by carpool and 5 percent bike. These numbers would increase with appropriate investments that boost transit capacity where there is high demand, create local transit networks with feeder connections to regional rail and develop sustainable land use patterns that make it easier to walk and bike to work or to transit. These investments are especially critical in suburban areas where transit isn't viable today When commuters perceive that it's difficult or costly to ride transit, free parking at worksites may outweigh any transit benefit.
A Virtuous Cycle
By involving employers, the Bay Area's commuter benefit ordinance thinks outside of the car to improve and provide more sustainable choices for hassle-free trips. It is not an overnight solution to regional traffic or commuter woes. But it builds upon other promising transportation demand management efforts and feeds a virtuous cycle: more demand for sustainable transportation will lead to us finding more ways to make those modes work.