PARK(ing) Day and the Legacy of Iterative Placemaking
By Jennifer Warburg
On September 21 SPUR celebrated PARK(ing) Day with an original form of alchemy: transforming asphalt into mini-golf and pizza.

The annual event, celebrated in more than 160 cities, invites the public to reimagine metered parking spots as new types of urban space. The 2012 celebration saw artists, designers and business owners around the world taking to the streets to create everything from temporary hair salons to bicycle repair shops to green space.

This year SPUR's PARK(ing) Day creations included a parklet featuring lounge chairs and live music — built in partnership with Transform — outside our San Jose office and, in San Francisco, a miniature golf version of Golden Gate Park, complete with Stow Lake, the bison paddock and Ocean Beach. The mini-golf parklet, built over a five-week period by SPUR members Steve Fox and Leslie Crawford, was recognized on sites from Architizer to The Washington Post as a favorite contribution.


Our Golden Gate Parklet included a miniature Stow Lake and tiny bison. Photo by Sergio Ruiz.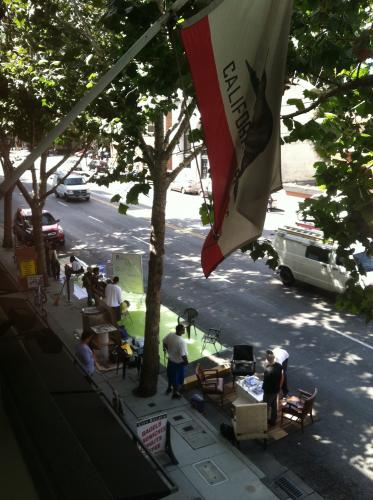 Setting up the parklet in front of SPUR's San Jose office. Photo courtesy Leah Toeniskoetter.

PARK(ing) Day happens just once a year, but its effects have been significantly more lasting. In the seven years since the concept first debuted, PARK(ing) Day has become the progenitor of a distinctly San Francisco model of iterative placemaking, using temporary interventions to build momentum for permanent improvements to the public realm. It began in 2005 when the San Francisco-based design studio ReBar reconceived a parking meter as a short-term lease to experiment with public urban space, then invited others to follow suit. The next year there were 47 PARK(ing) Day creations in thirteen cities. And the year after that, hundreds.

As PARK(ing) Day caught on around the world, a bell went off for San Francisco officials and activists accustomed to being constrained by limited resources, a change-resistant public culture and a regulatory review process so punitive that, on small projects, clearance could cost more than construction. Temporary, reversible projects, on the other hand, could be fast-tracked, and impacts studied in situ, all while changing both the fabric of the city and the discourse around it. Parklets in parking spots, plazas in alleys, Sunday street closures, separated bike lanes, retail hubs on vacant lots and urban farms — all have been the fruit of this like-mindedness between artists and policymakers around the benefits of travelling the temporary to permanent continuum.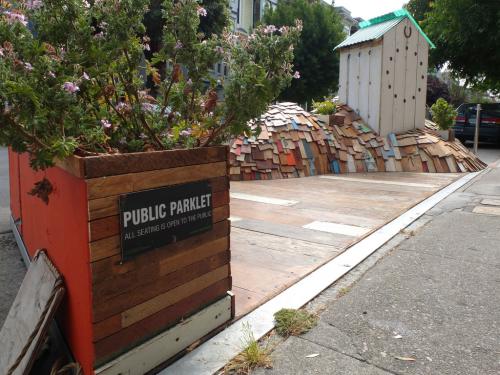 A semi-permanent parklet on 22nd Street in San Francisco. Photo by Sergio Ruiz.

The impact of this San Francisco model is powerfully on display at the 2012 Venice Architectural Biennale, where the United States pavilion won an honorable mention for its arsenal of DIY, mirco-urbanism projects — models of iterative placemaking that are heir to PARK(ing) Day's provocative intervention. Not surprising, a significant number of the firms representing the U.S. are from San Francisco.

These developments are very exciting. Temporary interventions invite the community to inhabit and test new spaces and programs and give shape to the permanent solution. But temporary cannot be a substitute for permanent. It cannot become the only option for creating and maintaining public space. The real legacy of the San Francisco model will lie in leveraging these temporary experiments into high-quality public spaces with an enduring civic presence.