November 2014 Voter Guide
Analysis and recommendations for the November 2014 San Francisco ballot
Voter Guide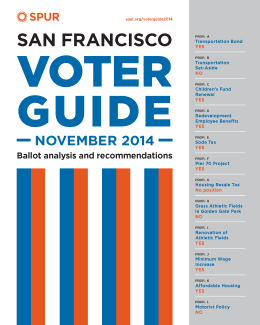 Twelve city propositions appear on the San Francisco ballot on November 4, 2014. As we do every election, SPUR provides in-depth analysis and recommendations on each one.
For each measure we ask: Is it necessary and appropriate to be on the ballot? Is it practical, and if enacted will it achieve the result it proposes? And most important: Is it a worthy goal, one that will make San Francisco a better place to work and live?
SPUR's Positions at a Glance:
In-depth ballot analysis, made possible by our members.
Voting booth image courtesy flickr user nshepard