Member Profile: Kay Flavell
Kay Flavell has been researching and writing about people, buildings and streets for decades.
October 26, 2018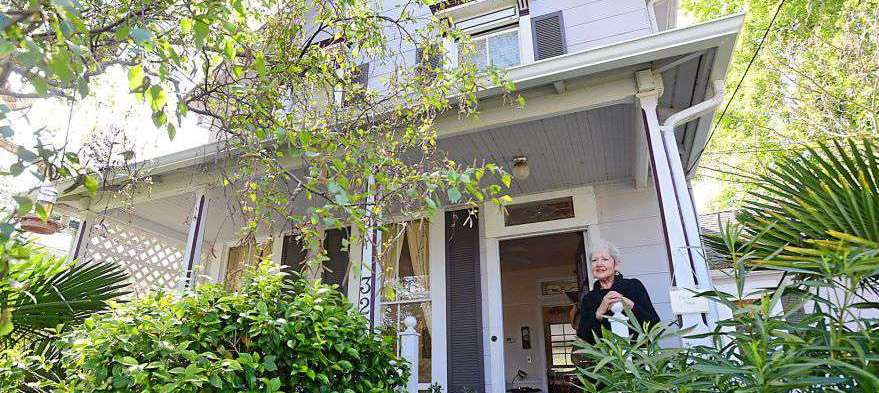 Kay Flavell at her farmhouse/artist residence in Vallejo, California. Photo by Chris Riley for The Times Herald.
Born in 1943 in the harbor city of Wellington, New Zealand, Kay Flavell knew from the age of five she wanted to become a writer and a traveler. By then her family was running a farm on Signal Hill, above the Scottish-Kiwi town of Dunedin. "We children built simple manuka huts in the native bush growing above a creek," she recalls. "Maybe that's why I've always been attracted to worlds in miniature: kaleidoscopes, dolls' houses, stereoscopes, toy theaters, puppet shows."
After leaving New Zealand at the age of 21 as a graduate student, Flavell led a nomadic academic life, mainly in London, where she wrote her doctoral dissertation on theories of creativity in the arts and sciences. For eleven years, she taught 18th-century German literature at University College London. Later, while living in Liverpool in the late '70s, she started collecting oral histories of people living around her and went on to publish People of the Lane, the first of many local histories she's written during her career. She spent several years at the University of California, Davis, first as the associate director of the Davis Humanities Institute and later as a professor of critical theory.
Today, Flavell is the director of New Pacific Studio, a small multi-disciplinary artist residency program she first founded in Berkeley in 2000. NPS's mission, deliberately wide in scope, is quite simply to foster creativity. In addition to supporting visiting artists, Flavell writes, does research and works with groups on community outreach projects that usually involve some kind of historic preservation. 
Fifteen years ago, NPS moved to an 1856 farmhouse and adjoining coach house surrounded by a tree-filled garden in Vallejo, California. Flavell lives where she works: "I sleep upstairs in a corner of the loft, beside a mound of books," she told SPUR via email. It's a perfect place from which to "work strengthening a community's sense of identity by sharing its life stories and restoring its historic structures. Together this creates a greater sense of possible worlds, empowering people first to imagine and then to start building a more enabling future."
When did you get interested in cities? 
From the start, [growing up in] Dunedin, which was laid out in the mid-19th century as a replica of Edinburgh, with botanic gardens and copied street names (George, Albany, Castle) and a second River Leith. I love exploring the layering of history in city streets, buildings and cemeteries. As an undergraduate at the University of Otago I worked on archaeological digs, and "digging up the past" is still my practice. 
What's your current focus?
For the past three years, I and others have been trying to save the historic 1917 Sperry Mill complex on our South Vallejo waterfront at the mouth of the Napa River. Maurice Couchot (1870-1933) was the distinguished designer and engineer. The leaseholders have proposed demolition of the landmark buildings  in order to erect a cement plant and marine terminal. This presents multiple health and environmental risks as well as the loss of a big chunk of our architectural heritage and our future Bay Trail. 
Because I believe Vallejo has much better alternatives, I hit the road to research what other cities had done to transform their 19th- and 20th-century flour mills into valuable and sustainable new urban waterfronts: Sacramento, Napa, Melbourne, Launceston, Auckland, Minneapolis, Portland, Oregon. I set up Friends of Old Sperry Mill and more recently started a petition to create a Vallejo Historic Napa Riverwalk.
Your favorite urban view?
Fantastic 360 degree view of the Bay Area from the top of the Mare Island Shoreline Heritage Preserve, at the southern tip of Mare Island. 
Favorite books about cities?
Spiro Kostof's The City Assembled always gets me thinking about streets and urban fringes and how to recharge old urban forms.  
Favorite city?
Too hard! London, Berlin, San Francisco, New York, Melbourne. Love them all.