Member Profile: Tyra Fennell
Tyra Fennell uses art, music and performance to bring communities together.
Urbanist Article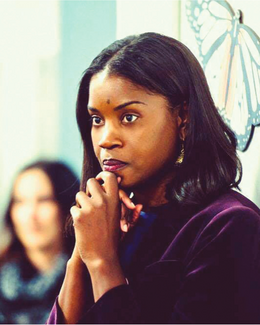 Tyra Fennell is founding director of Imprint.City, an organization that seeks to activate industrial, underutilized spaces with both performing and visual art to encourage community and economic development. Imprint.City produces many festivals and mural art projects in San Francisco such as BayviewLIVE, an annual art, music and tech festival that reflects the cultural landscape of the Bayview neighborhood while also creating a platform for the tech sector to engage a community they have historically overlooked. "The first phase of my art career was as a singer, songwriter," Tyra told us. "And one of the perks of being a working musician was being able to experience many great cities including London, Dublin, Nice, New York and Casablanca. What these cities had in common was the utilization of art to tell their stories, both past and present."
We spoke this spring with Tyra, who is a Bayview resident and serves on the board of Bayview Community Legal, about her hopes and fears for the city she calls home.
What's the biggest challenge facing San Francisco right now? What's the greatest opportunity?
The biggest challenge facing San Francisco is affordability, specifically the housing crisis. The consequences to people being unable to afford a stable living space leads to the city's inability to maintain families, maintain an ethnically diverse population and sustain workers in many of the civil servant jobs needed to keep the city running. The lack of affordability also greatly affects the arts community. San Francisco has a reputation for its creative, quirky and artistic vibe. This is what attracted many long-term residents to this city and makes life so enriched for us all. 
As someone who works in the non-profit sector, a middle-income resident, the affordability issue is a very personal one. Like most in the city, I am barely hanging on and know if this trend continues, I will certainly not be here in a few years. The greatest opportunity we have before us is to connect with all the brilliant minds and resources we have in the region so we can think through ways to reverse this trend. I am excited to be a part of the SPUR board, a key organization leading the charge on how to make San Francisco a welcoming, inviting place for all. 
What's your favorite city?
Washington, D.C. is my hometown, so I am a bit biased but there are so many things to love about it. I love the four seasons and yes, that includes those sizzling, humid summers and freezing, snowy winters. Washington, DC is also a place where you can walk the footsteps of giants such as civil rights activist Martin Luther King, Jr., singer Marian Anderson, President Barack Obama and the person for which my high school alma mater is named, Duke Ellington. I attended Duke Ellington School of the Arts as well as Howard University, whose rich traditions spills over into the surrounding neighborhoods including my neighborhood, Columbia Heights.
Favorite urban view?
Blackpool, England. It's a tiny seaside town, best known for the annual Blackpool Dance Festival, a world-famous annual ballroom dance competition. I lived there for three months while working with music producer, Mark Bell on a project with DJ Sneak, one of house music's pioneers. One thing that stood out for me was how much the community invested in the arts including Blackpool Illuminations, a series of lighted displays and collages arranged along the entire length of the city's 7-mile seafront. There were several evenings before sunset where I would sit on the rooftop, after it rained, and take in red sky and beautiful skyline — breathtaking.
Favorite book, film or work of art about cities?
 just took a cultural education trip to Cuba with my teenage nephew and as a prelude to the trip, he and I had been reading books about the country including its history of slavery and Jim Crow and the Castro revolution. Our favorite book to read together was by Simon Reid-Henry's Fidel and Che: A Revolutionary Friendship.
Cuba was physically a city in disrepair with a crumbling infrastructure and little access to the amenities we take for granted in the United States but there was no visible homelessness or drug use on the street. All the people we encountered in Cuba, though poor in wealth, seemed happy and had their basic needs met including food, free education and healthcare. I love my country so to look at the admiring qualities of Cuba does not take away from that but to grow as a society, we should not be bashful to study what and how things are working in other countries and try to replicate them at home for the betterment of our citizens. Learning about Cuba though books, movies and art gave me plenty food for thought.