Member Profile: Tracey Ariga
This Chicago transplant fell in love with the city when a certain neighborhood cafe captured her heart.
June 3, 2014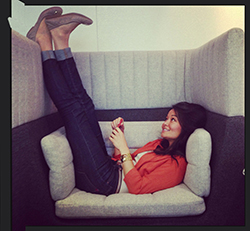 An opportunity to work for Gensler, an architecture, design and planning firm with more than 4,000 employees worldwide, brought Tracey Ariga to San Jose (via Amtrak) from Chicago in 2011. The designer was drawn to the city's Japantown neighborhood, one of the last authentic Japantowns in the United States. All it took was one neighborhood cafe to capture her heart.
"What I love about this city is its openness to experimentation," says Ariga, who in her few years here has become one of San Jose's biggest fans.  "There is a grassroots, entrepreneurial spirit that exists here. That, combined with accessible resources at both the local and global level, makes any vision feel possible.  As a young person motivated to build a better future for the next generation, it is exciting to be living in this kind of insatiable and visionary environment."
We talked to her about her love for the state's third largest city and how she envisions its future.
How did you first become interested in architecture?
I was a painting and photography student before I started studying interior architecture in school. There is something about the way in which we perceive and experience space — I found I wanted to learn more. I thought of interior space as very large art installations that a person not only could experience, but also interact with on a very personal level. The psychology behind our experience within and through habitable space and cities continues to intrigue me today.
Tell us what you're working on at Gensler.
I design interiors and innovative workplaces for the tech sector in Silicon Valley. [She also took the lead in Gensler's pro bono design for SPUR San Jose's new headquarters, which opened last year.] In our current research we are asking the question: What does San Jose's future look like when it becomes a desired destination and workplace for larger businesses and larger companies from the tech sector? What will great urban design strategies look like for a city that needs to find a balanced synergy between the high tech industry, and local multiculturalism?
Gensler recently published its 2014 Design Forecast, touching upon the future workplace and states that "office buildings are changing. . . from hierarchy to community, to support innovation. A younger workforce wants to see itself and its locally based culture in the office. Mixing work with other uses is a growing practice." I would love to see companies and businesses view themselves as integrating with their surrounding community and promoting shared resources (including outdoor spaces!). The goals would not only include what can we make, but what can we give. If there could be a prototype for this holistic approach, San Jose may be just the place.
You've been in San Jose a few years now: What would you like to see change or improve?
What I would like to see improve in San Jose is the separation currently prevalent in much of Silicon Valley between work, life and play. There is a vibrant multicultural arts community that many people who work here but live elsewhere are not connected to. The area is known for its tech giants [but people should also be aware of] the locally-based arts and culture organizations that are deeply engaged with the surrounding communities and really bring this place to life.
What's your favorite city?
Hard to say, as it's the neighborhoods within the cities that capture my heart. Those unexpected moments, well, I've found those in every city I've traveled.
Favorite book about cities?
"Invisible Cities" by Italo Calvino. This book changed the way that I experienced cities as it celebrates the very human responses and emotions that are found between the walls.
Favorite urban view?
Once a year, I take the ferry ride from Tiburon to Angel Island for a day hike. There is an unexpected perspective of San Francisco from here that is one of my favorite urban views. There is a spot on the cliff where you can stand in the open breeze of the Pacific and peer beyond Alcatraz onto the city streets of San Francisco. Here, you will see the city streets line up in perfect rows, as if they were drawn by hand. Though I am typically drawn to the organic, colorful and layering nature of urban cityscapes like in Sao Paulo, this one delights me in its direct organization.