SPUR 2015 Annual Report
Ideas and action for a better city
SPUR Report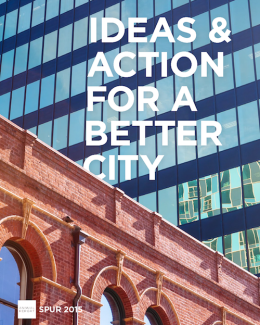 It is our great pleasure to share with you our 2015 annual report, a look at how SPUR works and the approach we bring to solving urban issues.
This report is a celebration of city life and the forward-looking ideas that cities bring to the world, from minimizing our carbon footprint to nurturing innovation to supporting a culture of diversity. But it's also a look at the serious challenges faced by the cities of the Bay Area — and the work SPUR has done this year to address them.
We invite you to learn more about our accomplishments and our vision for creating a stronger future for our region.