How Detroit's Food Entrepreneurs Are Invigorating Commercial Corridors and Neighborhoods
By Katie Ettman, Food and Agriculture Senior Policy Manager
Every year, SPUR takes a study trip to learn from other cities around the world. This spring we visited Detroit, a city that has long grappled with challenges the Bay Area now faces. We found much to admire in Detroit's focus on community-based interventions and recovery. See the bottom of this page for more articles about the trip.
The words "Detroit" and "food" make many minds jump to Detroit-style pizza. But during SPUR's study trip to the Motor City in May, our local hosts gave us an opportunity to look beyond the city's famous pie and learn about the Detroit food movement, particularly how food entrepreneurs are building thriving small business and invigorating commercial corridors and neighborhoods with the help a few forward-thinking organizations.
Many Bay Area cities are seeing a significant uptick in commercial vacancies — a problem Detroit has been working to address for years. And like the Bay Area, Detroit has a thriving culture of entrepreneurship. Four organizations in the Motor City have seized on that culture to help launch and support food-related businesses that are repopulating deserted storefronts as well as enlivening neighborhoods that have received little investment. Here's what the Bay Area can learn from their success.
Lesson 1: Build stepping stones for small businesses to transition from subsidized spaces to market-rate commercial spaces.
Before businesses can become anchors in the community, they must be successful enough to last. For aspiring food entrepreneurs, particularly those from under-resourced communities, transitioning from a home kitchen to a commercial one can be a costly affair but necessary to scaling up. Fortunately, both the Bay Area and Detroit are lucky to have multiple food business incubators that provide technical assistance, shared commercial kitchen space, and other business supports, primarily to businesses owned by immigrants and people of color. In the Bay Area, these incubators include organizations such as La Cocina and Oakland Bloom and in Detroit, Eastern Market.
The economic realities of running a business in the Bay Area make transitioning from subsidized commercial kitchen space to a traditional lease even more difficult than in Detroit. To ensure a stream of small businesses that can flourish over the long term, the Bay Area needs to focus not only on supporting early-stage, small businesses but also on helping these businesses become self-reliant.
The Eastern Market's Detroit Kitchen Connect program offers a model for this. Currently, Kitchen Connect works with 16 businesses, of which nearly 70% are minority-owned and more than 60% are women-owned. A key feature of the Eastern Market's program is a scaled pricing model that increases a business's kitchen costs over a five-year period, allowing the business to slowly scale up. At the end of the period, the business is prepared to transition to a market-rate space.
Lesson 2: Address commercial vacancies by valuing community building, not just economic impact.
Detroit is a shrinking city with a more than 60% population drop since the 1950s. This drop led to decades of underinvestment and high vacancy rates. By contrast, the Bay Area was consistently growing until the COVID-19 pandemic hit. The pandemic spurred population loss and devastating commercial vacancies. Because Detroit has been dealing with these issues for decades, it provides insight into creative solutions.
Motor City Match, a technical assistance provider and grantor, is dedicated to increasing economic mobility for food entrepreneurs and other Detroiters through small-business investments. Motor City Match helps entrepreneurs formalize their businesses and provides grant funding to close financing gaps. But the most unique service it offers is connecting entrepreneurs with quality commercial space. To be eligible for a match with a business, owners of that space must be up to date on all taxes and current on water bills, and they must have no outstanding blight tickets, which the city issues to encourage the upkeep of buildings.
Nearly 150 businesses are operating in part due to the support of Motor City Match, and of those businesses, more than 80% are minority-owned and 70% are women-owned. Good Cakes and Bakes, one of the program's first awardees, opened on the historical commercial corridor known as the Avenue of Fashion, home to 150 small businesses of which 60% are owned by women and 40% are owned by Black business owners. Good Cakes and Bakes has become an anchor in the community and has helped create a walkable corridor inviting to locals and tourists alike.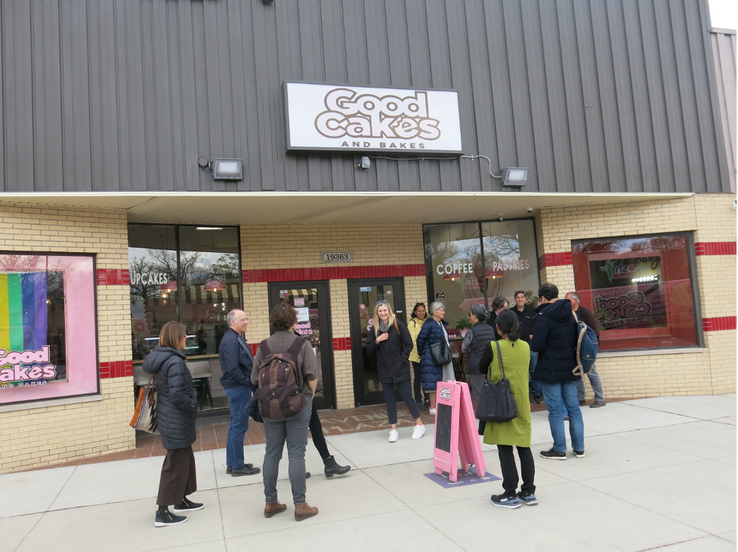 Along that corridor, SPUR visited not only Good Cakes and Bakes but three additional black-owned businesses, each of which is committed to keeping the historically Black neighborhood thriving. At Cul•ture Detroit, a clothing and shoe store, the owner asked his "business partner," an eight-year-old, to describe the business to our group. After explaining the store's wares, she pointed to her paintings hanging on the shop wall. For Cul•ture Detroit and other businesses on the Avenue of Fashion, building community is part of the job.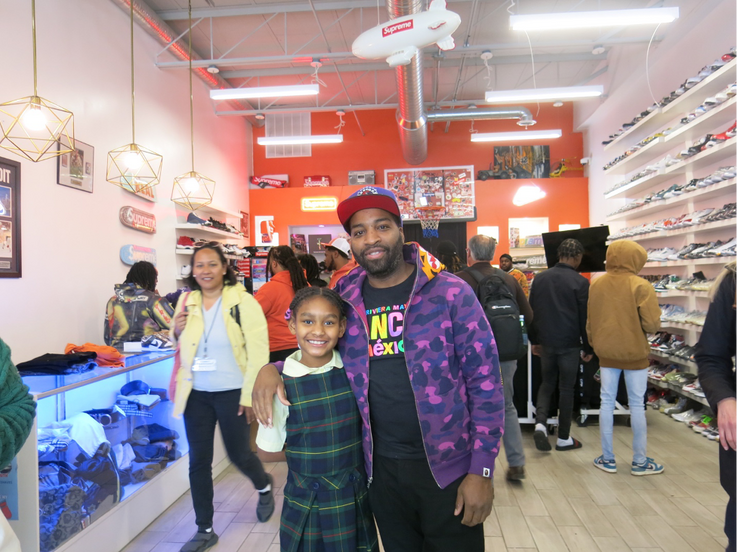 San Francisco is already on its way to testing a program similar to Motor City Match. Vacant to Vibrant will connect small businesses to local property owners open to housing pop-up shops. The shops will begin operating in the host spaces starting this fall. As the program evolves, San Francisco could benefit from Detroit's approach of matching communities with businesses that bring in goods and services that they want and need.
Lesson 3: Leverage investments to support complete communities.
In Detroit's North End, two organizations are building commercial spaces for food entrepreneurs alongside housing, to help create a "complete neighborhood" where residents can meet many of their daily needs. The Detroit Food Commons will host a full-scale grocery store, food business incubator kitchen, café, and community space. Envisioned and stewarded by the Detroit Black Community Food Security Network, it is being built in partnership with Develop Detroit, which is also rehabilitating and building 19 new homes in the North End.
Develop Detroit's work in the neighborhood has already spurred additional investment. While walking through the North End with Executive Director Sonya Mays, we learned that Develop Detroit's investment had inspired other developers to see the potential in the neighborhood and build there.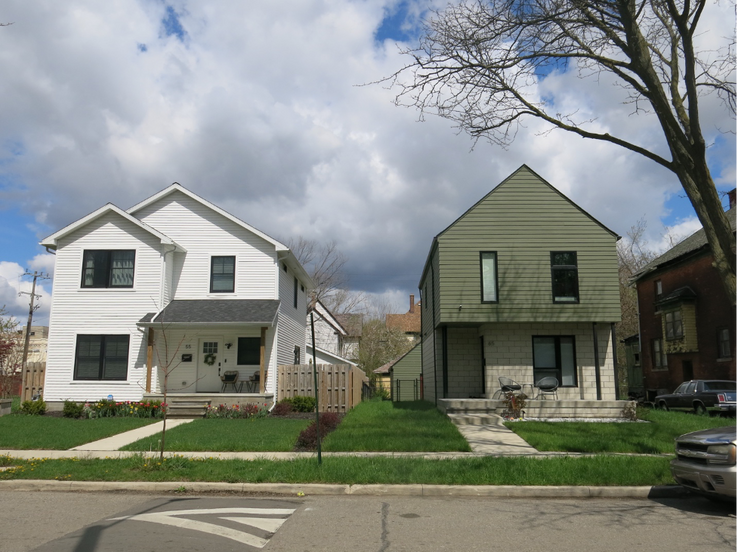 The Detroit Food Commons and the housing projects reinforce one another and support a shared vision of prosperity in a community that has been historically underinvested in.
Both the Bay Area and Detroit are plagued by commercial vacancies, and both have a thriving culture of entrepreneurship. Detroit's efforts to capitalize on the latter to deal with the former suggests creative solutions that Bay Area cities could pursue. By supporting food entrepreneurs to become self-sufficient, cities can foster homegrown business that will anchor commercial corridors and enliven entire communities.
Read more coverage of our Detroit trip:
Detroit's Riverfront Transformation Offers Lessons for Revitalizing San José's Guadalupe River Park
Making Detroit Home: Addressing the Challenges of Housing Stability and Habitability
The Role of Public-Private Partnerships in Downtown Detroit's Revitalization