Double Up Food Bucks Stood Tall in 2020
By Diego Ortiz, Food and Agriculture Program Manager
SPUR's healthy food incentive program reflected the difficulties that thousands in the Bay Area faced in making ends meet during the pandemic. Double Up Food Bucks (DUFB) addressed the soaring demand for food assistance throughout 2020, and, alongside efforts by the federal government, non-profit civic engineers, and the state government, supported low-income Californians by increasing their food budgets at participating stores in Santa Clara and Alameda counties.

The intense impact of the recession on the lives of low-income Californians has created a whole new community of people unfamiliar with navigating the social safety net. Despite this challenge, SPUR saw a significant jump in the number of people who registered for CalFresh – something we tracked throughout 2020 at our participating DUFB locations in Santa Clara and Alameda counties.

Shortly after the first official shutdown in California in mid-March, social service agencies and grocery stores saw a massive influx of customers using CalFresh as job-loss and struggle set in. By the end of April, participating DUFB stores experienced long lines, increased health safety precautions, and a substantial jump in CalFresh usage. The graph below shows that, by the beginning of June, low-income Californians shopping at participating DUFB grocery stores contributed to a massive jump in CalFresh usage, with an increase peaking around 250% and slightly above in the case of a couple stores.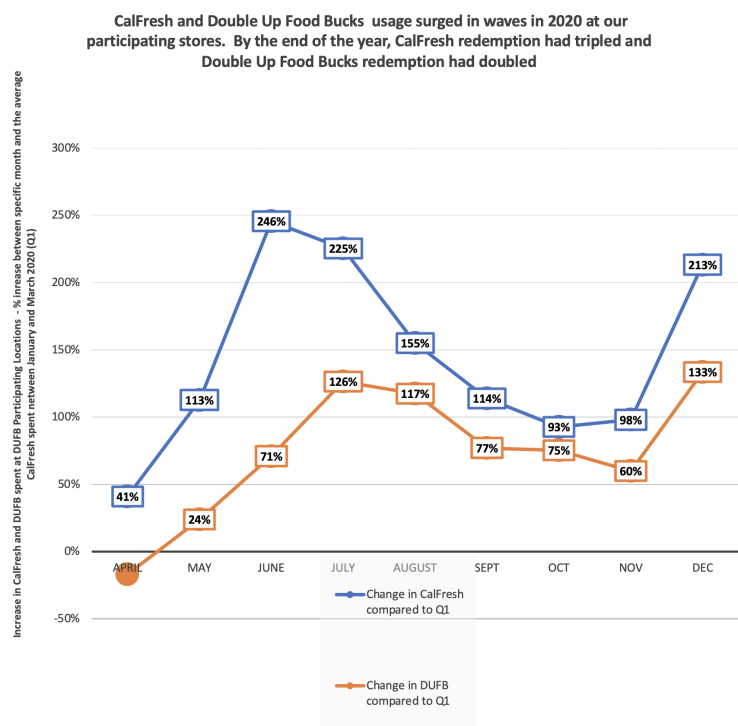 Participating stores saw increases of between 200% and 385% in CalFresh usage compared to the first quarter average. In August, DUFB saw just as substantial a jump in usage, with redemptions increasing between 100% and 250%. Anecdotally, while conducting store visits, SPUR heard from store staff that the increase in CalFresh customers and DUFB redemptions were noticeable to grocery owners and floor staff alike. July and August saw very similar numbers. All the while, DUFB continued to provide additional purchasing power to struggling Californians – without adding any additional strain to grocers, to SPUR or to our advisory committee partners.

Despite the drops in DUFB redemptions in the fall, compared to 2019, CalFresh and DUFB usage was more than double what it was the prior year. By comparison, in 2019, CalFresh families redeemed nearly $100,000 in Double Up Food Bucks at six participating grocery stores, while in 2020, they redeemed roughly $220,000 in Double Up Food Bucks at seven participating grocery stores.

Members of the social safety net community, from service providers to government agencies and more, debate the cause of the bump in December. Some speculated that the sharp upswing was a result of the governor's December 5th stay-at-home order. Others suggest it resulted from the first stimulus check balance running out for some people. Regardless of the cause, Double Up was able to support Californians who struggled through the holiday season.

Beyond our traditional store support, SPUR was able to launch our eighth store. Alum Rock Arteaga's went live in May, providing a different Eastside community in San José with another location to boost their food budgets with food incentives. Despite this being our eighth store to offer Double Up Food Bucks, it is our seventh store currently operating, as the Berkeley Student Food Collective has had to shut down after UC Berkeley ceased in-person operations.

Around the time of the Alum Rock launch, SPUR began to focus on pivoting our outreach strategies to respond to the drop in face-to-face outreach being done in communities throughout California. We fostered some relationships with local school districts through our DUFB Advisory Committee partners, who were beginning to coordinate drive-through food and meal distributions at target school locations. These school districts distributed flyers packed inside of prepared boxes and displayed large posters about DUFB during drive-through food distributions.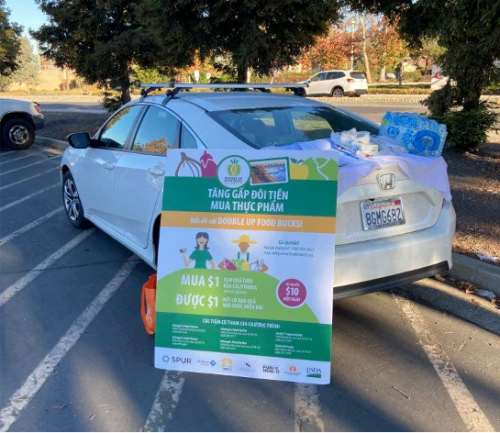 Similar to how some organizations and companies moved to remote work, Double Up also took a trip to the virtual world. We were able to share electronic DUFB promotional materials with a couple of Santa Clara County school districts that emailed the parents of children who receive free or reduced-cost lunches. Similarly, Second Harvest of Silicon Valley, Sacred Heart Community Service and Anthem Blue Cross all reached out to coordinate opportunities to conduct virtual trainings with staff and volunteers working closely with CalFresh recipients.

What can we take away from this difficult year for struggling Californians? To start, our grocers, in a time where keeping their doors open and keeping their stores safe was essential, were saviors. In providing necessary goods and food to people during the pandemic and in supporting low-income Californians by offering DUFB, they went above and beyond expectations. DUFB was also able to meet the additional need without requiring more resources. By adapting to the new normal and shifting outreach practices, DUFB was able to continue boosting CalFresh recipient's food budgets at our participating stores.

As we've noted in other SPUR articles and white papers, California's social safety net system is generally clunky and very dependent on face-to-face interactions, both of which are detrimental to delivering services during a pandemic where social distancing is a necessity. When food banks and social services agencies have a problem in meeting people where they are, you know that there's an issue. The challenges that the safety net has experienced highlight the ever-important need for a one-stop shop to connect Californians to the benefits for which they qualify. While the pandemic showed Double Up Food Bucks is a program that can scale alongside CalFresh, it also proved that there are ways in which the state can fundamentally improve the process of accessing CalFresh itself. In the meantime, DUFB has shown it can and will continue to support CalFresh recipients in desperate times.