A Bolder Vision for Downtown Oakland
By Robert Ogilvie, Oakland Director
After years of work, the City of Oakland is close to completing a specific plan for downtown Oakland. SPUR has been commenting on the plan since we first opened our Oakland office in 2015. While we feel that the current draft is a great improvement over earlier drafts, in our most recent letter we expressed a few significant concerns. We believe that the plan needs to be more visionary and that it should encourage both jobs and housing — and put them in the right places.
Articulate a Compelling Vision for Downtown
For a plan to gain widespread support, it needs to ignite the public imagination. We recommend that the plan put forth a more inspiring vision for downtown Oakland, positioning it as the place that knits the East Bay together. The plan should call for downtown to become a vibrant, dense urban core with diverse and complementary development that forms the urban focal point for the greater East Bay. Specific ideas could include the following:
Explicitly state that downtown Oakland, as a critical regional center, will need to make space to accommodate a great multimodal transit station at the eastern end of the proposed second transbay tunnel. Suggest a site for the station and include plans to develop a thriving neighborhood around it.  
In addition to a central station, outline other potential sites where new transit service through the proposed second tunnel could serve downtown and the parts of Oakland that are currently underserved by transit. 
Put forth a comprehensive vision for reconnecting downtown Oakland to West Oakland and Jack London Square and for reconnecting Jack London to the waterfront. This could involve putting Interstate I-880 underground, capping I-980 and burying the train tracks along the Oakland waterfront. These transformative moves would also open up new possibilities for a city that has borne the negative impacts of freeway building, urban renewal and other planning policies in the 20th century.
Go Big on Broadway
Broadway is downtown Oakland's main street, a transit-rich corridor with two BART stations, more bus lines than any other street in the East Bay, and soon-to-be-completed bus rapid transit. Yet the plan's map of priority areas for office development almost entirely ignores Broadway. This is a major oversight, as Broadway should be the great commercial hub of both downtown and uptown Oakland. The plan should reserve space for commercial development on this important corridor.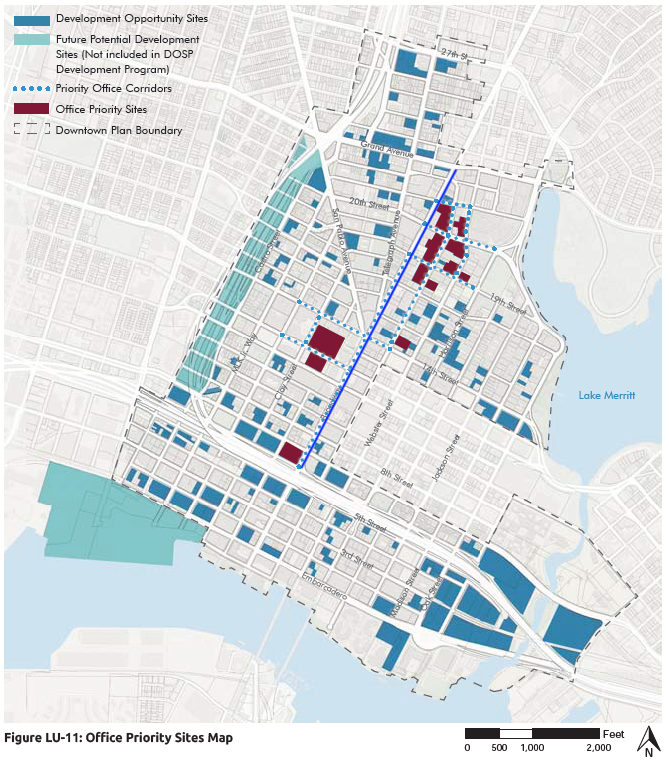 We remain concerned that the current draft of the plan does not reserve enough sites for office development and as a result may not realize its job growth goals over time. Though the plan now calls for more than 20 million square feet of office space, little space in the plan is actually reserved for office uses. The remaining office space is expected to be built in areas zoned for mixed use, a flexible designation that could result in predominantly residential development, foreclosing the opportunity to build a sufficient amount of office space in one of the most transit-rich locations in the region. If the city leaves it up to the real estate market to determine what to build where, downtown Oakland runs the risk of becoming a commuter suburb of San Francisco, rather than the employment center of the East Bay.
We recommend that the city work with consultants to determine how many sites should be reserved to meet a necessary minimum target for office development (such as 10 million square feet). In particular, city planning staff should identify and reserve for office the parcels that can accommodate larger floorplates (the square footage of usable space on one floor of a building). Many large employers prefer floorplates of 20,000 square foot or more, because they can accommodate flexible, open-plan environments that facilitate team interaction. Staff should specifically locate large-floorplate sites on Broadway closest to the BART stations.   
Build Lots of Housing — in the Right Places
SPUR strongly supports the creation of new housing in Oakland. We appreciate that the housing creation goal in the Downtown Specific Plan (29,000 units) is greater than what we called for in our 2015 report A Downtown for Everyone (room for 25,000 new people). We believe great downtowns should accommodate a mixture of uses, including places for living, working, recreation and more. However, the city may need to be flexible about where to allow housing in order to preserve enough space for office development near transit. To that end, it might be useful to consider housing goals not just within the downtown boundaries but also in areas immediately adjacent to downtown that could support greater housing intensity but are not suitable for office development. Oakland needs both housing and jobs, and getting the balance right involves careful thought about not just how much of each to allow but where those uses should go.
Affordable housing is one particularly acute need that the plan ought to address. One way to encourage affordable housing downtown is to allow buildings that are 100% affordable to go as tall as 75 feet without needing to provide community benefits. This would potentially make it viable for affordable housing projects to compete for residential sites and could maximize each site's potential for affordable housing. Such a proposal could also be evaluated for adjacent neighborhoods, using affordable housing impact fees generated in downtown to support affordable development elsewhere.
As we noted in A Downtown for Everyone, downtown is poised to take on a more important role in the region. This specific plan will play a significant role in determining whether or not that actually happens. We believe that the best path forward is to plan for growth — and to shape that growth to make downtown Oakland a great place that provides benefits to all.