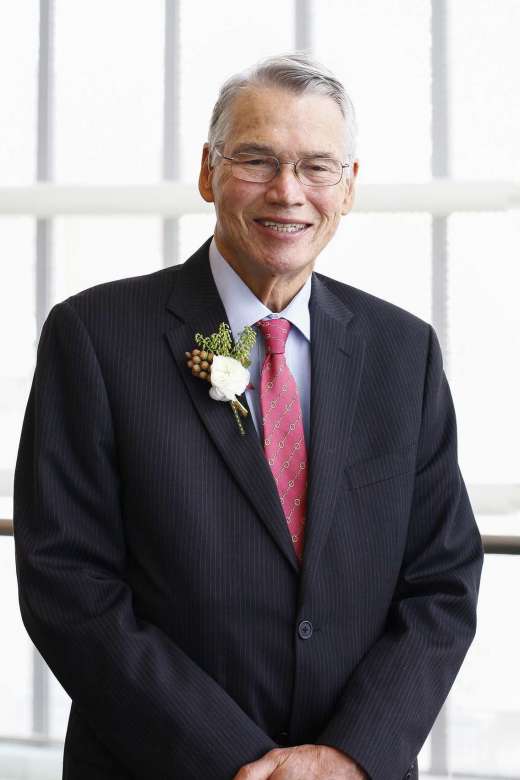 Noted landscape architect Michael Painter, a former SPUR board member, board chair and 2014 Silver SPUR Award honoree, passed away on June 28.
Michael's long and prolific career left a great legacy in the Bay Area and across the country, with 856 finished projects and 49 years of service through his firm, MPA design, which he founded in 1969. He was also one of the longest-standing continuous members of SPUR, having joined in 1959.
Michael's greatest contributions revealed his ability to see the setting as the solution. After the 1989 Loma Prieta earthquake damaged the Doyle Drive viaduct, local agencies and community groups were in a deadlock over how to rebuild it — until Michael showed up at a task force meeting and asked to speak. He unrolled a 20-foot-long plan that showed the elevated road — which bisected the Presidio national parklands at the time — disappearing under the park. He had been riding Golden Gate Transit along Doyle Drive daily for many years and had developed a simple concept: turn it into a modern version of a parkway, then put it through a tunnel to reconnect the Presidio with the waterfront. For 25 years — up until the time of his death — Michael continued designing and problem solving with Caltrans to realize his vision for a park on top of the tunnel. The project is currently under construction, and when complete it will reconnect the Presidio's Main Post with Crissy Field. Michael and other SPUR members spent countless hours advocating for and helping to identify funding for this vision.
Michael sustained his involvement with the places he cared about for decades. He first created landscape designs for the Great Highway at Ocean Beach in the 1980s, advocating for both the restoration of natural landscapes and improved connection to the beach from Golden Gate Park. Thirty years later, he remained passionately engaged, continuing to bring forward ideas during SPUR's Ocean Beach planning work. In addition, he worked on designs for St. James Park in downtown San Jose, which sowed the seeds for the current efforts to revitalize the park.
Michael also spent significant time reimagining office parks and corporate campuses through his client work for Genentech in South San Francisco and for AT&T at Bishop Ranch in San Ramon. We still remember his enthusiasm the day he came to SPUR to share a breakthrough at Bishop Ranch: marginally reducing the size of each parking space could allow space for vegetation and stormwater features without compromising client needs.
He was unique in his ability to imagine grand overarching concepts and carry them through to the smallest details. For the John F. Kennedy gravesite in Arlington National Cemetary, he both extended Pierre L'Enfant's grand baroque axis to the hillside site overlooking the city and created a moving landscape chapel to comfort a greiving nation.
For his impressive body of work, Michael was honored with the Silver SPUR Award in 2014:
2014 Silver SPUR Awards: Michael Painter from SPUR on Vimeo.
Michael will be remembered for his gentle spirit, his rare combination of persistence and modesty, and his continuous imagining and reimagining of how landscape architecture and design could improve people's lives. We at SPUR truly enjoyed working with him and will miss him dearly. He leaves a legacy that all can enjoy.