Before the arrival of cities, the Western United States burned regularly — and urbanization added fuel to this fire-based ecology. Advances in firefighting and building codes have made fires around the world less perilous, until recently. Ghost Ship, Grenfell Tower in London and the construction fires in Oakland and Emeryville all highlight existing risks. Add to the list recent wildfires (which may be linked to climate change) and earthquake-related fires, and fire safety is re-emerging as a critical issue for policymakers in California and beyond.
At a recent SPUR forum, panelists Charles Scawthorn, of SPA Risk and the University of California, Berkeley, and Ron Vidal, a fire safety consultant, discussed the history and changing challenges of urban fires. 
Prevention and Professionalization
America's history of urban fires shaped prevention and firefighting methods. In the early 1900s, there were few building codes and volunteer firefighters operated horse-drawn fire trucks. Fires caused incredible death and destruction, including after the 1906 San Francisco earthquake and a 1911 factory fire in New York. In response, cities developed new building codes and created highly-trained professional firefighting forces. Over time, fire-related fatalities and property damage declined steadily, said Scawthorn.   
Relaxed Code Enforcement
By the 1980s, fire prevention and building codes had reduced the number of urban fires significantly. Fire departments started responding to emergency medical calls, which soon greatly outnumbered the number of fire calls. As the focus shifted, inspecting buildings for code violations diminished as a priority. Scawthorn cited Grenfell Tower in London, where a flammable material clad the building, and the Ghost Ship fire in Oakland, as examples of lax enforcement.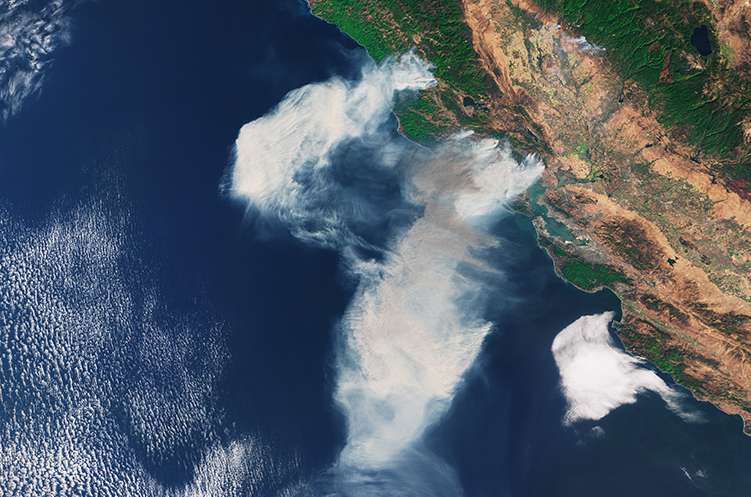 Urban Wildfires 
Wildfires are a persistent problem across the Western United States and are intensifying with climate change. Over 120 million American homes in urban communities abut or intermingle with forests or undeveloped wildland vegetation. Fires in these areas, known as the wildland urban interface, cause an average of $14 billion in property loss and $4.7 billon in firefighting costs per year nationally.
But last year was especially devastating: in California alone, wildfires destroyed $18 billion in property. As we saw in Southern California, wildfires also leave communities vulnerable to further damage from mudslides by stripping the land of vegetation and root systems that normally hold the soil. 
Weather is a significant factor in the spread of wildfires, and it's becoming less predictable. According to Vidal, California firefighters had become accustomed to a fire season between May and October, which allowed for advanced planning and resource allocation. But last year, the Northern California fires started in late October and the Southern California fires began in December. 
Earthquake Water Scarcity   
A major earthquake would trigger massive fires and would damage critical infrastructure, leaving many Bay Area cities with little or no water for firefighting, said Scawthorn. 
After the 1906 earthquake, many Bay Area cities created backup water systems, including San Francisco and Oakland. But these auxiliary water supplies no longer work, except in San Francisco. 
In a region with 7 million people and $1 trillion in property value, many fire agencies will be forced to use portable tanks or pump water from lakes and swimming pools after a major earthquake. While local water agencies are aware of this risk, their disaster plans prioritize providing drinkable water over firefighting.  
Conclusion
As climate change intensifies the threat of fires, urban communities must stay vigilant, said Scawthorn. Homeowners in the urban interface should not rely exclusively on public safety officials, Vidal added. They must be aware of the dangers and prepare for wildfires by reducing fuel surrounding their homes. Both speakers agreed that voters should also voice their concerns about fires to elected officials and demand inspections and strict code enforcement to prevent future urban fire tragedies.