What would it look like if we put people at the center of transit planning — if we designed a friendly system grounded in the needs, wants and preferences of all riders? Would transit be more useful? Would more people ride it?
The preferences of public transit riders — and potential riders — are often not well understood nor are they addressed methodically. Sure, riders can give feedback through the occasional user survey. But what if we could look across groups of transit riders and figure out which pain points or desires most need addressing? What if we could make changes that would encourage many more people to choose transit much more often?
To do this work — to understand riders as "customers" — transit professionals and enthusiasts need access to more effective research and design tools. For this reason, SPUR recently held our third annual Transit + Design Workshop, sponsored by TransitCenter. We brought in partners from the design and engagement world to explore research tools that transit planners and enthusiasts can use to understand how the average person experiences transit and how to improve that experience. Here are six tools we learned to use.
1. Customer Journey Maps
The design firm Method teamed up with Nelson\Nygaard to present a tool called a customer journey map, a diagram that depicts the key moments in a customer's interaction with a product, service or experience. Often, an issue can be so thorny that it can be hard to know how to dive in; as a result, complex problems often go unaddressed. What makes a customer journey map so helpful is that it provides a structured way to dive into complex issues, turning what was once overwhelming into something digestible and approachable.
The primary purpose of a customer journey map is to help organizations learn more about their customers and gain a clear picture of their needs. The tool provides a meaningful way to organize a user's feeling, motivations and questions across various points in time. You can layer maps for different user groups — say children, mobility impaired riders, commuters or families — and then see what different users do and don't have in common to find shared and distinct needs to serve. A key benefit of a customer journey map is that it addresses the emotional experience of the user, not just the mechanics of their interaction with a product. It may not matter that agencies add more Clipper machines in transit stations, for example, if that doesn't actually make riders happier and more excited to use transit.
At the workshops, we looked at three different scenarios that warranted a deeper examination from the customer's point of view: managing curb space at Diridon Station, making transit stations work for tourists and reimagining Clipper to better meet the needs of people with limited incomes. For each experience, we identified and assessed the key stages of the user journey across six different variables, including customer goals (What does the customer want to accomplish at each stage?), pain points (What causes friction for this customer?) and emotions (What emotional response are elicited at each stage, positive and negative?). The resulting journey maps visualized the many moving parts of a customer's experience and helped bring to light missed opportunities and new ways to expand or refocus the experience.
2. Listening Sessions
Despite good intentions, it can be hard to have a real dialogue with transit riders. This is where listening sessions come in. As Matt Biggar from Connected to Place and Anna Gore from the San Francisco Bicycle Coalition (SFBC) explained, listening sessions are similar to focus groups only more exploratory and less formal. Whereas focus groups ask for reactions to existing products or ideas, listening sessions can be employed to explore riders' issues, concerns, needs and wants well before a solution has been developed.
The ideal size for a listening session is 7 to 10 people, with two facilitators and a note taker. Facilitators come up with a series of questions in advance that are broad enough to encourage conversation but specific enough that the responses can inform next steps. The session, which lasts 60 to 90 minutes, is structured to allow individuals in the group talk to one another with minimal intervention from the facilitator.
As Anna Gore explained during the workshop, the SFBC held a series of listening sessions with its members to gather input for the organization's strategic plan. SFBC had lots of questions specific to biking, but started its listening sessions by asking more general questions to get a better understanding of who its members are. Questions included "What do you like about living or spending time in San Francisco?" and "Tell us what matters most to you in your daily life." SFBC members have identities beyond the bike, and the listening sessions are helping the organization develop a strategic plan grounded in a holistic assessment of what is needed to facilitate and encourage biking in SF.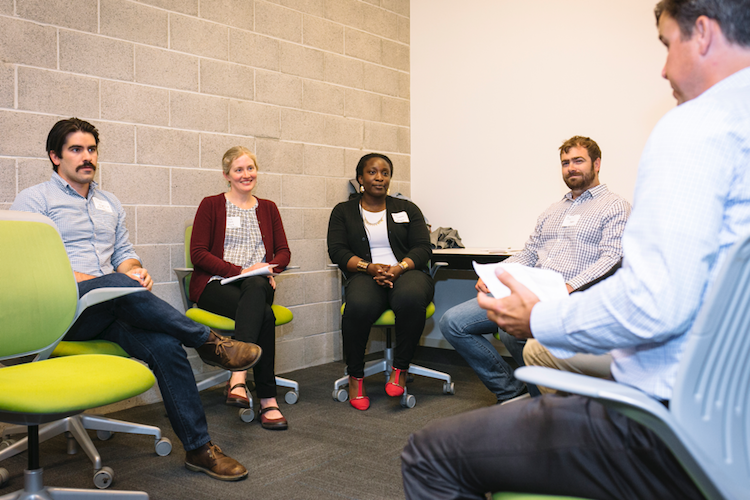 3. Co-Design
Co-design offers another way to move beyond consultation with users — which is where transit agencies often get stuck — to meaningful collaboration. This method engages stakeholders in the design process itself, as users are, after all, experts of their own experience. As Judi Brown and Cristelle Blackford of CivicMakers explained, co-design can break down barriers and allow agencies to truly design with — not for — the people they serve. Doing so can help build trust and partnership between an agency and its customers. In fact, the practice of co-design (also known as "participatory" or "generative" design) has its roots in the public sector: It was popularized by Scandinavian governments in the 1970s.
A wide range of tools and techniques are available for agencies to work with their customers on designing meaningful, relevant programs and services. The workshop provided an overview of the history of co-design, examples of its application, and a template for participants to bring co-design into their own workplaces.
4. Designing Transit for Women
Women experience transit differently than men do, and the purpose of the workshop led by Remix was to explore the challenges women face when riding transit. The session also looked at what it means to have women in leadership roles at transit agencies and how to support women and mothers as transit operators. Safety, reliability and security all make a difference to women when it comes to riding transit, as do access to restrooms and accommodations for strollers, a topic that emerged as a focal point for the discussion.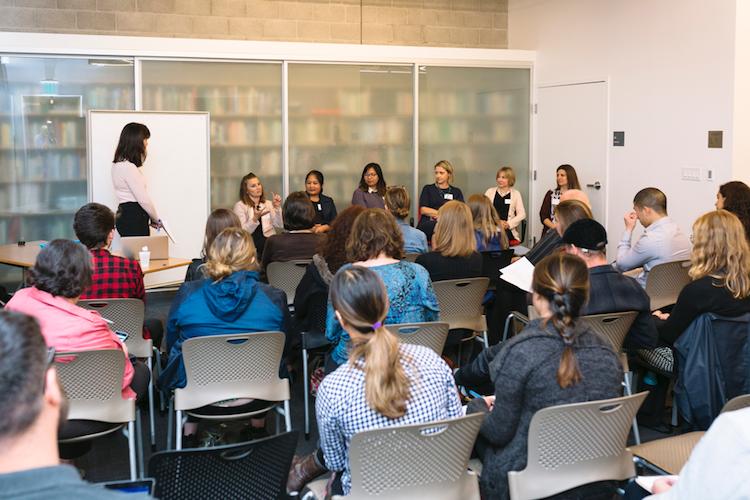 The session also revealed how little we know about the way women experience transit and how gender influences a transit experience. Transit agencies can and should use more robust research and design tools — like a customer journey map or listening session — to help structure an inquiry into these issues.
5. Cohesive Design Narratives
The world's best public transit systems succeed in attracting and retaining riders by providing an excellent customer experience that exhibits a cohesive "narrative" or design scheme across all points of the user journey, from the wayfinding signage at the station entrance to the system maps to the look and feel of the bus or train car. Ian Griffiths of BART and Sarah Christensen of Perkins + Will shared some of the lessons learned from a worldwide review of transit systems completed as part of BART's current effort to develop station experience design guidelines. Then they challenged workshop participants to create their own design scheme that reflected the most important brand attributes of transit.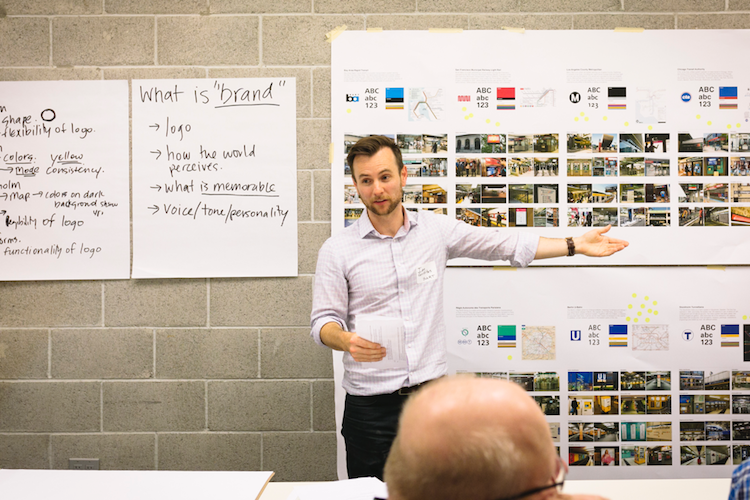 6. Customized Transit Maps
Maps are a key component of a design narrative and play an important role in supporting riders through their journey. Mapzen offered a workshop where participants could try out web-based and open data tools to develop customizable transit maps that represent the wide range of places and people across our region. Participants also analyzed travel patterns and visualized "travelsheds," or how far one can travel by public transit over a fixed period of time.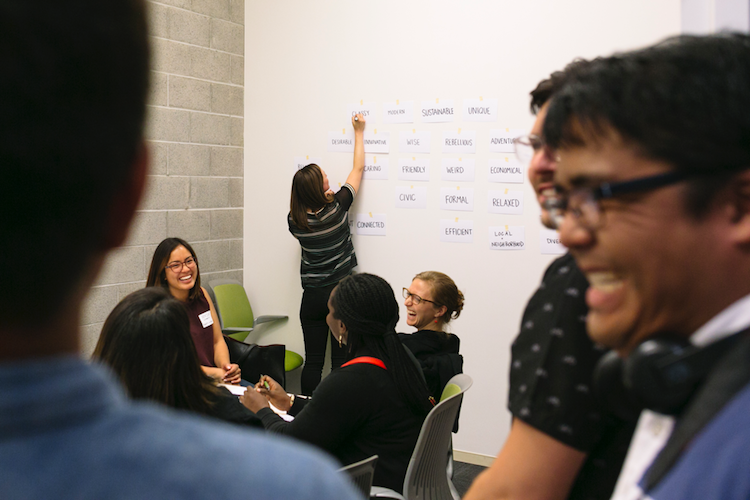 For many, understanding transit riders as an array of different customers with different needs is an entirely new way of approaching transit planning. Transit riders are not a monolithic block; their needs may be nuanced and require careful inquiry and observation. Emerging private transportation companies are tweaking the customer experience and offering discounts and tailored marketed to "win" passenger from each other and public transit. Understanding what riders need and want from their transit experience — everything from how to pay for a trip to how the aesthetics of transit make them feel — can transform the way people perceive, and use, public transportation. The more we put the "me" in transit, the more Bay Area transit operators will be able to offer people an enjoyable and attractive transportation experience.