In the past few weeks, San Jose has taken three big steps toward creating a more urban and active downtown. These milestones took place with little fanfare, but we think they're worth celebrating. Urbanists, take note.
1. Downtown is getting its first new office building in seven years.
San Jose approved the first new office building in downtown since 2009. The new project is part of a $600 million mixed-use development at a gateway site that links downtown and Diridon Station. With more than 1 million square feet of office space, it has room for about 5,000 employees. Downtown has suffered from a weak jobs market and the city hasn't seen much development near Diridon to date — making this the type of development a generation of San Jose leaders have been waiting for. The developers aim to start construction by the end of summer.
2. The planning commission approved San Jose's first zero-parking development.
After much deliberation, the San Jose Planning Commission approved the city's first housing development with no parking spaces. The project goes before city council on June 21. The site of the proposed 54-unit building is within the Diridon Station Area, and its developers are betting on that new transit investments at Diridon Station and in downtown will allow residents to walk, bike or take transit to meet many of their daily needs.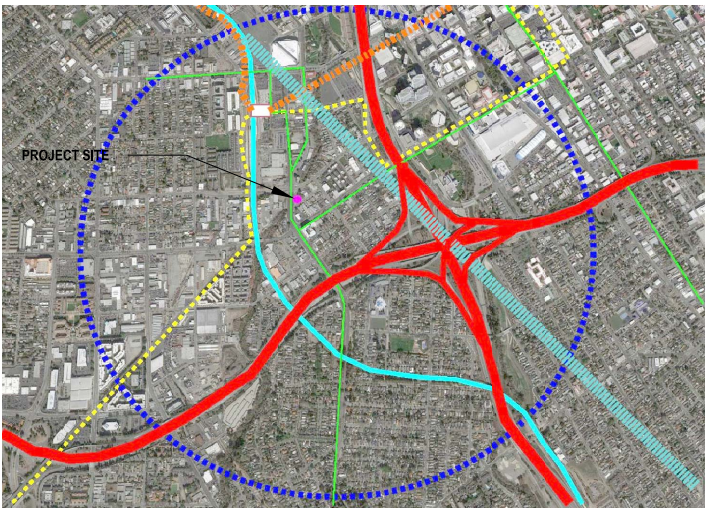 The approved building (pink dot) is well located to take advantage of proposed transit projects like BART to Silicon Valley and high-speed rail. Image courtesy City of San Jose.
3.  The city is transforming its oldest downtown park.
Like older parks in downtowns throughout the country, San Jose's St. James Park has suffered from disinvestment as new growth has moved elsewhere and competing civic needs have diverted funding. In the fall, SPUR released A Roadmap for St. James Park, a strategy for a new governance and management program for the park. 
Since then, San Jose has moved forward several of SPUR's recommendations. The city created an assessment district to leverage resources from new development near the park and has recently started to seat board members for a nonprofit, public-private entity to provide focused, intensive management that draws on the strongest assets of all sectors within the San Jose community. SPUR's Benjamin Grant will serve on this board.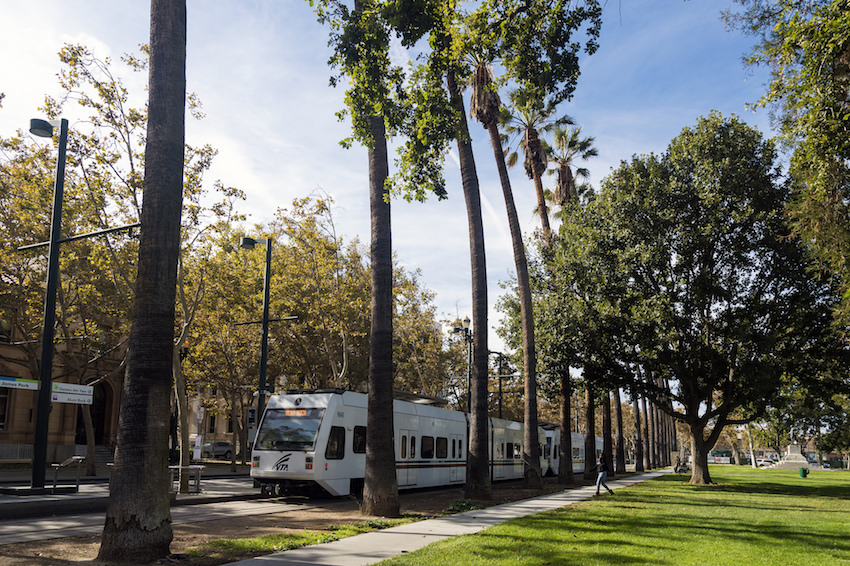 Photo by Sergio Ruiz
San Jose has been working to become the South Bay's urban center for several years, but the progress hasn't always been visible. Now the market is finally supporting new growth in downtown and near Diridon, providing opportunities to build an urban fabric that wasn't there before, one that will connect people and create a cohesive place.