5 Reasons Why SF Needs Transit First Policy More Than Ever
By Ratna Amin with Ritu Garg and Dan Feeney

The last two weeks have been significant for the streets of San Francisco, and it's not because of the World Series, Halloween or Dia de los Muertos. Last week at SPUR, Enrique Penalosa, the renowned former mayor of Bogota, articulated a poetic and passionate democratic vision for our streets: a safe place where we can all live our lives. Also last week, the National Association of City Transportation Officials (NACTO) convened its annual Designing Cities conference in San Francisco. NACTO, an organization made up largely of municipal transportation departments, is leading a paradigm shift: citizens, rather than generic highway-oriented guidelines, should determine how streets are best used.
Sadly, these celebrations of revived city streets were interrupted by tragic events in San Francisco: two pedestrian deaths caused by vehicle collisions — one in front of City Hall right after a pedestrian safety ceremony.
These events demonstrate that we are still very much in the process of making streets safe and livable. The re-envisioning of San Francisco's streets has been ongoing for more than four decades now, but there is still work to do.

Transit First, at Last
In 1973, San Francisco adopted a city transportation policy called Transit First, which states, "Public transit, including taxis and vanpools, is an economically and environmentally sound alternative to transportation by individual automobiles. Within San Francisco, travel by public transit, by bicycle and on foot must be an attractive alternative to travel by private automobile." Today this policy is guiding significant efforts to improve city streets, including the San Francisco Metropolitan Transportation Agency's Transit Effective Project, now known as Muni Forward. In combination, initiatives such as painting transit lanes red, installing new traffic signals that prioritize transit and many others are projected to improve travel times by up to 20 percent for more half of Muni riders.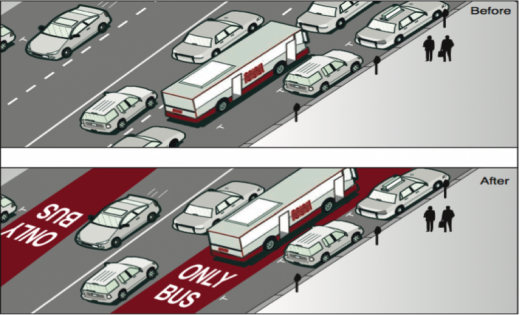 For decades, Muni buses have been caught in traffic. New bus-only lanes give transit the space it needs to operate optimally — and they improve safety for everyone else using the street. Source: SFMTA.

Unlike rail service that runs on a exclusive right of way or underground, most transit operators in San Francisco and other Bay Area cities don't have full control of the routes they operate on. Streets are a hotly contested space, where buses are slowed by cars, trucks, taxis, private shuttles, bicycles and pedestrians. This is why we need a policy like Transit First.
The definition and meaning of "Transit First" may be in need of an update given how transportation is changing. But the idea of Transit First remains indispensable. Here are five reasons why:

1. It saves lives.
As Mayor Penalosa bluntly pointed out, there is an ever-present chance of death while using our streets. Each year in San Francisco, some 100 people are severely injured or killed, and 800 more are injured, while walking. Seniors and children are especially vulnerable. A key reason why people are at risk while walking on city streets is because of the way streets are designed. (The other reasons are generally education and enforcement.) The city's goal is to reach zero traffic fatalities in San Francisco by 2024, a campaign known as Vision Zero. (SPUR is a member of the Vision Zero coalition.)

2. It creates opportunity and equity.
Together, transit and job-rich neighborhoods create a system where people can access economic opportunity. Among U.S. cities, San Francisco is fifth in number of jobs available by transit and second in rate of transit use. When one transit system improves, it opens more options within the larger transportation network. For example, when your bus connection to BART goes faster and is more reliable, BART then becomes a more viable commute option, opening up a greater range of job opportunities. We also know that great transit networks lower transportation costs for residents, freeing up more income for other needs. Meanwhile, there is a growing portion of our population whose mobility is decreasing, and this group is looking for transportation options.

Annual Household Transportation Costs in Major American Cities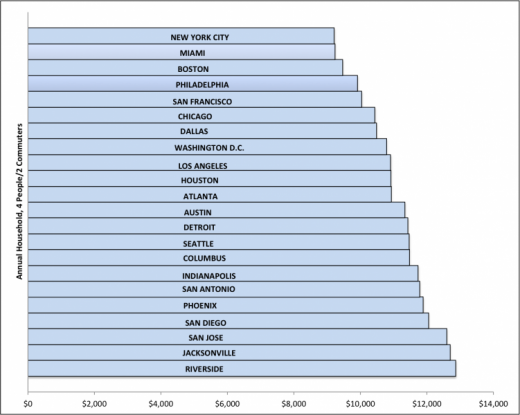 Transit availability leads to lower household transportation costs, freeing up income for other needs. San Francisco has the fifth lowest transportation costs among major U.S. cities. Source: HUD Location Efficiency Index

3. It solves a spatial problem.
A single car consumes an incredible amount of street space, which means San Francisco's narrow streets are better sized for transit, cycling and walking than they are for cars. Without a doubt, implementing Transit First is getting more complicated as technology-driven innovations join our crowded streets: private transit, transportation network companies like Uber and Lyft, ridesharing and more curbside deliveries to individuals and businesses. Other urban amenities like parklets, bikesharing and bike corrals also complicate street design. But these other needs don't change the fact that transit is the right-sized solution in dense cities.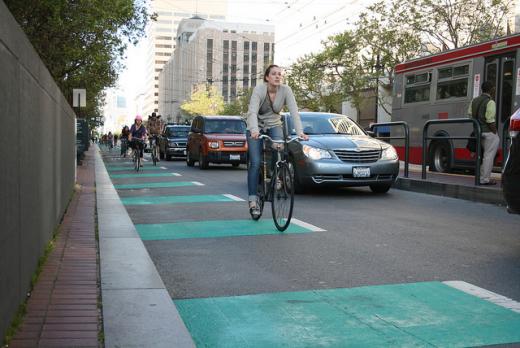 Cars needs a lot of space compared to other transportation modes. On Market Street, space has been reallocated to cyclists. Image source: San Francisco Bicycle Coalition.

Emphasizing transit isn't just about using streets efficiently, it's about using land efficiently. A more car-centric San Francisco would require significantly wider roads and increased parking, which directly results in less allocation of space for shops, bars, restaurants, offices and housing.

4. It respects San Francisco's character.
San Francisco retained its charm as it grew thanks to transit, beginning with cable cars and streetcars. What would remain of San Francisco's ambiance if it neglected its ongoing efforts to support non-auto transportation? What would the city's favorite neighborhoods feel like with wider roads, more parking lots and lifeless parking structures? They would feel like the suburbs. Luckily we have another option. With care and great design, new transit can be very effectively woven into the fabric of old and dense cities.

5. It reduces greenhouse gases.
Muni's fleet produces just 1 percent of the city's greenhouse gas emissions, while cars and trucks produce 40 percent. Walking and cycling have essentially zero pollutants. Street design very quickly shapes which modes of transportation people use, so initiatives like Transit First can do a lot ot reduce the greenhouse gases that are changing earth's climate.

The World is Watching
Next week, San Francisco voters will decide whether to fund $500 million in transit and pedestrian safety improvements through Measure A, a general obligation bond. The types of transportation projects that would be funded by Measure A are in line with the goals of the Transit First policy. Meanwhile, SF voters will also have the option to approve Prop. L, a policy statement that would work directly against Transit First and prioritize cars.
Now is a time to embrace and celebrate Transit First. As mayor Penalosa stated, the world is watching San Francisco and will emulate what we do.