At Last: Bike Racks at the Urban Center!
By Molly Schremmer
Ever since the SPUR Urban Center opened in 2009, our bike-riding members have asked, "If SPUR supports cycling, why don't you have bike racks?" It's a long story, and it finally came to a close in December when the Yerba Buena Community Benefit District (YBCBD) unveiled the first of a new fleet of bike racks in the Yerba Buena district. Today, SPUR is happy to announce that three of these artful bike racks have been installed in front of the Urban Center at 654 Mission Street!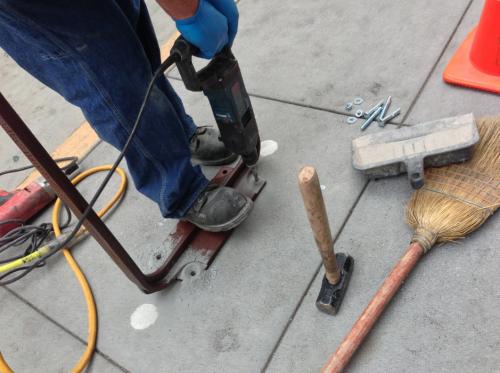 The installation of a bike rack on January 9.

The story begins in 2006, when a court injunction placed a hold on all projects laid out in San Francisco's formerly approved Bicycle Plan, including bike lane striping and installation of any bike parking. The injunction was the result of a lawsuit by a local blogger who claimed the city ought to have done a full environmental impact report before approving the Bicycle Plan. In August 2010, the San Francisco Superior Court lifted the injunction, declaring that the city had complied with the California Environmental Quality Act and the court's orders regarding the approval of the Bicycle Plan.

The installation of bike racks is part of the Yerba Buena Street Life Plan, a 10-year plan of 36 proposed improvements for the public space in the Yerba Buena district. The sidewalk in front of the Urban Center was the number one requested spot for bike parking in the district.

The Yerba Buena Street Life Plan calls for bike racks that are consistent and distinctive to the neighborhood, identifying the district's strong arts and culture identity. Neighborhood residents are funding all the bike racks as part of the YBCBD, before they are turned over to the city for installation. A total of 250 racks have been planned for the district. They are being produced in batches of 30, each batch with a different pattern embedded in the rack form. CMG Landscape Architecture, the firm that authored the Street Life Plan, designed the first two batches.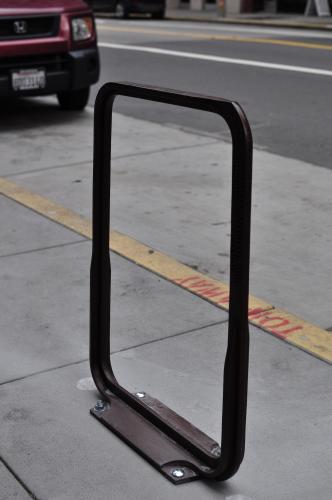 One of the three new bike racks in front of the Urban Center.

SPUR is grateful to the YBCBD for working so aggressively to realize this worthwhile project. We look forward to the continued implementation of the Yerba Buena Street Life Plan, including the proposed conversion of a block of Annie Alley into a pedestrian-only zone.