Bus Rapid Transit Getting Traction on El Camino Real
By Egon Terplan, Regional Planning Director
At a workshop on September 21, the Valley Transportation Authority (VTA) Board reaffirmed its support for a bus-rapid transit (BRT) project on El Camino Real in Santa Clara County. The project takes a 17.3-mile route from the HP Pavilion in San Jose through Santa Clara, Sunnyvale, Mountain View, Los Altos and north to Palo Alto. This corridor already has the highest transit ridership in the county between the 22 local bus and the 522 rapid bus.
Over the past year, the cities of Mountain View and Sunnyvale demonstrated their skepticism of BRT by voting against dedicated bus-only lanes on El Camino Real, the "Main Street" of Silicon Valley. Given how such local decisions can negatively impact regional transit service, the VTA board could have elected to slow down or abandon the BRT project altogether. Instead, board members decided to continue with BRT on El Camino Real in a project that includes dedicated bus-only lanes in the City of Santa Clara and mixed-flow travel (i.e., buses travel in lanes with cars) in cities to the north.
The map below shows the project's current mix of dedicated lanes in the City of Santa Clara and mixed-flow travel in other cities: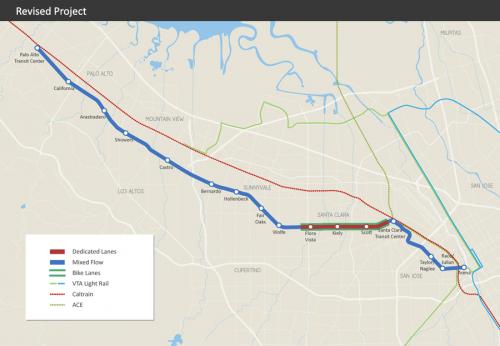 Image courtesy Valley Rapid.

In an important move pushed by TransForm, the Silicon Valley Leadership Group, the South Bay Labor Council and others, VTA agreed that the project's environmental impact report will also study an alternative plan that would use dedicated lanes throughout the corridor.
Here's how this alternative plan would look: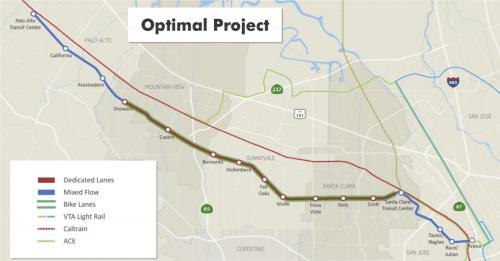 Image courtesy Valley Rapid.
 
As TransForm argued:
VTA should not close the door for cities to adopt dedicated lanes as more information comes to light over the course of the planning process. In particular, VTA should study both a mixed flow and dedicated lane alternative in the project's Environmental Impact Report (EIR) so that decision makers will have more information to base their opinions on in the future.
The decision to study dedicated lanes throughout the corridor will cost a little more money in the short run, but in the long run, by including both alternatives in the environmental impact report, VTA will have cleared the far better BRT alternative in the event that other South Bay cities become supportive of dedicated lanes.
The next step in the El Camino Real BRT project is for VTA to formalize these recommendations at a November board meeting. SPUR looks forward to working with partner organizations and VTA on the successful implementation of BRT along El Camino Real and other Santa Clara County corridors such as Stevens Creek and Santa Clara-Alum Rock.