Across the Bay Area, only one in 10 commuters takes transit work each day. And half of those transit commuters go to one job center: downtown San Francisco. But since most work is outside of downtowns, SPUR is trying to understand a little more about emerging suburban and non-downtown job centers. This series will look at the Bay Area's evolving and emerging business districts. For each district, we will ask four main questions:
The Location: Where is this place located? How far or near to major transit? And how large from one end to the other?
The Plan: What was the planning vision for this place? Was it master-planned? Did it grow up organically?
The Market: What kinds of jobs and companies are located there?
The Commute: How are workers getting to their jobs each day and why?
In the second edition of this series, we will explore Hacienda Park in Pleasanton, which has become a successful job center in eastern Alameda County over the past three decades. Our first post in this series, "Mission Bay as urban tech park," is here.
The Location:
Hacienda Park is located in the City of Pleasanton in the Tri-Valley area of the East Bay. It is situated near the intersection of Interstate highways I-580 and I-680, and is also served by BART and several regional bus lines. Hacienda's location puts it at a midpoint between multiple regional centers — Silicon Valley and San Jose to the south, the population centers of the East Bay to the west and north, and the exurban towns and agricultural centers of the Central Valley to the east.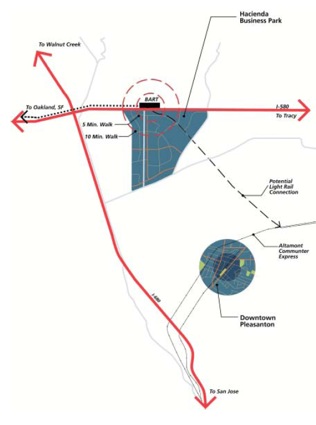 The Plan:
Initially, Hacienda's master plan focused on commercial uses — low and mid-rise office space, retail mixed-use, and hotels. The collapse of the real estate market at the end of 1980s led to the introduction of residential uses, with both owner-occupied and rental units.
At 875 acres, Hacienda Park is the largest development of its kind in Northern California, with over 16,000 employees and 3,400 residents. The master plan, which is currently about 60% built, lays out maximum development figures as below:
"¢ 1530 residential units
"¢ 5.5 million square feet of office space
"¢ 1.8 million square feet of flex/R&D space
"¢ 900,000 square feet of retail/commercial
"¢ 335,000 square feet of hotel
"¢ 138,000 square feet of Public/Institutional uses
"¢ 535,000 square feet of warehouse uses
"¢ 53.5 acres of undeveloped land
The average FAR in Hacienda Park is 38% with a height limit of 85.5 feet.
The Market:
Hacienda Park was envisioned by Joe Callahan of Callahan Property Company and his development partner, Prudential, as an alternative to San Francisco and Silicon Valley, where the cost of doing business was rapidly rising. The project's attractiveness to both developers and local government was driven by two developments in the late 1970s:
"¢ Transportation improvements. Pleasanton became much more accessible by improvements to the I-580 and I-680 corridors and plans to extend BART along I-580 to Dublin. These changes gave Pleasanton better access to both workers in the East Bay and San Joaquin Valley, and businesses in Silicon Valley to the south.
"¢ The passing of Proposition 13 in 1978. Prop 13 lowered property taxes by rolling back property values to 1975 levels and restricting annual increases to an inflation factor, not to exceed 2%. California cities began to rethink their land use patterns in order to restructure their tax base. The Hacienda Park proposal was timely for the City of Pleasanton, which up until then was dependent largely on a residential tax base.
Hacienda Park did not focus on a specific market sector when it was conceived. The businesses range from small offices to regional centers to large campuses for company headquarters.
In the early 1980s, most of the buildings were single-story, tilt-up construction "back-office" buildings, until the first Class A office buildings were built for Prudential in 1984. By the mid 1980s, a variety of corporate offices were built, with the first large tenant being AT&T. By the mid 1990s, the dot com boom drove large scale commercial development by tenants in the technology sector, such as Cisco Systems and PeopleSoft, as well as other companies like Shaklee and Roche.
Today, the Park continues to benefit from its location between economic clusters: technology in Silicon Valley, research in Livermore (which draws biotechnology business), and agriculture in the Central Valley (which brings in food brokers and tenants like SunMaid).
The Commute:
The Park's northern edge is adjacent to the Dublin/Pleasanton BART station, which provides a direct connection to the East Bay and San Francisco. ACE service is available in downtown Pleasanton, about 3.5 miles from the Park, which provides access to the Central Valley. Additionally, the Park is served by a number of regional bus lines (MAX, SMART) and private employer shuttles.
While the Park is relatively well served by transit for a suburban center, issues of streetscape and scale limit workers' ability to abandon their cars. In particular, the large amount of surface parking on the site, visible in the aerial below (the average Floor-Area Ratio on the site is 0.38), inflates walking distances and reduces the BART station's attractiveness.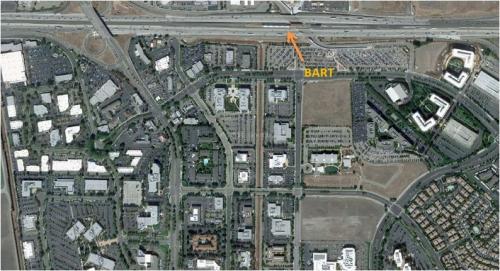 These problems are tackled to some extent by buses and the WHEELS paratransit service, the latter of which is subsidized by Park tenants and connects riders from regional transit to office buildings. According to the 2009 Transportation Survey conducted by the City of Pleasanton, services like this have helped to push the percentage of workers driving alone down to 71%, compared to 77% in downtown Pleasanton. Between BART, ACE, and bus services, transit share is just under 15%.
| | | |
| --- | --- | --- |
| Commute Mode | Hacienda Park | City of Pleasanton Total |
| Drive Alone | 71% | 77% |
| BART | 9% | 5% |
| Carpool/Vanpool | 7% | 7% |
| Telecommute | 6% | 3% |
| WHEELS/Bus | 5% | 2% |
| Motor Cycle | 1% | 1% |
| Bicycle | 1% | 1% |
| ACE | < 1% | 1% |
| Walk | < 1% | 1% |
| Other | 1% | 1% |
| Total | 100% | 100% |
[Source: City of Pleasanton, Hacienda Business Park — 2009 Employee Transportation Survey]
When commuters who drove alone were asked what changes would motivate a shift in commute mode, greater transit fare subsidies and compressed work schedules were the most popular options, followed by the Guaranteed Ride Home program. It should be noted, however, that only a minority of drivers considered switching to transit; when considering alternatives, a majority preferred either telecommuting (43% of respondents) or carpools and vanpools (30%).
Conclusion:
Over the past three decades, Hacienda Park has successfully combined a central and easily accessed location with cost advantages to attract business. The Park is also poised for growth, with available capacity for office space under planning guidelines. However, especially as land costs increase and the surrounding freeways become more congested, Hacienda Park will need to consider encouraging a higher percentage of its workers to arrive on transit. Services like WHEELS and Guaranteed Ride Home have started this process, but the Park should also seek to get more out of the BART access at its northern end. This will mean less surface parking, increasing density, and retrofitting sites to improve walkability, in addition to improving links to ACE and other regional agencies. Whether this will be supported by tenants, or by local officials is the key question.