HSR Report: France
BY EMILY EHLERS
As California lays the high-speed rail groundwork, SPUR continues its series on international precedents. While France built high-speed rail two decades after Japan and within a different state apparatus, the system had remarkably similar results: growth and concentration. France teaches us that a state investment in high-speed rail (HSR) can have major impacts on places that are isolated and suffering from lagging economic performance. The examples of Lille, an old industrial and mining center in northern France, and Nantes, south of Paris, are often cited as success stories.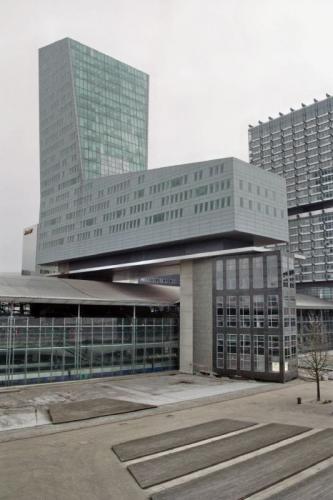 Euralille [Photo Credit: flickr user savourama]
Lille is an important crossroads in the European HSR network with service to London, Paris and Brussels. Once a quickly depopulating and gritty industrial city, Lille has diversified into knowledge-intensive, service-producing activities. Euralille, the new retail, business and conference center designed by Dutch powerhouse architect, Rem Koolhaas and OMA, is illustrative of the makeover. Euralille straddles Lille's two main railway stations. A standalone city, it houses productive facilities as well as affordable housing. In 1994, Architectural Review dubbed Euralille the "Instant City."
Equally unrecognizable change has befallen Nantes. An industrial port city in the 19th century, in the past 30 years Nantes has developed into a major service sector hug. In 2004, Time magazine named Nantes "the most livable city in all of Europe." The TGV, France's high speed rail network, came to Nantes concurrently in 1981.
The success of the TGV cannot be separated from France's institutional and planning framework. The determination and capacity of a strong French state was instrumental. The nation owns and provides operational subsidies to SNCF, the HSR operator.
[Photo Credit: flickr user Julka2009]
However, this is not to say that localities have no role in high speed rail. In recent years, local government has played a more important role in France. Vis-Ã -vis joint development agreements and direct development subsidies, French localities have exerted pressure to densify around TGV stations. Cities also set the purchase price of land and assemble properties to facilitate development. Lille approached station area development with public private partnerships in mind. Part of the key to Nantes' and Lille's success is the not insignificant recent investment in transit feeder networks that connect high speed rail with outlying areas. Not including Paris, there are 20 light rail systems in France, most built after HSR. Of these 20 systems, 18 are in cities with HSR service. At least in France, the concentration of travel demand thanks to high speed rail and the urban location of most stations have generated a consequent demand for feeder transit, with the usual array of environmental and land use benefits.
All told, the public sector bet that HSR investment would be sufficient to catalyze urban growth and induce private investments. They were right.
Takeaways:
HSR in France is largely a product of the government's building, operating, maintaining the network.
Local planning and development incentives can play a huge role in sparking station area development.
HSR can transform decaying cities into the most livable in Europe.
HSR ridership increases with robust feeder transit.
In the coming weeks, we'll look at "HSR" in the United States and United Kingdom drawing conclusions about what it all means in the California context.

SPUR's policy paper on high-speed rail is due out this fall.