Online
Ideas + Action 2022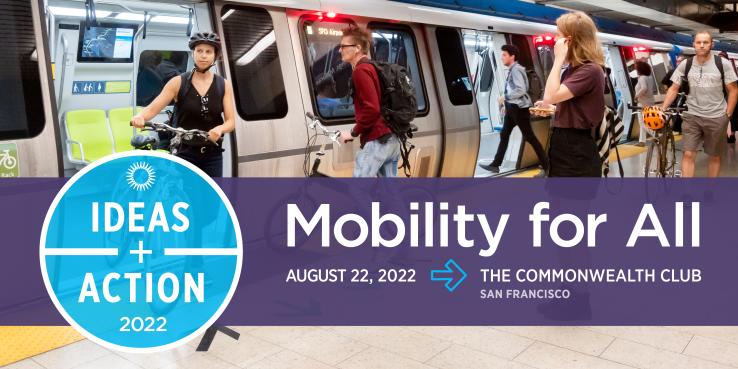 About
Mark your calendar for Ideas + Action 2023: Thursday, August 24, 2023!
Thank you for attending Ideas + Action 2022: Mobility for All on Monday, August 22, 2022. It was an honor to bring together Bay Area leaders looking to find common ground, accelerate action-oriented thinking and tackle some of the biggest challenges facing transportation in the region.
Rewatch the keynote, dialogue, and panel discussion!
Learn more about the speakers featured at Ideas + Action 2022: Mobility for All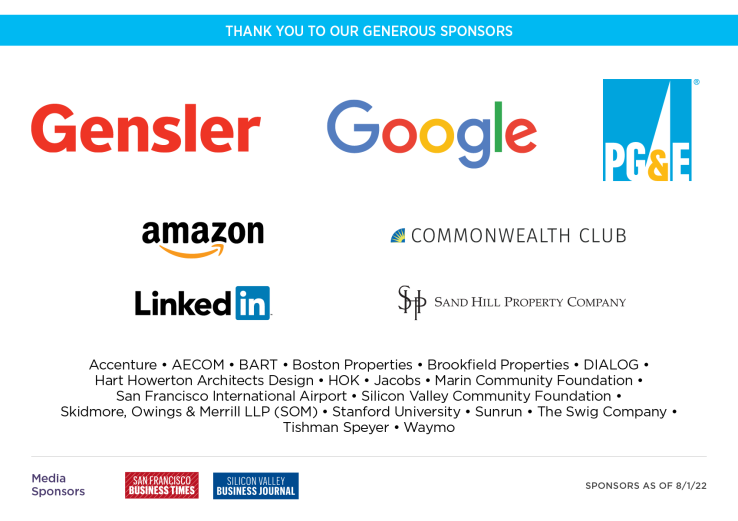 Agenda
The Bay Area's transportation system is a vital component of our daily lives. Its freeways and ferries, bike paths and buses, trains and trolleys move residents and visitors alike to homes, jobs and everywhere in between. But this system is also inefficient, underfunded and often fails to effectively serve the people it was designed for, creating an unsteady foundation as the region grows.
How can we break through bureaucratic stalemates to reform governance, change funding mechanisms to finance the right projects, better align state-level transportation and sustainability goals, deliver once-in-a-generation infrastructure and deploy agile policies to guide the changing mobility landscape — all while providing transportation opportunities that serve everyone equitably? Sometimes all it takes is being in the right room at the right time.
Agenda
---
1 p.m.  | REGISTRATION
---
1:30 p.m. | INTRODUCTION + KEYNOTE
Kick-off the day with a keynote from one of the nation's most inspiring transportation leaders.
Beverly A. Scott, PhD / Beverly Scott Associates
---
1:45 p.m. | DIALOGUE: WHY EQUITABLE TRANSPORTATION IS CRITICAL FOR OUR FUTURE
Hear our keynote speaker in conversation with SPUR's President and CEO, Alicia John-Baptiste, as they discuss what it takes to build a future where transportation is truly equitable.
Beverly A. Scott, PhD / Beverly Scott Associates
Alicia John-Baptiste / President and CEO, SPUR
---
2 p.m. | PANEL DISCUSSION:
TRANSFORMATIONAL CHANGE IN TRANSFORMATIVE TIMES
We'll expand on the themes of the dialogue and bring in the leaders of three of California's most influential transportation planning agencies to discuss how we can align goals, structures, processes, and people develop a framework of mobility for all in the Bay Area.
Therese McMillan / Executive Director, Metropolitan Transportation Commission (MTC)
Darwin Moosavi / Deputy Secretary, Environmental Policy and Housing Coordination, California State Transportation Agency (CalSTA)
Jeffrey Tumlin / Director, San Francisco Municipal Transportation Agency (SFMTA)
Beverly A. Scott, PhD / Beverly Scott Associates
Alicia John-Baptiste / President and CEO, SPUR
---
---
3:20 p.m. | WORKING GROUPS
Join one of the following roundtable discussions with thought leaders from around the Bay Area to find common ground, accelerate action-oriented thinking and tackle some of the biggest challenges facing transportation in the region:
SESSION A: FUNDING FUTURE TRANSPORTATION -- Transit is on the brink. Slow ridership recovery in the Bay Area will leave yawning holes in transit agency operating budgets, with lasting consequences for the region. How should the state address the gap and what can be accomplished with new funding from the state?
Facilitated by Jeanie Ward-Waller / Deputy Director of Planning and Modal Programs, Caltrans
SESSION B: WELCOME TO THE STREET, YOUR NEWEST PUBLIC SPACE -- Presented by Gensler -- A bright spot of the pandemic was that it made cities take a fresh look at how it uses its streets. What is the future of street life culture in our cities? How should cities continue to support public life in overlooked public spaces?
Facilitated by Ben Grant / Senior Planner, SITELAB urban studio
SESSION C: CANCELED
SESSION D: ESTABLISHING A NEW MODEL FOR NEW MOBILITY -- What can we do to encourage the extensive adoption of e-bikes in our cities?
Facilitated by Kay Cheng / Senior Manager for Micromobility and Transit Policy Strategy, Lyft
SESSION E: SEAMLESS TRANSIT FOR A MORE UNIFIED REGION -- Presented by Google -- How can the Bay Area's first service-based transit plan - the Connected Network Plan - be set up for success?
Facilitated by SPUR Transportation Policy Staff
SESSION F: REINVENTING THE TRANSPORTATION PRACTICE FOR A BRIGHTER FUTURE -- Presented by PG&E -- In 2020, we sat in front of our screens asking, "what now?" This session is a time to reflect on what has actually changed and what has stayed the same in our field. Together we will develop a manifesto of what we believe is worthy of our collective time and talent.
Facilitated by Claudia Preciado / Director of Engagement, National Association of City Transportation Officials (NACTO)
---
Continue the conversation over drinks.
Speakers
Keynote Speaker:
Beverly A. Scott, PhD.
Beverly Scott Associates
Beverly A. Scott, PhD, is a trailblazing leader in public transportation management and a powerful voice for workforce development, diversity, and people-oriented service. Her career in the public transportation industry spans more than three decades, including as General Manager for the Massachusetts Bay Transportation Authority (MBTA), Rail & Transit Administrator for the Commonwealth of Massachusetts, CEO and General Manager of the Metropolitan Atlanta Rapid Transit Authority (MARTA), CEO and General Manager of the Sacramento Regional Transit Authority (SRTD) and General Manager of the Rhode Island Public Transit Authority (RIPTA). She has also served in senior level positions at the Metropolitan Transportation Authority (New York), New Jersey Transit Corporation (NJT), the Washington Metropolitan Area Transportation Authority (WMATA), Dallas Area Rapid Transit (DART), and the Houston Metropolitan Area Transit Authority (Houston METRO).
Dr. Scott is a past chair of the Rail-Volution Board of Directors, currently serves on the boards of the American Public Transportation Association and the Transportation Learning Center and was appointed to the Federal Advisory Committee on Transportation Equity as well as the California High-Speed Rail Peer Review Group. Dr. Scott also serves in an advisory capacity to the Charles Hamilton Houston Institute of Race and Justice at Harvard University Law School in the areas of transportation, infrastructure and equity and as a research associate at the Mineta Transportation Institute at San José State University. She also founded Introducing Youth to American Infrastructure, Inc. ("iyai+"), a national non-profit dedicated to inspiring, educating and engaging today's youth to be tomorrow's community builders, with special emphasis on improving the active participation of our most vulnerable youth and historically underutilized groups in infrastructure careers.
Among her many accolades, Dr. Scott received the 2014 Sharon Banks Humanitarian Leadership Award in Transportation from the Transportation Research Board for her advocacy on behalf of public transit users and workers and for her tireless efforts to improve the lives of others, and was named a "Transportation Innovator of Change" by President Barack Obama in 2016.
Panelists:
Therese McMillan
Executive Director, Metropolitan Transportation Commission (MTC)
Therese Watkins McMillan is Executive Director of the Metropolitan Transportation Commission (MTC), assuming the agency's top staff position March 1, 2019. She also serves as the top executive for the Association of Bay Area Governments (ABAG).
McMillan previously worked for 25 years at MTC, and for more than eight years as MTC's deputy executive director for Policy before her 2009 appointment by then-President Barack Obama to serve as deputy administrator of the Federal Transit Administration in the U.S. Department of Transportation. McMillan subsequently served as Acting FTA administrator from March 2014 to March 2016 before taking the position as Los Angeles County Metropolitan Transportation Authority's chief planning officer in April 2016. During the final five years of her original MTC tenure, McMillan also was an instructor of transportation funding and finance in the Transportation Management Graduate program at San Jose State University's Mineta Transportation Institute.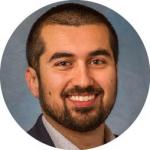 Darwin Moosavi
Deputy Secretary, Environmental Policy and Housing Coordination, California State Transportation Agency (CalSTA)
Darwin Moosavi was appointed Deputy Secretary for Environmental Policy and Housing Coordination at the California State Transportation Agency (CalSTA) in August of 2019 by Governor Gavin Newsom.
In his current role, Darwin focuses on initiatives related to reducing vehicle miles travelled, housing and transportation coordination, and climate resilience, amongst other issues. He was lead author of CalSTA's Climate Action Plan for Transportation Infrastructure (CAPTI) published in 2021 and currently works on its implementation. Before joining the team at CalSTA, Darwin served as Sustainability Project Manager the California Department of Transportation (Caltrans), leading initiatives to champion walking, bicycling and transit use, promote zero emission vehicles and integrate equity considerations into the Department's work. Under the administration of Governor Brown, Darwin was appointed as a Senior Planner at the Governor's Office of Planning and Research (OPR), where he worked on various transportation policy issues centered around building sustainable communities and reducing vehicle miles traveled. Darwin spent several years helping build the Affordable Housing and Sustainable Communities (AHSC) program, and later served as its Program Manager at the Strategic Growth Council.
Darwin earned his Bachelor of Science in Environmental Policy Analysis and Planning from UC Davis and a Masters in Urban and Regional Planning from Portland State University, with an emphasis in Transportation Planning.
Jeffrey Tumlin
Director, San Francisco Municipal Transportation Agency (SFMTA)
Jeffrey Tumlin was named Director of Transportation of the San Francisco Municipal Transportation Agency in December 2019. He oversees the Municipal Railway (Muni), parking, traffic engineering, bicycle and pedestrian safety, transportation accessibility, and taxi regulation for the City & County of San Francisco.
Jeffrey is the former director of strategy at Nelson\Nygaard Consulting Associates, a San Francisco-based transportation planning and engineering firm that focuses on sustainable mobility. Previously he served as Interim Director of the new Oakland Department of Transportation.
For more than twenty years, he has led station area, downtown, citywide, and campus plans, and delivered various lectures and classes in 20 U.S. states and five countries. His major development projects have succeeded in reducing traffic and CO2 emissions by as much as 40 percent, and accommodated many millions of square feet of growth with no net increase in motor vehicle traffic. These projects have won awards from the U.S. General Services Administration, Institute of Transportation Engineers, American Planning Association, American Society of Landscape Architects, Congress for the New Urbanism, and Urban Land Institute.
He is the author of Sustainable Transportation: Tools for Creating Healthy, Vibrant and Resilient Communities (Wiley, 2012).
Alicia John-Baptiste
President and CEO, SPUR
Alicia John-Baptiste is the president and CEO of SPUR. She is responsible for defining the overall vision and strategy for the organization. A seasoned leader and public policy professional, Alicia has over 20 years of experience reimagining systems to create better outcomes for people. Her optimistic vision and practical approach inform SPUR's efforts to build a Bay Area where all people can thrive.
Prior to her time at SPUR, Alicia developed deep appreciation for local government and its commitment to the collective good while serving in leadership roles for the City and County of San Francisco, most recently as Chief of Staff at the San Francisco Municipal Transportation Agency. Locally and nationally recognized for her public policy expertise, inspirational perspective and creative approach to systems change, Alicia focuses her talents and experience on building shared dreams. Alicia holds a Masters degree in Public Policy from the Harvard Kennedy School and a Bachelor of Arts degree from Duke University.
Supporters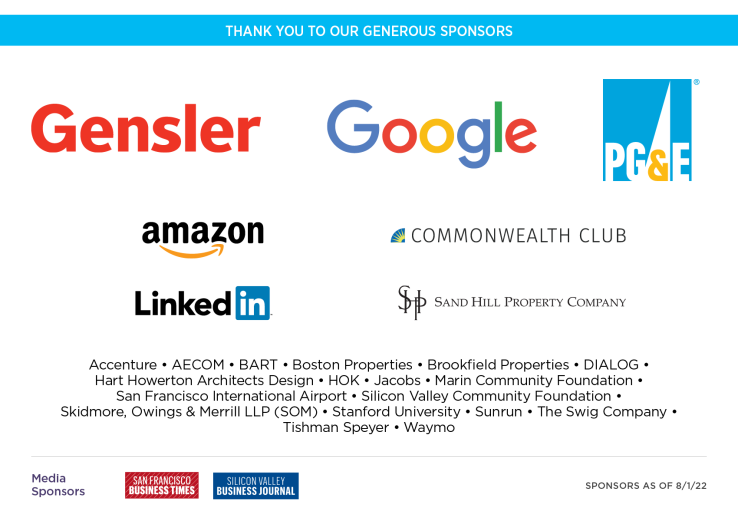 Refund Policy
Sponsorship payments: Will not be refunded, as sponsorship benefits take effect immediately and are on-going through the date of the event.
Auxiliary Services
If, in order to participate in a SPUR event, you need auxiliary aids or services for a disability (e.g., qualified interpreter, qualified reader, written materials, taped texts) please submit your request five business days before the event to
[email protected]
or
415-781-8726 x132
. SPUR will work with you in identifying effective auxiliary aids or services that it can provide. If you need to cancel your request, please notify SPUR at least two business days before the event.