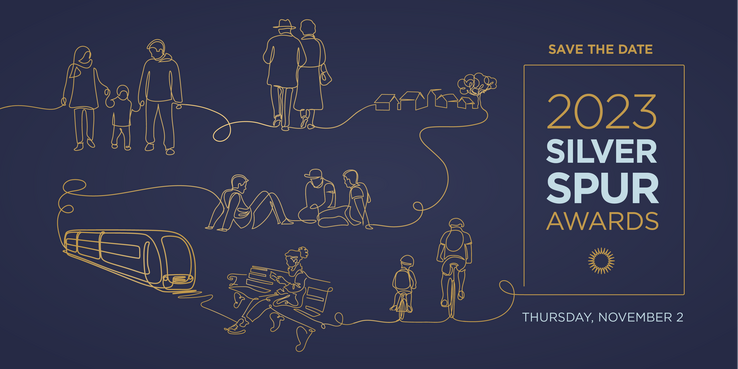 2023 Honorees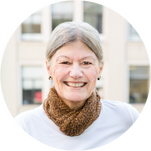 Diane Filippi
Former Urban Center Director, SPUR

Diane Filippi is a founder of and former Director of the SPUR Urban Center in San Francisco. Prior to joining SPUR, Diane was a founder and managing principal of the nationally noted architecture and urban design firm Simon Martin-Vegue Winkelstein Moris (SMWM), where she was a seventeen-year partner in this women-owned firm in a traditionally male dominated field.
Under Diane's leadership, the SPUR Urban Center went from the germ of an idea to a fully designed, built, and operating community center for urbanists. A long-time SPUR member, Diane understood that what SPUR needed to grow and become more relevant in the 21st century was to "go retail." This would require a storefront, and as she said, a place that was as transparent as urban planning should be…where anyone walking by could come in and help design a future that worked for all people. And in the process, she raised the entire organization to a new level of prominence, connectivity and visibility.
Diane knew where to take us because she had experience as chair of the Friends of the Library and on making the New Main library a reality, from her work on dozens of boards and committees both locally and nationally, and from working with SMWM architects and urban designers on projects across the country.
Diane is a pied piper who leads by her perceptiveness, by her enthusiasm, and by her fearlessness. She is an urbanist, a connector and remains a dedicated member of the SPUR family, where she was for many years a member of the board of directors and continues as a member of our major donor committee.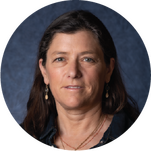 Dr. Tricia Hellman Gibbs
Co-Founder and Attending Physician, San Francisco Free Clinic

Dr. Tricia Hellman Gibbs is a family physician, All-American athlete, former member of the United States Ski Team, and mother of five. In the belief that no person should suffer or die due to lack of medical access, she and her husband, Dr. Richard Gibbs, founded the San Francisco Free Clinic (SFFC) in 1993. The Drs. Gibbs established the Clinic with the dual mission to provide free medical care to those without health insurance and to train and inspire individuals to enter the critically underrepresented primary care specialties. To date, the SFFC has provided more than 180,000 free patient visits, millions of dollars worth of medications at no cost to patients, and medical training opportunities to thousands of trainees from all levels of medical education.
  Tricia comes from a long line of philanthropists with a strong civic commitment to the Bay Area, beginning with their patriarch, Isaias Hellman, who emigrated to California from Germany in 1859, and matriarch, Esther Newgass. Tricia's parents, Chris and Warren Hellman, contributed unceasingly to the arts, education, medical research, and many additional causes, establishing the now-beloved San Francisco institution, the Hardly Strictly Bluegrass music festival in 2001. After Warren's death in 2011, Tricia and her three siblings continued this legacy, dedicating time and expertise to board service for the Hellman Foundation. Tricia served as Foundation Board President for the first decade, and, with the essential expertise of brilliant Foundation staff, was instrumental in creation of its mission focus on equity, trust-based philanthropy, public-private partnership, and collaboration.

Born in Boston, Massachusetts in 1958, Tricia lived on the East Coast as a child, attending the Chapin School in New York City, and later graduating from the Stratton Mountain School, a ski academy in Vermont founded by her parents. She deferred college for two years to compete for the U.S. Ski Team, then went on to graduate from Williams College summa cum laude in 1982. She attended Yale School of Medicine (class of 1986), where she met and married fellow medical student, Dr. Richard Gibbs. Together, they have five children (all in their thirties), and one grandchild. She followed in her parents' footsteps by founding a ski academy at Sugar Bowl, California, in 1999.

Individually, Tricia has received a number of honors, including the Yale School of Medicine Campbell Award for highest grades in the course of medical studies, the Williams College 2001 Bicentennial Award, and appointment to the 2014 Marin Women's Hall of Fame. As a couple, Tricia and Richard were named Family Physician of the Year in 1998 by the California Academy of Family Physicians and went on to receive the Yale-Jefferson Public Service Award for commitment to service and social responsibility in 2013. The SFFC itself was awarded the 2006 UC Berkeley Public Health Heroes Award, the 2014 University of San Francisco's California Prize for Service and the Common Good, and the 2021 UCSF Family and Community Medicine Excellence in Student Teaching award.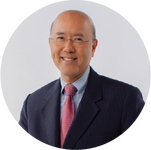 David Louie
Former Television Journalist, KGO-TV

David Louie retired in October 2022 after working as a TV news reporter for just over 50 years with one company, Disney ABC. In 1972 he became the first Asian American to report on-air for ABC Owned KGO-TV San Francisco. He holds the distinction of being the longest tenured Asian American in Bay Area media, covering many major stories, including the birth and growth of Silicon Valley and the innovation economy, the abduction of Patty Hearst, and the kidnap of 26 children from a Chowchilla school bus.
Louie reported from the edge of the collapsed deck of the Bay Bridge after the Loma Prieta earthquake. He reported live from the Pentagon after the 9/11 terrorist attacks and scored the first one-on-one interview with Transportation Secretary Norman Mineta after the grounding of all aircraft from U.S. skies. He was part of the ABC7 News team that in 1979 reported from China one year after normalization of relations with the U.S., the first local station to do so. He has interviewed every San Francisco Mayor from Joseph Alioto through Ed Lee.
An early advocate for diversity in the nation's newsrooms, he was elected national president of the Asian American Journalists Association (AAJA) and the first minority board chairman of The National Academy of Television Arts & Sciences (NATAS), known for its Emmy Awards. He has served on several nonprofit boards, including United Way of the Bay Area, the Peninsula Humane Society, the Radio Television Digital News Association and the dean's advisory board at the Medill School of Journalism at Northwestern University.
Louie is a second-generation Chinese American who was born and raised in a Cleveland suburb. A local TV host tapped him to appear regularly on a children's weekly public affairs show from the age of five to 13. That led to his hiring as a reporter trainee at the NBC News Bureau in Cleveland the summer before he began journalism studies at Northwestern. In that summer job, he shadowed senior reporters covering the racial strife and urban riots that broke out in the inner city, getting tear gassed for the first time.
A mentor to many aspiring and young broadcast journalists, Louie has endowed a perpetual scholarship for Asian American students at Northwestern's Medill School of Journalism.
In addition to four Emmy Awards, Louie has received Lifetime Achievement Awards from AAJA, the San Francisco Asian Pacific American Heritage Foundation, the San Francisco Press Club and the Organization of Chinese Americans (OCA). He was also named a 2022 Alumni Medalist by Northwestern University. Recently, he was awarded commendations for covering South Bay news from the County of Santa Clara and the Valley Water District. He was inducted into the NATAS Gold Circle, recognizing achievement over 50 or more years in TV. He also received the NATAS Governors' Award.
Louie's hobbies include photography and travel. He's working on a memoir focusing on highlights and challenges of his career. He continues to emcee many local and national events.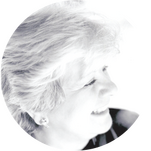 Arabella Martinez
Former CEO and Founder, The Unity Council

Early experience in social work and the community action program led Arabella to the conviction that economic development, evolving from strong, community-directed institutions, was the most effective path toward economic self-sufficiency and empowerment. Throughout her career, she has been instrumental in helping to create and build such institutions that positively supported the role of minorities and women in the economy and larger society. Her involvement in the civil rights movement of the 1960-70's began in 1964 when she helped found the Unity Council in Oakland in 1964, and to her 1977 appointment by President Jimmy Carter to the position of Assistant Secretary for the Office of Human Development Services, U.S. Department of Health, Education and Welfare. She was the first Latina appointed to a cabinet level position in the history of the nation.

For a decade after leaving public service, the goals of economic empowerment and self- sufficiency for women and minorities were further delineated through important consultations and studies for major foundations and corporations.

In December 1989, a new challenge was joined to restore the financial vitality of the Unity Council, to reestablish it as one of the largest and most respected community development corporations in the nation. The development of the $100 million transit-oriented, mixed-use, in-fill development in the heart of the Fruitvale, an inner-city neighborhood in Oakland, has become a national and international model of comprehensive and sustainable neighborhood revitalization.
The Unity Council's community development place-based strategy and its vision of sustainable development, linking land-use, transportation and economic development was adopted by foundations, government agencies, and other localities throughout the nation. Its extensive public/private partnerships and its collaborations with other non-profits contributed to its credibility and reputation with the business community, political leaders, local and national philanthropic supporters, Fruitvale residents and other stakeholders.

After retiring from the Unity Council in 2005, Arabella joined the Latino Community Foundation Board of Trustees. In 2014 she became its Interim CEO to help build a Latino philanthropic institution in California and in 2015 rejoined the LCF Board from which she retired.
In 2016 she was appointed by Mayor Libby Schaaf and the Oakland City Oakland to serve as a Commissioner of the Port of Oakland. She was reappointed in 2020 for another 4 year term.
2023 Supporters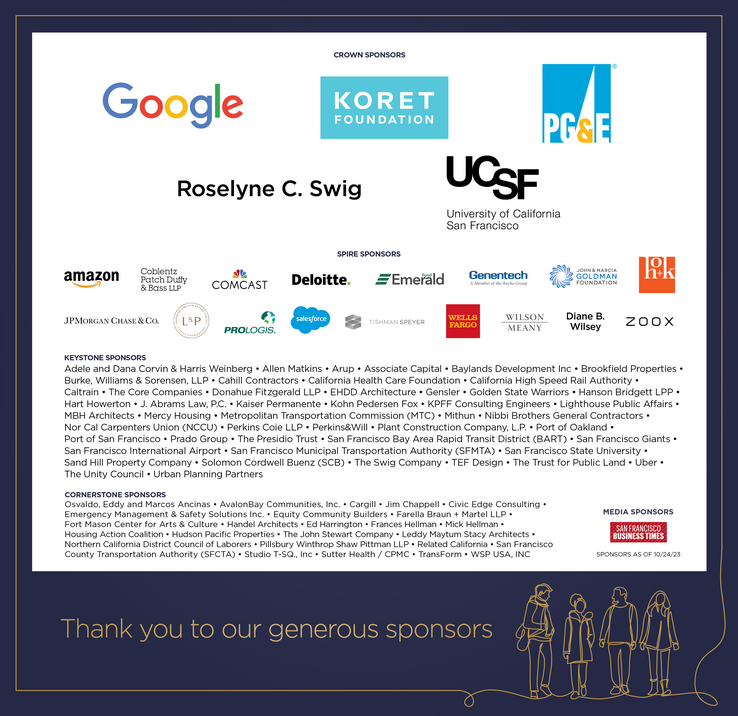 Refund Policy
Sponsorship payments: Will not be refunded, as sponsorship benefits take effect immediately and are on-going through the date of the event.
Auxiliary Services
If, in order to participate in a SPUR event, you need auxiliary aids or services for a disability (e.g., qualified interpreter, qualified reader, written materials, taped texts) please submit your request five business days before the event to
[email protected]
or
415-781-8726 x132
. SPUR will work with you in identifying effective auxiliary aids or services that it can provide. If you need to cancel your request, please notify SPUR at least two business days before the event.