San Jose
SPUR Impact Awards
11:30 a.m. | Friday, March 20, 2020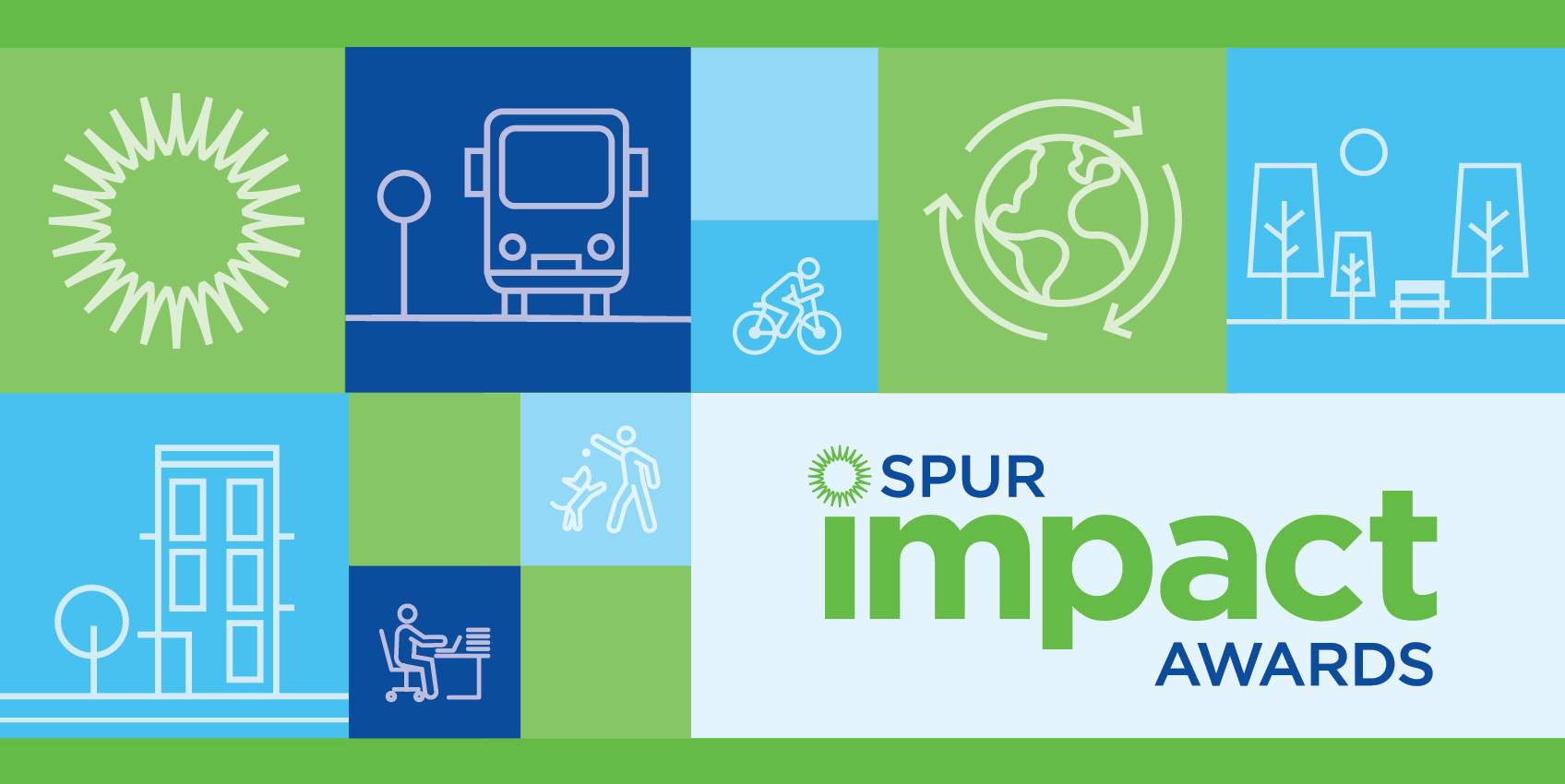 About
SPUR Impact Awards – March 20, 2020 
The SPUR Impact Awards acknowledge outstanding impact by public sector employees in city and county government in Santa Clara County. The awards honor those who are making a difference in government and the community at large in the areas of housing, transportation, placemaking and urban design, and sustainability and resilience.
Nominations for the 2020 SPUR Impact Awards are now closed.
Nominations
NOMINATIONS ARE NOW CLOSED. 
CALL FOR NOMINATIONS
The 2020 SPUR Impact Awards will honor those making a difference in government and the community at large. Department heads within city and county governments in Santa Clara County, general managers or CEOs at eligible public agencies, and executive directors and board members at eligible nonprofits may nominate individuals or teams within their organizations who have completed significant accomplishments in any of the following areas:
Housing- Increasing supply and affordability
Transportation- Giving people better ways to get where they need to go
Placemaking and urban design- Building great neighborhoods
Sustainability and resilience- Reducing our ecological footprint and making our cities resilient
Community Advocacy- Promoting urbanist principles via community-based engagement and advocacy
Winners will be recognized at the SPUR Impact Awards luncheon to be held on March 20, 2020, at the Computer History Museum.
All nominations must be received by NOVEMBER 15, 2019, to be considered.
The SPUR Impact Awards is in partnership with the Cities Association of Santa Clara County.
For further information, please contact Kat Kester at impactawards@spur.org.
Sponsorships
Our sponsors are important partners who acknowledge the contributions and achievements of these remarkable leaders in Santa Clara County.
Sponsors receive tickets to the luncheon and recognition in all event promotion including the SPUR website, email invitations, program and signage.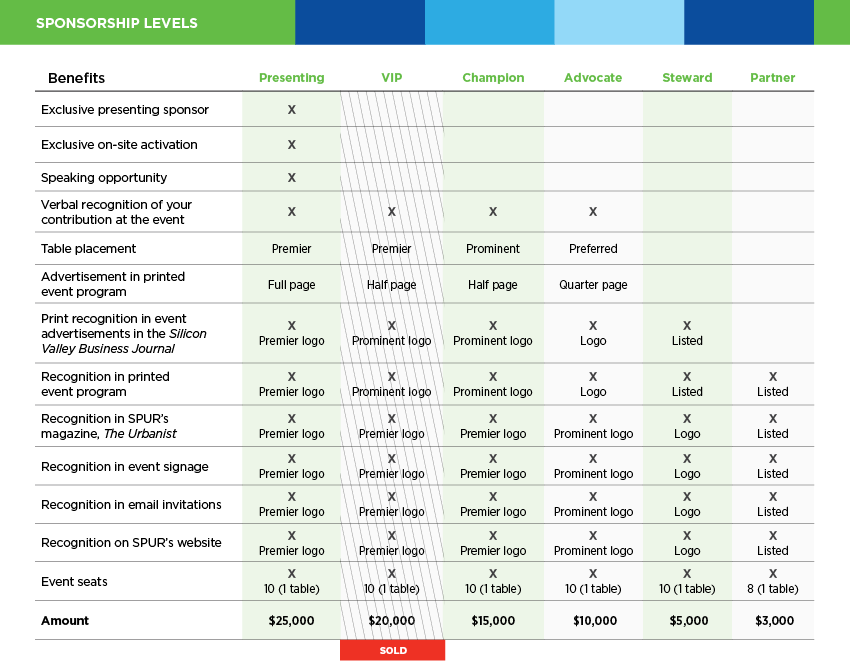 2019's Impact Awards
Thank you to the guests and sponsors who joined us for the inaugural 2019 SPUR Impact Awards luncheon.
Congratulations again to the 2019 SPUR Impact Award Recipients:

 Martin Alkire
 North Bayshore Precise Plan
 City of Mountain View

 
​
  Better BikewaySJ
  Peter Bennett, Anthony Do, 
  Octavio Duran, Shu Su, Kyle Tanhueco
  City of San Jose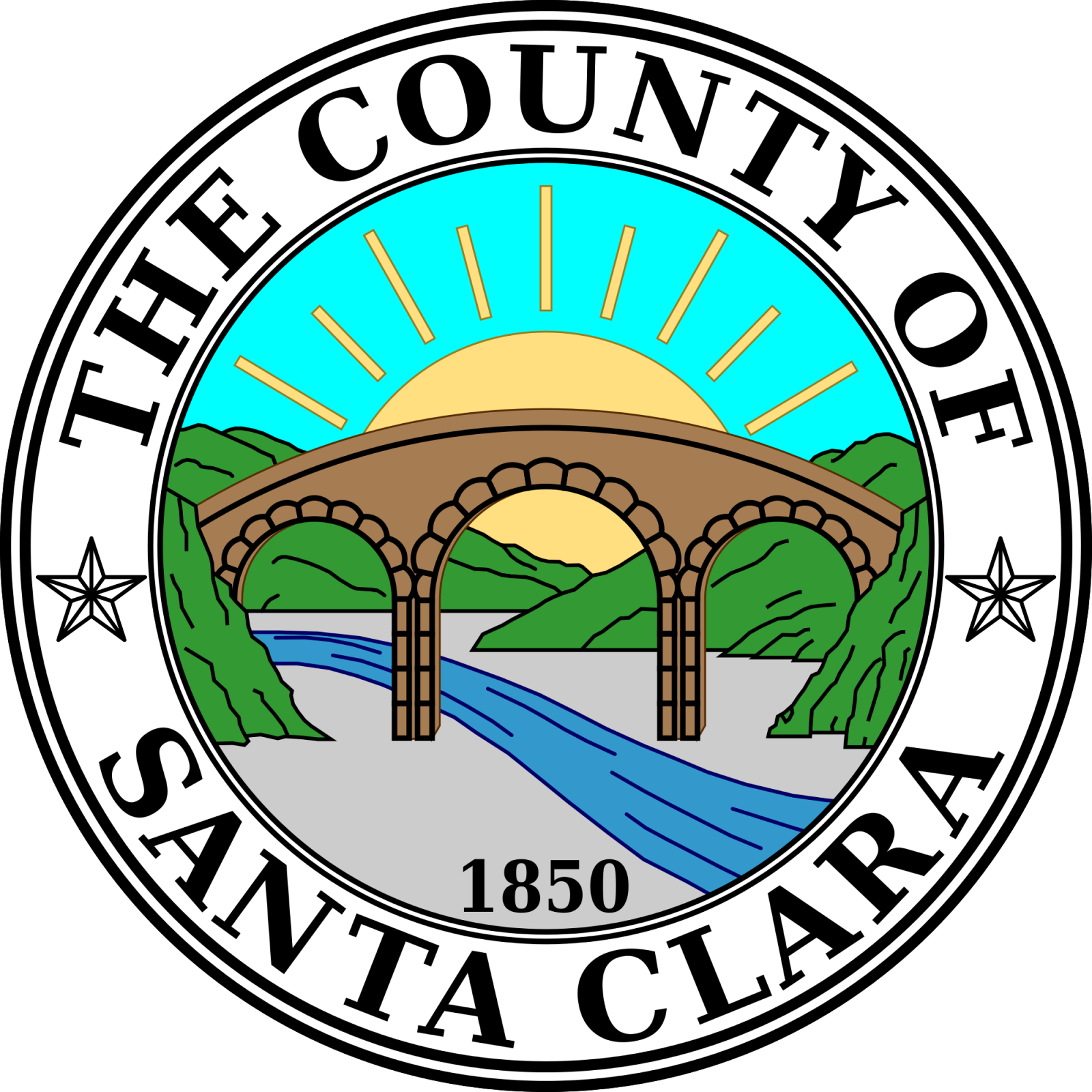 Consuelo Hernandez
 Office of Supportive Housing
 County of Santa Clara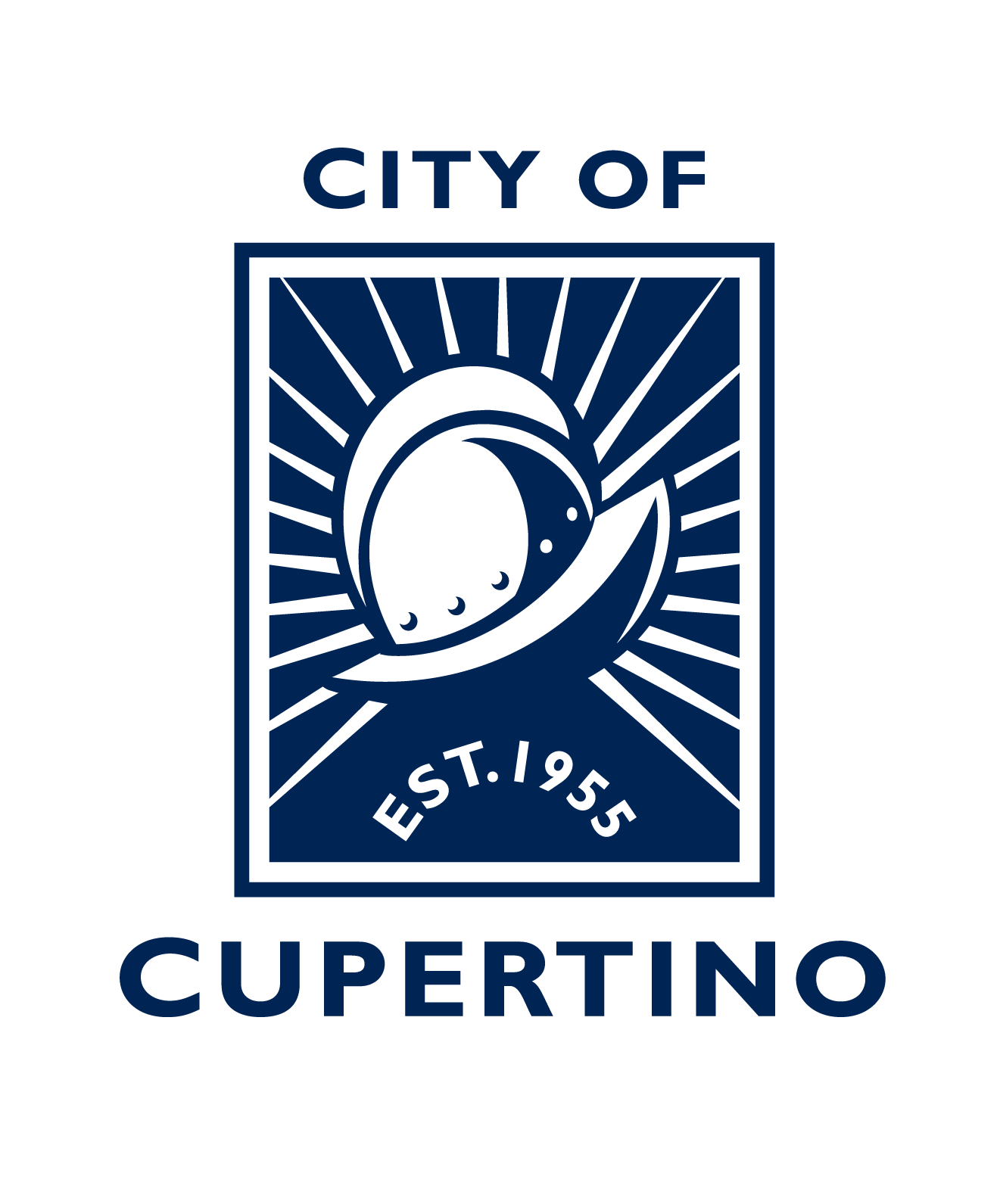 ​
  Vallco Town Center Specific Plan
  Piu Ghosh, Catarina Kidd, Chad Mosley, David Stillman
  City of Cupertino
 
Special acknowledgment for regional collaboration:

Silicon Valley Clean Energy Core Staff Implementation Team
Kevin Armstrong (Santa Clara County), Steve Attinger (Mountain View), Don Bray (SVCE), Erin Cooke (Cupertino), Tim Kirby (Sunnyvale), Elaine Marshall (Milpitas), Misty Mersich (Cupertino), Demetra McBride (Santa Clara County), Andrea Pizano (SVCE), Melody Tovar (Sunnyvale)
Photos available at https://www.flickr.com/photos/urbanists/
Videos of the award recipients can be viewed here - https://vimeo.com/spur
2019 Event Co-Chairs:
Dianne McKenna                                                   Larry Stone    
Former Santa Clara County Supervisor               Santa Clara County Assessor
Former Sunnyvale Mayor                                      Former Sunnyvale Mayor                    
2019 Awards Selection Committee: 
Fahmida Ahmed Bangert, Stanford
Leslye Corsiglia, SV@Home 
Fred Diaz, Retired, Fremont City Manager
Natalie Engels, Gensler
Sid Espinosa, Microsoft   
Alicia John-Baptiste, SPUR
Andi Jordan, Cities Association of Santa Clara County
Maya Perkins, Facebook
Liz Scanlon, Kimley-Horn
Tim Steele, The Sobrato Organization
In partnership with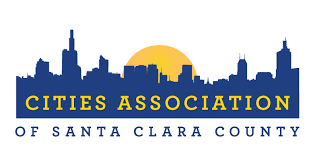 2019 Honorary Host Committee:
Cities Association of Santa Clara County Executive Board
Hon. Manny Cappello
President
Mayor,  Saratoga
Hon. Larry Klein
1st Vice President
Mayor,  Sunnyvale
Hon. Marico Sayoc
2nd Vice President
Councilmember, Los Gatos
Hon. Chappie Jones
Secretary/Treasurer
Vice Mayor, San José
Hon. Margaret Abe-Koga
Legislative Action Committee Chair
Vice Mayor, Mountain View
Hon. Rod Sinks
Past – President
Councilmember, Cupertino
James Lindsay
SCCCMA Representative
City Manager, Saratoga
Andi Jordan
Executive Director
2020 Sponsors
2020 SPONSORS