San Francisco
2019 Silver SPUR Awards Luncheon
Moscone Center South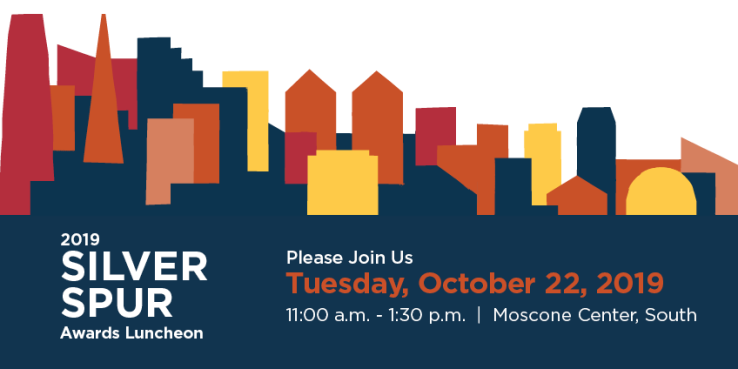 About
Thank you for your support of Silver SPUR. This year's event was a great success!
Once a year SPUR pauses to cast the spotlight on individuals whose goals and achievements exemplify the highest aspirations of the San Francisco Bay Area. The event's opening reception draws the most prominent Bay Area civic, business and community leaders for an exceptional networking opportunity. Project displays from our sponsoring companies provide an inside look at the latest and largest projects shaping our region.
Congratulations to this year's honorees: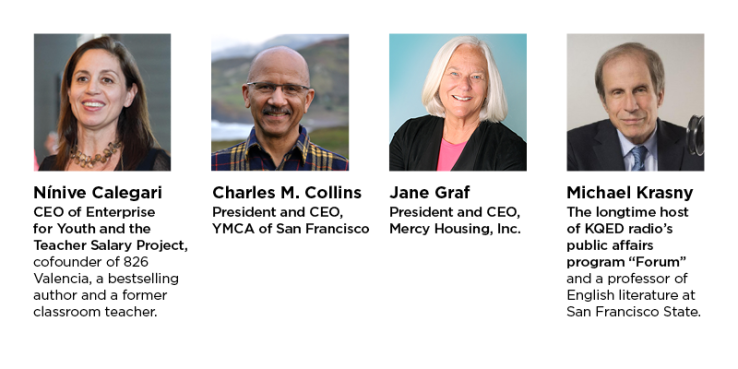 Honorees
2019 Honorees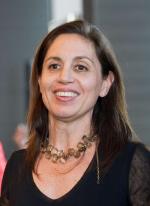 Nínive Calegari
CEO of Enterprise for Youth and the Teacher Salary Project and Cofounder of 826 Valencia
Nínive Calegari is an educator, nonprofit cofounder, award-winning film producer, bestselling author and former classroom teacher.
Nínive is currently the CEO of both Enterprise for Youth, where she trains and employs youth, and the Teacher Salary Project. Together with Dave Eggers, she cofounded 826 Valencia, which she helped grow from a local tutoring program into an influential education phenomenon that partners with schools, families and community organizations across the country. The 826 model has been duplicated more than 40 times internationally.
Nínive is coauthor of the best-selling book Teachers Have It Easy: The Big Sacrifices and Small Salaries of America's Teachers and co-producer of the documentary film American Teacher, narrated by Matt Damon.She has a master's degree from the Harvard School of Education and an honorary doctorate from the University of San Francisco. Nínive has received many accolades for her work, including George Lucas's Daring Dozen, a Jim Henson community engagement award, two invitations to the White House and recognition from Nancy Pelosi, Gavin Newsom, Barbara Boxer and Gray Davis.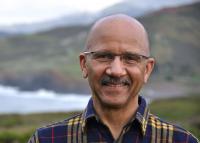 Charles M. Collins
President and CEO of the YMCA of San Francisco
Charles M. Collins is president and CEO of the YMCA of San Francisco. Chuck has worked in law, city planning and real estate development, and is the author of "The African Americans" and senior editor of "A Day in the Life of Africa."
He holds a Master of City Planning from MIT and a J.D. from Harvard Law School. Chuck has practiced law and was deputy secretary of the Business, Transportation and Housing Agency for the State of California. He directed a comprehensive study incorporating economic and fiscal considerations, land use planning, transportation systems and housing requirements resulting in the Downtown Plan for San Francisco. From 1983 to 2002, Chuck was president and chair of WDG Ventures, Inc., the real estate development and investment company behind projects like the Metreon and the Four Seasons.
Chuck serves on a number of boards and commissions, including the San Francisco Arts Commission, UCSF Center for Community Engagement Council, the Commonwealth Club, the ShapeUp SF Coalition and SFMOMA.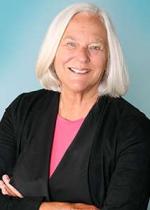 Jane Graf
President and CEO of Mercy Housing, Inc.
Jane Grafis president and CEO of Mercy Housing, one of the nation's largest affordable housing organizations. She has worked for Mercy since 1993, first expanding its portfolio to include supportive housing for formerly homeless people. Jane presided over three organizational mergers that expanded Mercy's reach statewide and greatly increased its affordable housing portfolio. Over the past 26 years, her role has expanded to include president of the western region, chief operating officer of the national organization and most recently president and CEO.
Jane began her career in not-for-profit housing development in Oregon in 1978 through her involvement in housing issues affecting persons with disabilities. Later, she developed one of the first Low Income Housing Tax Credit properties in San Francisco, Peter Claver Community, which was also the first residential facility to serve persons with AIDS.
Jane serves on the boards of Stewards of Affordable Housing for the Future, National Affordable Housing Trust and National Equity Fund.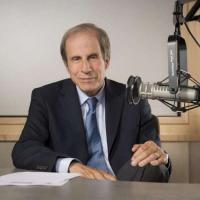 Michael Krasny
Host of KQED's Forum Program
Michael Krasny, Ph.D., is a scholar and professor of English Language and Literature at San Francisco State University and the host of KQED's "Forum with Michael Krasny." He is the author of a number of acclaimed books, including "Off Mike: A Memoir of Talk Radio," "Literary Life and Spiritual Envy: An Agnostic's Search" and "Let There Be Laughter: A Treasury of Great Jewish Humor and What It All Means." An award-winning broadcast journalist, he has interviewed many of the world's leading political, cultural, literary, science and technology figures, as well as major figures from the world of entertainment, as host of "Forum with Michael Krasny," a role in which he has served since 1993.
Learn More About Past Honorees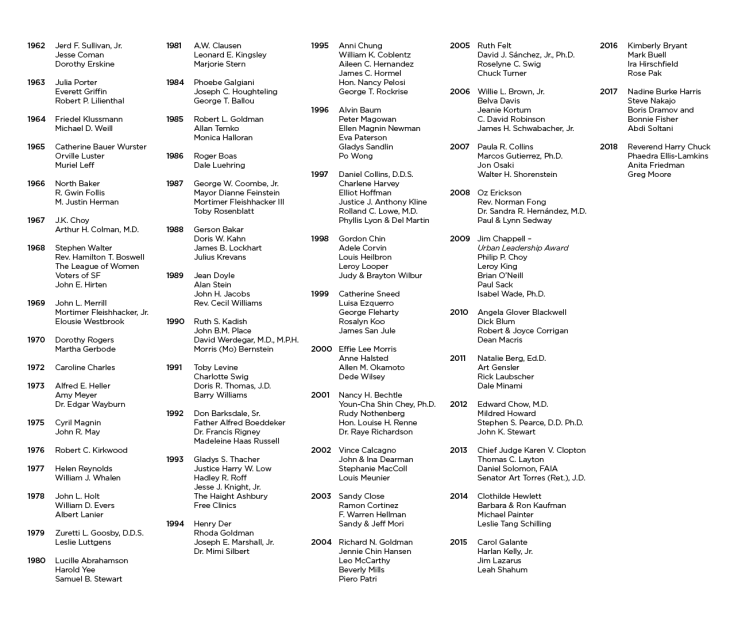 See photos from Silver SPUR 2018 >>

See photos from Silver SPUR 2017 >>

See photos from Silver SPUR 2016 >>

See photos from Silver SPUR 2015 >>
Sponsorship
Information about sponsoring 2020's Silver SPUR will be available in the spring of 2020. For more information on sponsorship opportunities, contact Anna Nicholls at (415)-644-4882 or [email protected].
Supporters

SPUR is a 501(c)(3) nonprofit organization and sponsorship is tax deductible to the full extent of the law. SPUR's tax ID is 94-1498232.
We Are the Bay / ULC Challenge
We Are the Bay
As SPUR develops a fifty-year vision for the Bay Area, we are stepping back from policy and projections to focus on the region's people.
We Are the Bay: A Day Around the Region asks Bay Area residents about their aspirations and fears. Are they optimistic or pessimistic about the region's future? Why do they make their lives here and what matters most to them about the place they call home? On exhibit at SPUR in early 2020, this compelling series of portraits by renowned photographer Ryan Young explores the people of the region — the reason for SPUR's work.
Join SPUR's Urban Leaders Council and your membership will support the We Are The Bay  project.
SPUR received three matching grants to help fund this important endeavor. Thanks to the generous support of Al Baum, David Friedman and Frankie Lee, any donation at the $1,000 or above level will be matched up to $30,000!

Urban Leaders Council (ULC) invests both time and resources to further SPUR's mission. ULC members contribute $1,000 or more annually, receive invitations to exclusive tours and events throughout the year, and enjoy frequent opportunities to network with fellow urbanists and others committed to making a better Bay Area. For more information, visit spur.org/ulc.
Refund Policy
Sponsorship payments: Will not be refunded, as sponsorship benefits take effect immediately and are on-going through the date of the event.
Auxiliary Services
If, in order to participate in a SPUR event, you need auxiliary aids or services for a disability (e.g., qualified interpreter, qualified reader, written materials, taped texts) please submit your request five business days before the event to
[email protected]
or
415-781-8726 x132
. SPUR will work with you in identifying effective auxiliary aids or services that it can provide. If you need to cancel your request, please notify SPUR at least two business days before the event.