San Francisco
City trivia night
6:00 p.m. | Tuesday, October 18, 2011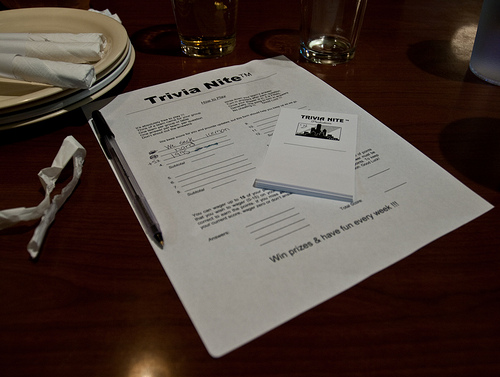 What city was first built as a series of facades? What building currently reigns as the tallest in the world? Who was the first woman ever to win the prestigious Pritzker Prize? What's the total number of metered parking spaces in San Francisco? If you don't know the answers, study up! Join the SPUR Young Urbanists for an architecture and planning trivia night at the SPUR Urban Center. Recruit friends and colleagues to join you in this showcase of architecture and urban planning geekery.
Feel free to bring your own team of six or join up with other Young Urbanists at the event in a battle to claim the crown and fabulous prizes. We'll be awarding bonus points for the most creative team name, so get those thinking caps on and don't take them off until the winner is decided!
Reception from 6:00-6:30pm, trivia from 6:30-8:00pm.
This event is generously sponsored by the Koret Foundation.
Location
654 Mission Street,
San Francisco, CA 94105-4015
[ map ]