Proposition B - Police and Fire Seismic Retrofit Bond
Voter Guide
What it does
Proposition B is a general obligation bond that will allow the City to incur $412.3 million in bond debt to finance improvements to the Auxiliary Water Supply System, critical firefighting facilities and Fire Department infrastructure. Proposition B will also finance a new facility in Mission Bay that will incorporate the police command center, as well as a neighborhood police station and a fire station. This measure requires a two-thirds majority of votes to pass. Funding will be divided among the projects specified in the measure:
Neighborhood Fire Stations: $65 million
Existing neighborhood fire stations will receive seismic upgrades, as well as emergency power, Americans with Disabilities Act renovations, waterproofing and utility upgrades, as well as changes to existing stations to improve their recently incorporated ambulance response capabilities. In addition, this measure will pay for the new public safety building in Mission Bay.
Click to enlarge: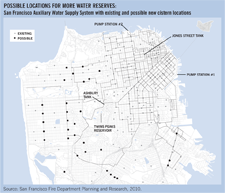 Firefighting Water Supply System: $104 million
This portion of the bond will include rehabilitation and seismic improvements to the City's Auxiliary Water Supply System:
Pump Station No. 1 (near AT&T Park) and Pump Station No. 2 (near Fort Mason)
The Ashbury Street and Jones Street tanks
Twin Peaks Reservoir
220 km of running pipe for the system
175 backup cisterns at various street intersections
Created with public funding after the 1906 earthquake and fire, the Auxiliary Water Supply System is the only high-pressure water network of its type in the United States, and is used exclusively for firefighting. The AWSS supplements the municipal hydrants and is used throughout the year for the suppression of multiple-alarm fires. With the potential loss of municipal domestic water supply after an earthquake, the dedicated AWSS could be the primary firefighting water supply.
Public Safety Building: $243 million
The new public safety building at Third and Mission Rock streets will house a new Mission Bay fire station, a district police station and the citywide police command center. This facility will be designed to meet current security and environmental standards, including heightened structural integrity, 96-hour independent power operation, increased blast protection, as well as environmental sustainability features in accord with the U.S. Green Building Council LEED Gold standard. The existing historic firehouse will also be renovated to serve community event and meeting needs. The new facility will provide more than 320,000 square feet of space. (See table.)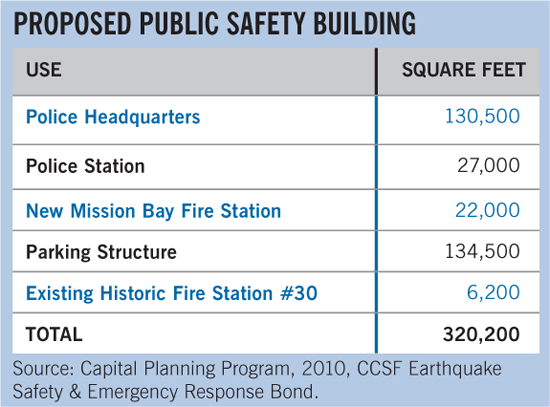 Bond Accountability
The City will spend approximately $14 million in the preparation of the Prop. B Earthquake Safety and Emergency Response Bond to ensure that the capital projects it would fund are ready for financing and construction. Other measures to improve accountability and generate greater public confidence include the use of funding principles, independent audits by the San Francisco Citizen's General Obligation Bond Oversight Committee, and improved public access to information through a website. The City will hold an annual public hearing and be subject to regular review by the Capital Planning Committee, Police Commission, Fire Commission and the Board of Supervisors.
Why it is on the ballot
This bond measure was developed by the Capital Planning Committee, which regularly updates the City's 10-Year Capital Plan and annual capital budget. The committee includes the city administrator, president of the Board of Supervisors, mayor's finance director and others.
The Prop. B ESER general obligation bond is the third of five bond measures proposed by the City's Capital Plan. Future measures planned include a second ESER bond of $450 million anticipated for November 2013, and a park system renovation and improvement bond of $150 million expected in November 2014. The proposed ESER and parks bonds are timed so that they replace previous bonds about to retire. As a result, they will not increase San Francisco property tax rates above 2006 levels.
The ESER Bond program will address some of the most pressing concerns regarding earthquake safety and emergency preparedness. However, some aspects of vital public safety infrastructure are not being met directly by this bond program. For instance, planned new jails will be funded from existing General Fund bond debt, at least partially due to common belief that it would be very difficult to win voter approval for them. Additionally, accommodation for forensic science and other technical investigation facilities was included in, and then removed from, the ESER bond. The proposed Capital Plan covering fiscal years 2011 through 2020 proposes to fund a new, shared laboratory facility for the Police Department Crime Lab and the Office of the Chief Medical Examiner in the second ESER bond, proposed for November 2013.
Pros
Arguments in favor of this measure:
This bond program meets the clear need for improvement to the City's most sensitive public safety facilities. The new public safety building will provide state-of-the-art facilities for citywide police management, particularly in the event of a major earthquake or other citywide or regional emergency. These facilities will benefit from their location in Mission Bay, which will have the most recently improved and safest basic infrastructure of any city neighborhood.
This bond meets serious needs for the continued operation and improvement of the City's Auxiliary Water Supply System. Currently, most of the Richmond District and the Outer Mission are not served by the AWSS and instead rely on the City's existing network of 177 cisterns—reinforced underground reservoirs of 75,000 to 250,000 gallons. This bond provides for upgrades to the nearly century-old Twin Peaks Reservoir, two pump stations, and two tanks of 500,000 to 750,000 gallons that pressurize the system. It also funds the construction of approximately 32 new cisterns to serve those neighborhoods not protected by the AWSS.
Local governments have few tools of economic stimulus other than debt financing, such as bonds. If these general obligation bond funds are released in a timely manner, they could prove a valuable counter-cyclical financial stimulus during this and potential future difficult economic periods. Some have projected that this bond could create more than 2,900 jobs in San Francisco.
Cons
Arguments against this measure:
The ESER bond was developed without full consideration of future operational needs and changes in the provision of police and fire services. In particular, the bond assumes operational levels for police and fire services will remain constant or increase. While consistent with the need to provide emergency response to these new neighborhoods, this approach fails to recognize the City's current and ongoing budget shortfalls for the operations and maintenance of services.
Despite acknowledging the challenge of voter confidence in the bond funding process and spending more than $14 million to prepare the ESER bond projects, the ESER bond lacks specificity in some areas due to the lack of required environmental clearance. It fails to identify the fire stations eligible for the $65 million in funding. For the firefighting water supply system portion, the bond does not identify where the new cisterns will be located and which segments of the high-pressure firefighting system will be replaced or seismically improved.
The overall plan of the public safety facility is heavy with parking. It provides 245 non-stacked spaces for the exclusive use of both police and fire agency vehicles, and shift employee parking. This does not appear to have taken into consideration future additional parking supply provided by anticipated neighboring development, as well as declared sustainability priorities such as the City's Transit First policy. Approximately 65 of the spaces are for daily commuting, not essential vehicles.
To now provide funds to protect and maintain fire stations that don't necessarily need to be open may result in an unnecessary expenditure of public funds in a time of financial crisis for the City. In April 2004 the Controller's Office issued a performance audit of Fire Department operations. Among other findings, the report showed that the City has more firehouses per square mile than any comparable community, and that consolidating stations and reducing equipment could save the City an estimated $13 million per year without a significant impact on response times.
SPUR's analysis
Earthquake safety and preparedness is a serious concern for San Francisco. This bond addresses some of those outstanding seismic concerns. In particular, the Auxiliary Water Supply System is in need of retrofit and is a key part of this bond. We have some concerns about key aspects of the size and lack of specificity of this bond, in particular the location of the public safety building, its amount of parking and the overall design of the bond that does not seem to acknowledge changes to operational levels over time.
Despite these concerns, we think this is an important bond that will address some of the City's most pressing concerns regarding earthquake safety and emergency preparedness.
SPUR recommends a "Yes" vote on Prop. B.