Making Al Fresco Work
Leveraging San José's temporary outdoor dining initiative to enliven neighborhoods and create economic stability
SPUR Report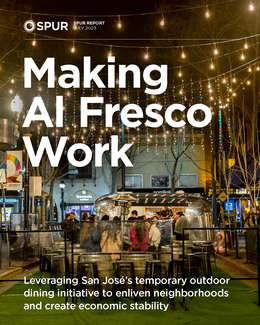 During the COVID-19 pandemic, the City of San José allowed restaurants, cafés, and bars to put seating on sidewalks, street parking spaces, and private parking lots. The Al Fresco Initiative extended a critical lifeline to these businesses and continues to be a popular way to advance economic recovery and enliven streets.
Throughout the city, the initiative transformed San José's urban environment in ways that are consistent with the city's larger goals of creating vibrant commercial corridors and walkable neighborhoods. Sustaining a robust program and expanding it citywide could help restaurant owners adapt to a changing economic landscape, encourage street life, and foster an ongoing process of collaboration and feedback to meet evolving community needs.
Realizing a permanent al fresco program's full potential would require the city to make the program easier to navigate and more affordable to participate in. This report recommends four strategies to simplify and expand the program based on lessons from the initiative and the city's many existing plans and programs for its streets and public spaces.