The Future of Coleman Avenue
How central San José's corridor can achieve its potential
SPUR Report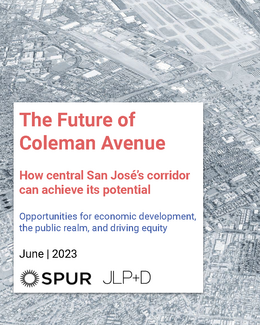 Unassuming Coleman Avenue sits at the intersection of several plans for San José's growth. Uniquely located near the downtown core and the airport, the Coleman Avenue corridor has a large concentration of retail and commercial businesses and is one of the city's few remaining areas with industrial use. It is also adjacent to Guadalupe River Park and Gardens and will be critical for the successful revitalization of these public spaces.
One of the key recommendations in SPUR's policy report The Future of Downtown San José was to invest in and activate the downtown area by promoting a larger geography of Central San José. Many neighborhoods within this geography, such as Santana Row and Little Portugal, have existing or pending specific plans, but Coleman Avenue and its surrounding area do not. The Future of Coleman Avenue, a collaboration between SPUR and JLP+D, presents a community-informed evaluation of the Coleman Avenue corridor and makes the case that developing a strategic plan for the area will be critical to leveraging it as a key connector and gateway for Central San José.
Related research, Coleman Avenue Corridor Study: Urban Design Approaches for a Better Connected Community, identifies needs along the Coleman corridor through community surveys, walk audits, and demographic/community analysis. The study was conducted for SPUR by graduate students in San José State University's urban planning program and was completed in collaboration with the Guadalupe River Park Conservancy and CommUniverCity. It is intended to inform policy decisions within the city and will be used by SPUR to shape its future Coleman corridor research and policy approaches, thus contributing to the broader goal of creating a more vibrant, connected, and equitable San José. The study's short-, medium-, and long-term recommendations emphasize more active uses along the corridor and improvements to existing pedestrian, bicycle, and transit facilities.